Content Writing: Find The Words that Make Your Audience JUMP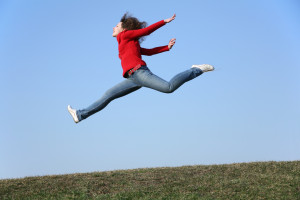 Imagine being in a foreign country where no one speaks your language.
Then, someone right behind your back starts talking to you in your native language and even with the same accent as if they came from your hometown.
If that has ever happened to you, you know the startled feeling. (Happened to me in New Zealand, and being from Finland, it's very unusual to randomly meet countrymen abroad.)
Taken one step further, let's say they talk about your most pressing problem and you can hear that they know exactly what you're going through.
You listen. With undivided attention.
That's what you should be able to do to your potential customers through your content.
And when you do, you have a rare opening to make them see why they should buy your products (or read your blog, join your email list, or hire you).
Talk Your Audience's Intimate Language
One of the most common "fundamental marketing lessons" you can find is: talk about your customers' problems and goals just like they do.
It's absolutely true. They'll never believe you really know what they need if you don't talk like they do, and they have no reason to listen to you.
But what if you don't know how they talk about their problems and goals?
As with so many other easy marketing ideas, this too has little practical value if you don't get started. Yet, the first step (figuring out how they talk) is rarely explained.
So, here are three ways you can use to find out how exactly your customers' talk about their problems and goals you can help solve/reach. No matter what your business is like, one of these methods will work for you.
As a bonus, at the same time you'll also learn what problems and goals they're thinking about the most – the things you should be talking about in the first place.
1. Read Articles and Comments
Blogs and other websites aren't good just for the information they convey. They're also some of the best places to figure out what your target audience is thinking and how they talk about it; you can then incorporate their language while writing your content.
Find articles written by people you're targeting, and you'll know exactly what they think. You're not restricted to just blogs. Trade publications, for example, are worth looking into if your audience writes for them.
But don't just read the articles. Read the comments as well. And don't forget relating forums.
You can pretty much copy-paste what you find like this. Actually, the closer you mimic what you read, the better you "talk their language."
2. Set Up "Interviews"
What if your target customer isn't quite as easy to reach? For example, many B2B companies find it hard to reach their target customers; they don't write blogs or leave comments.
This is a "trick" I've told many of my clients to use.
Get in contact with a few people who fit your target market and set up interviews with them. You're not going to publish the interviews, and you shouldn't claim otherwise.
Instead, you're interviewing people to learn how to improve your services or products.
You can't consider the people you interview as leads or prospects, although, there's a good chance they'll turn into clients later on. But for now they're sources of information – don't try to sell them anything just yet.
You'll ask them, "What kinds of problems make the biggest difference in your business/life currently [in relation to what you do]?" and "What kinds of goals do you have for the next year, five years, and ten or more years [in relation to what you do]?"
The answers come from them. And of course, they use their language – the same words you should use. So, remember to bring a recorder because your notes aren't necessarily enough.
3. Ask Open-Ended Questions
Whenever you have the chance to talk with people who fit your target market, ask open-ended questions. This also applies to the interviews you do.
If you're too specific with a question, the answer isn't as useful. Your goal is to make them speak about their problems/goals – not answer yes-or-no questions.
For example, you can send an email to your list asking them to tell you what are their most pressing problems and/or biggest goals. You can ask people the same things in social media sites and when you meet them face-to-face.
In some situations the questions lead naturally into you talking about how you could help them. But that's not the goal, so stay focused on getting them to describe what makes a difference to them.
Put the Words Into Good Use
What you find – the words and phrases your target customers use – is only valuable if you use it right.
It tells you how you need to describe why people should pay attention to you, read your blog, join your list, and buy from you.
But first you need to know what are the best reasons people have for doing those things. In other words, you need to understand your customer value proposition, which is something few businesses really have.
Sure, you can just use the information you gather to get people's attention. But what's the point of that if you don't know how to make that attention last and lead to action?
So, do the legwork. Find out how your target customers describe their most pressing problems and most important goals.
And if you don't already have a clear value proposition, download this 2-page PDF that shows you a quick 5-step system you can use to find the core of your value proposition.
Then use your target customers' words to communicate it. You'll quickly see how people start to notice and pay attention to you more than ever before. And you'll see more sales, too.
If you have any questions or comments, I want to hear them below!