8 Great Ways to Make Money on Instagram (2023 Update)
Emjae Williams
Updated for 2023
The introduction of social media platforms has opened up a world of possibilities for content creators and entrepreneurs to connect with their ideal audience and grow their businesses.
Each of these platforms offers different ways to do this that are unique to them. One of these fast-growing platforms, Instagram, has made it increasingly easy to make money through several features.
Instagram has revolutionized content sharing and how businesses can make money utilizing digital media. You've probably been trying to find out if you can make money on Instagram and the short answer is 'definitely'!
The long answer? You need to know exactly what to do to make it profitable. But don't worry – we have all the information you need and we'll be sharing it with you in this post!
8 Ways to Make Money on Instagram in 2023
First things first – you must have an Instagram account set up for your business before we even get into our strategy. Once you've done that, then you can consider monetizing your account.
Much like any marketing approach, you need to have a plan in place. This helps for several reasons:
Helps you to remain focused on your business goals
Allows you to track the right metrics
Shows you what approach works and which to change
Here are 8 strategies you can consider trying.
1. Set Up an Instagram Store
One effective way that you can earn money on Instagram is by setting up an Instagram store, which allows you to sell products through your Instagram profile.
When you set up an Instagram store, you have the ability to showcase your products in posts and stories. You can also tag your products, and whenever one of your followers clicks on one of these tags, they are taken to product page where they can get more information and make a purchase if they so choose.
Setting up an Instagram store is actually quite simple. All you need to do is connect your business Instagram account to an e-commerce platform like Shopify, and then turn on the shopping feature on your profile.
After you take these simple steps, you'll be all ready to start selling your products through Instagram.
2. Run Instagram Ads
Running Instagram ads is a paid option, but when done right it's one of the most effective steps you can take. The great benefit of digital ads over traditional ads is how much control you have over who sees your ads.
If you have an intimate knowledge of who your ideal customers are, you can create profiles with them in mind. Notice I said profiles – you can have several audiences that see different types of ads. This means you're able to get the best possible ROI on your ad spend with each ad run because the key people will see them every time.
3. Partner with Influencers
Before you roll your eyes, hear me out. Influencers are not limited to the picture-perfect pages we're usually seeing shared or folks who have over a million followers. The best influencer for your business might not be the same influencer who is ideal for someone else's. What you want to focus on are:
How well their brand focus and values align with yours. For example, if your brand focuses on creating balance as a parent you wouldn't be partnering with someone whose key audience is single, child-free college students.

Their engagement and conversion rates. Contrary to popular belief, the number of followers an influencer has is not the key metric. You'd be better served by someone who has 3000 followers but consistently sees upwards of 50% conversions over someone with 10,000 followers who can only secure 3% conversions. Likewise, you want to focus on how engaged their audience is because this can be an indication of whether or not their followers are authentic and interested in what their brand has to offer.
4. Become an Affiliate
If you're excelling in your niche it's likely that brands will want to work with you. One way to make a profit from this is by reviewing items with your audience and then sharing an affiliate link for them to make purchases. With this method, you get a percentage of the revenue made from every sale generated through that link. In some cases, you can earn even if they didn't purchase that exact item or make a purchase a few days later.
Much like with influencer partnerships, you'll want to partner with brands whose focus and values align with yours. This way the content you share will flow naturally to your audience and they'll be more likely to give the product a shot. Note that if you are posting content that you're getting paid for, you need to include a tag that makes that clear.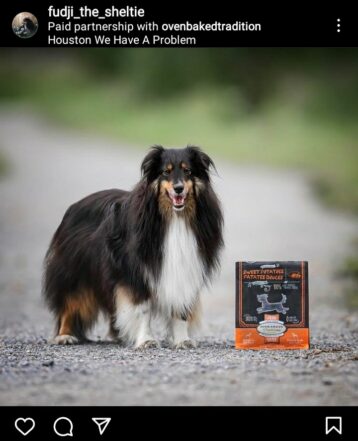 5. Partner with Other Creators
If you don't have the budget to pay an influencer or the following to attract other businesses, you might want to consider this strategy. When you partner with another creator, you get access to each other's audiences and for newer pages, this is a great opportunity.
You can do guest posts, collaborative live videos, account takeovers, or simple shout-outs. This helps you to grow your audience without spending money. You can then point these new followers to your store and just like that – growth!
To make this worthwhile, you need to have a plan in place that addresses what you each expect from the other, what your goals are, and what you'll be offering.
6. Create Instagram Content Plans for Clients
Making money from Instagram doesn't only come from being in front of the camera – you can also earn from behind the scenes!
Coming up with new content ideas, creating posts, and coordinating with other content creators can be hard work. This is why as social media usage increases, so does the demand for social media managers. As a social media manager, you can work with multiple clients at once creating their content plans, all from the comfort of your home.
You simply need to have amazing ideas, understand how to work with the algorithm, and have a keen eye for detail.
7. Offer Instagram Page Management Services
Another high-demand role for Instagram marketers is page management. For brands that have a large following and an extremely engaged audience, their page is flooded with messages and comments on a regular basis. In order to protect their reputation (and maintain their ranking), they need to respond in a timely manner.
If you have excellent communication and customer service skills, becoming an Instagram page manager could be a profitable role for you.
8. Become an Instagram Coach
Yes – once you've racked up all this knowledge and experience you can use that as an income earner. One great approach is to focus on the niche you specialize in. For instance, if you're a digital artist who used Instagram to triple your sales, offer to teach other digital artists how to do the same. 
You have the social proof (quite literally) that you know how to get results and there are many people who are searching for valuable information. And you can use your Instagram account to promote your course and reach these potential students… it all comes full circle!
How Much Money Can You Make on Instagram?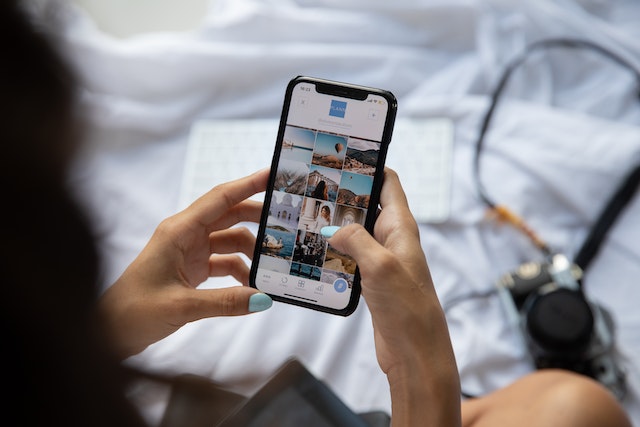 You know how to make money on Instagram and you have a few ideas to work with but I'm sure you're wondering – how much does Instagram pay? Here's the great thing about monetization on social media – there isn't really a cap to how much you can make. Now before you get carried away with thoughts of an endless supply of income, here are some numbers to help you set realistic goals.
Partnership Marketing
If your aim is to use your page to promote other businesses through partnership marketing you can expect to earn from $88 to $200 per post. The average influencer makes $31 an hour though, in the case of beauty influencers, they're bringing in up to $60 per hour. So how many followers do you need on Instagram to get paid this amount? Between 10,000 and 100,000 followers. That doesn't mean you can't make money with a smaller following. As a general rule, the more active or engaged your followers are with your content, the more appeal you have for serious brands.
Instagram Consulting
If you choose to make money by working on the backend (page management, inbox management, content planning) you have an even wider scale. You can choose to charge per hour (ideal for page management) with a price range from $30 to $120 per hour, depending on how experienced you are, the types of brands you're working with, and the scope of the role. Or you can opt for monthly retainers.
Promoting Your Products and Services
And there's also the possibility of earning through promotions of your own products and services. Instagram boasts the highest conversion rate of all social media platforms – 1.08%. This means that for every 100 people who sees your ad or content, 1 of them will take action. This number can seem low until you take into consideration that the average reach per post (the number of people who will see your content on any given day) is 4,120. How much you make from this is determined by how effective your ad strategy is and of course, the cost of your offer.
What Do You Need to Make Money on Instagram
The first thing you need before you can monetize your Instagram account is to have a business account. Not only does it make your account look more like a legitimate business, but it also unlocks a host of features. You're able to schedule posts, gather data from your post and ad performances, run ads, share links in your stories, and create shoppable posts.
While setting up this account you'll want to make sure it represents your brand well. It needs to have the name of your business, your logo, contact information, and a link to your site if you have one. You can also utilize the Instagram Highlights features and save general information about who your brand is so new followers can get acquainted.
The next requirement is a strategy. Before you begin to post, before you start running ads, and definitely before you reach out to brands – put together an Instagram marketing plan. This will guide your every step. It will help you decide who you should work with, when to post, what to post, how much to spend on ads, and how to measure your success.
It's also great to have loyal followers when you're just getting started. Here we aren't focusing on the numbers but rather the connection. Are these people engaging with your content? Do they support your offers? Do they save or share your posts? The support they offer could result in more conversions than any ad you run!
How to Make Money on Instagram FAQS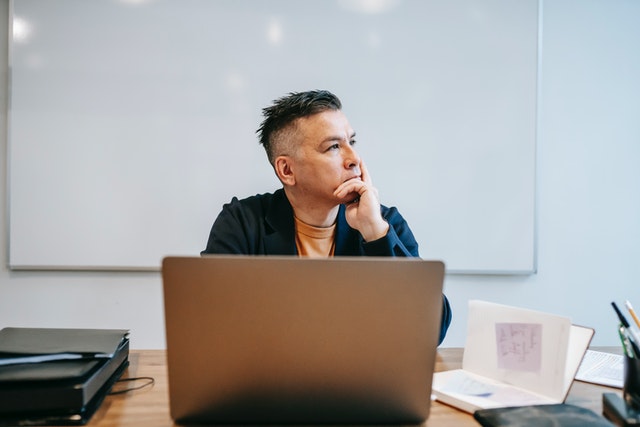 As Instagram becomes more popular and profitable, everyone wants to find out how to make the most of their accounts but there's just so much information. We've answered a few of the most asked questions about Instagram monetization to help make things a lot easier for you!
FAQ 1: Is Advertising On Instagram Worth It?
There is no right or wrong answer to this question because it depends on a few factors. Is your ideal customer active on Instagram? Do you have a sustainable ad budget? Do you have a solid marketing strategy? Can you afford to test ads for weeks to find the right target?
Even if you answered yes to all those questions, the real proof will be in your return on investment. If you're able to hit the targets you set for your ads then it's definitely profitable for you. However, if you find yourself spending more on ads than you're earning, you need to try a different approach. You'll also need to consider that Instagram might not be the best fit for your brand.
FAQ 2: How Many Followers Do I Need to Get Paid on Instagram?
As we covered early, it's not just about the number of followers you have but also the quality. Much like an email list. If you have 10,000 followers but only get 5 likes and 2 comments on a regular basis, that won't be profitable. On the other hand, having 1,000 followers with an average of 20 comments and 100 likes daily gives you an advantage.
If you serve a narrow niche, you might not have that many people following your account but those who do will be highly engaged. In that case, a small but active following is more than ideal. In fact, micro-influencers with less than 10,000 followers can earn $1,420 per month.
FAQ 3: What Instagram Features I Can Use To Make Money?
Instagram offers several features that appeal to different types of creators. Here are the most used features:
Instagram Shop allows you to create a complete shopping experience within the app – from window shopping to checkout.
Shop Tags allow viewers to tap on an icon and view the products mentioned in a Reel, Story, or post.
Link sharing in stories so you can include the link to an offer, deal, or product in your Instagram Stories.
Instagram ads give you the option to create specific audience profiles you want your ads to reach, maximizing your chance of having a high conversion rate.
IG Live is most popular among content creators because they're able to go live and engage directly with their followers. IG now offers the option to go live with up to three other users to create a more fulfilling experience for viewers.
FAQ 4: Will Instagram Pay Me Directly?
Unlike platforms such as YouTube which pays you based on your number of views, Instagram does not pay creators.
Your payments will come from sales through your website, payments from partners, commissions from sales, or brand sponsorships. This removes potential biases for how pages are ranked or served to followers.
That said, Instagram does make it quite easy to make money through the app with the many features offered.
How to Make Money on Instagram: Go Pick Your Strategy!
With a proper marketing plan and an effective strategy, you can make a living through your Instagram account.
Whether you want to be in front of the camera, working with brands, making partnerships, or stay behind the scenes managing accounts or others, Instagram is a lucrative platform.
There is no cap on how much you can make and you don't need to have a ton of followers. Try one of the strategies above and make your Instagram account work for you!