Our Magical Hin-Jew Wedding
Danny Iny
I'm married!
It's part exciting, part surreal, and part exactly the same. And I couldn't be happier. 🙂
The whole thing was a bit of a whirlwind.
We spent months and months planning this day, and it was absolutely magical – and I don't recall ever using that word to describe an experience before!
Within a few days of the wedding, family and friends had spread back to their respective corners of the globe, and we were off to Jamaica for our honeymoon.
Now I'm back, the dust is settling, and I'm getting back to work.
But before returning to our regular programming, I want to tell you about our Hin-Jew wedding…
We did everything ourselves…
We briefly flirted with the idea of hiring a wedding planner, but after interviewing one we decided against, for several reasons:
She shared her vision for our wedding, instead of listening to ours. Umm, yeah. It's our wedding – we'll decide how we want it to be! 😛
She kept ignoring me. The whole wedding industry seems to think that brides are the only decision-makers of consequence. I didn't like that very much.
Wedding planners are expensive. We didn't cut corners with the wedding, but we didn't want to spend money on stuff that we felt we didn't want or need.
We wanted everything to be custom-tailored, and did everything ourselves:
The invitations that we fought about, designed, printed, cut and folded ourselves
The menus that we planned, wrote and produced
The seating cards which we personalized for each guest, and produced ourselves
The wedding canopy (called a huppah in Jewish traditions and mandap in Hindu traditions), and which I built myself
The wedding ceremony, that we adapted from Jewish and Hindu traditions
Our vows, which we wrote ourselves
And the list goes on, and on, and on…
Does this sound like a lot of work? Well, it was.
Was it worth it? Yes, absolutely.
Was it always easy sailing? No, it really wasn't…
It turns out my wife and I have very different ways of working…
Through planning the wedding, my wife and I learned that there are some important differences in the way that we do things:
I am an entrepreneur, through and through. I'm good at visualizing things that don't exist, and iteratively prototyping until I arrive at the picture in my head. I don't worry about having everything planned out, because I trust that I will make it work in the end, and I implicitly expect that I can do as good a job – or better – as anyone else.
My wife is a corporate consultant. She likes having a plan and then executing on it. She's a "measure twice, cut once" kind of person, who believes in working the bugs out on paper before you start cutting, pasting, and building. She's all for experimentation, but prefers that people with actual expertise do the jobs that they were trained for.
Oh, and did I mention that both my wife and I are very strong-willed people? 😉
Both of our styles are valid, effective, and consistently get good results. But they're also very different, and without compromising, it's a recipe for disaster.
We rubbed up against these differences throughout the planning process, but things really came to a head with the invitations, and the wedding canopy…
The Invitations: 5 kinds of paper, 3 kinds of glue, and more paper-cuts and blisters than I can count…
From the beginning, I had my heart set on doing something different. We'd make the invitations ourselves, write something completely out of the ordinary, and blow people away by how unique and awesome we are.
My wife wanted something more traditional.
We went through version after version. Bought supplies, cut them, folded them, and threw them out only to start over. She wanted us to get a professional, and I insisted that I knew what I was doing, I could figure it out, and she needed to trust me.
We fought, and fought, and fought, and as we fought, we learned how to work together, so that the results got better and better, and the fights got smaller and smaller.
In the end, we both compromised, but she compromised a lot more. The end result is a reflection of us both, and we're both very proud of it.
The lesson for all the ladies reading this: work together, but listen to your husband!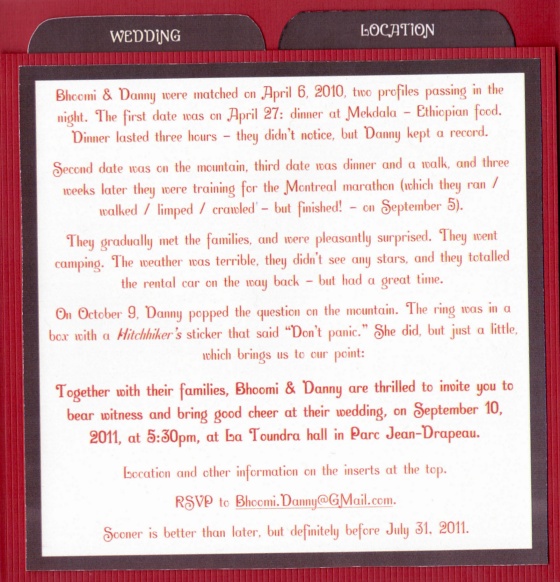 The Wedding Canopy: An Engineering Nightmare
The wedding canopy was the same story – I was set on building it myself, because I like the symbolism of "building our first home with my own two hands".
Again, she wanted to go the professional route: rent a canopy, and then decorate it ourselves. I wanted to do it all myself, and insisted that she should trust me.
This was different from the invitations, though, in that I have quite a bit of experience with print media, whereas I have zero experience building things.
I went through half a dozen different iterations that I built, and that refused to stand up without falling down.  Each iteration was time consuming, involved expensive trips to the hardware store, and involved at least a couple of scrapes and bruises.
Two days before the wedding, I still hadn't made it work, but I refused to give up.
At the last minute, I got it to work – more or less. My aunt stepped in at the last minute to fix it up further. In the end, it looked great, but it was way more trouble that it was probably worth.
The lesson for all the guys reading this: work together, and listen to your wife!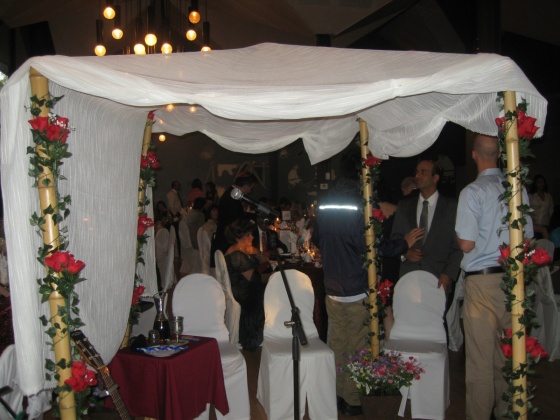 Our Hin-Jew Wedding
As you may know, I was born Jewish in Montreal, Canada, moved to Israel at 13, and returned to Montreal at 21. My wife was born into a Hindu family in Gujarat, India, and moved to Montreal at the age of 14.
These ingredients made for a very interesting union and ceremony. Our "Hin-Jew" wedding included Hindu elements, Jewish elements, and some adaptations that were entirely our own.
My favorite part was our adaptation of the Jewish ketubah (wedding contract). This is traditionally a legalistic document signed before the wedding, but we made ours a part of the ceremony.
We replaced the legalistic text with our own vows, read them aloud, and signed them in front of everyone who came to celebrate with us. Then we invited our parents and close friends to sign as witnesses, asking them to hold us accountable to our commitments.
The whole thing was turned into a work of art by my artist friend Richard Rossetto. Here are the vows that my wife and I wrote together:
To love, nourish, and support each other, in good times and bad.
To be responsible and act responsibly towards each other, and to build a safe and supportive home.
To share joys and sorrows, that joys may multiply, and sorrows divide.
To turn towards each other in good times and bad, to listen, talk, and cultivate mutual admiration.
To be curious and interested, to grow together, and to drive each other ever forward.
To care for our families and loved ones.
To be best friends, companions, lovers and confidantes… imperfect halves making a perfect whole.