8 Tips for Gaining New Readers and Growing Your Business through Guest Posts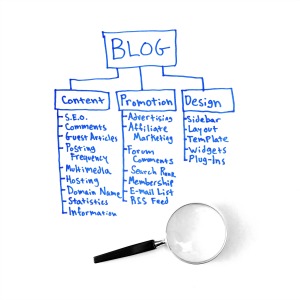 No self-promotion effort has had a greater impact on the growth of my business, audience, and network than guest blogging. This should come as no surprise to this audience!
Writing posts for blogs in my niche is how I gained clips for freelancing, developed friendships and started working with influencers, sold any product or service I've launched, and connected with thousands of new readers for my blog.
Writing a lot of guest posts without a solid plan, however, is also how I wasted a ton of time and energy in the early days of my business. If you're not targeting the right blogs and setting strong goals, you could be wasting effort writing guest posts that won't help you gain blog readers, subscribers, or book sales.
Here are the lessons I've learned to help save you that wasted effort, get the most out of every guest post you write, and grow your business.
Step 1: Know Your Goals
Before you pour time and energy into pitching and writing guest posts, make sure you know why you're doing it! Knowing what you want to get out of a guest post is vital to targeting the right blogs and choosing the right topics.
For example, are you writing to grow your business and promote by driving traffic to your blog, increasing newsletter subscriptions, pushing book sales, or increasing fans and followers on social networks? Or are your writing for professional development by building clips, networking with bloggers in your niche, or gaining clout with an impressive byline?
For each guest post you pitch, focus on one big goal, rather than trying to achieve them all. Choose a single action step you want readers to take, and ensure all your efforts drive toward that one action.
Step 2: Pitch Relevant Blogs – Not Just Any Blog!
You don't have to say yes to every blogger who invites you to write a guest post, and you don't have to settle for anyone who will have you. Choose blogs relevant to your niche that will help you achieve your goals.
For example, if you're trying to grow your network, writing ten posts for blogs with small readerships will do little good. A fraction of that effort for one or two posts on major blogs will have much better return. On the other hand, if your goal is simply to build clips, writing for small blogs can be a good start.
Also note the theme of the blog. As a solopreneur, for example, you might be welcome to guest blog for blogs on running a solo business, but if your target audience aren't other solopreneurs, these posts won't garner you much business!
Step 3: Optimize Your Topic to Fit Your Goals
Just as you're going to match a host blog's theme to your goals, you're also going to match the topic of each post. If your goal is to gain Twitter followers, for example, maybe a list of Twitter tips would suit you? If your goal is to sell a romance novel, though, Twitter tips – however apt – will do little good.
Step 4: Set a Clear Timeline with the Host
When do you need a post published, and when does it fit into their editorial calendar? How much time does the host want to allocate for feedback and revisions before publishing your post?
Setting a clear timeline and sticking to it will help you build trust with the host blogger, which will make her more eager to share your work, tell her readers about you, and have you back whenever you'd like. Even though your priorities will likely shift over time, building a stable of bloggers who are happy to give you a spot in their schedule takes a lot of the self-promotion weight off your shoulders.
Step 5: Include Links When You Can
Does the host blog allow links in the body of the post? Be sure to ask (don't assume they do), and seize the opportunity if they do!  Link back to relevant posts at your blog and others to showcase your expertise.
Don't forget to link to posts at the host's blog, as well! This shows you're reading and respect her work. Hint: If you don't have her backlog of posts cataloged in your mind, do a keyword search or browse a category on her blog related to the topic of your post to find related posts you could link back to.
Step 6: Write a Good Headline
Your headline caps your post. Writing it yourself allows you to capture exactly the message you want to share. Many hosts will tweak or completely re-write your headline to fit their blog or SEO, but all will appreciate you writing it, nonetheless.
Your headline will also help the host better understand the purpose of your post. And, if she likes it, that's one less step she has to do!
Step 7: Write a Stellar and Brief Bio
First, know your host's specifications for the bio. Some have very specific word count and link limits; some will let you go on as long as you like. Either way, keep it succinct, and write a unique bio for each blog you visit. This is a key point for leading readers toward your one action step.
Include a link to ONLY your one action step, and craft your bio to direct readers to click it.
If you include your entire history and every link in your bio, readers won't know which action to take, which generally leads to taking none. Don't worry about missing details! Once they follow your action step, you can connect in other places.
Step 8: Plan a Blog Tour
Even if you aren't promoting a special event (i.e. a book launch), I still recommend coordinating with hosts to place your posts within a short time frame, or plan a themed blog tour. Run your guest posts in bursts of a week or so at a time to get more bang out of each appearance.
One guest blogging appearance might get you a little notice, but when influencers see your name repeated on several niche/industry blogs in a few days, they'll remember you!
A blog tour also helps you create momentum, which you can carry over to social media, your newsletter, and your blog. Readers will feed on that energy and start to take action, and that flurry of activity and communication will be exciting for you. That rush is a great motivator for the next steps you need to meet your goals!
Do Guest Blogging Right!
Guest blogging can have an incredible impact on your growing your business, and you career as a writer, blogger, or entrepreneur – as long as you do it right. Keep these tips in mind when pitching your next guest post to ensure your business, products, and ideas get the attention they deserve.
For more on how to plan a kick-ass blog tour, plus how to leverage your email list, social networks, and online community to launch your next book or product, check out my e-course Launch Your Ebook!
 How about you? What one tip about successful guest blogging would you add to this list? Or, if you haven't submitted a guest blog yet, feel free to ask for more help in the comments below!