How to Grow your Business as if Google Search Never Existed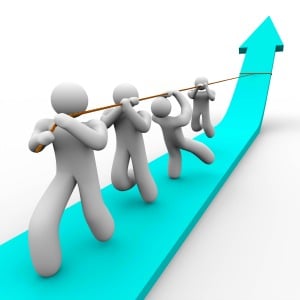 They say that in life there are two things that are sure things: death and taxes.
However, in my business, I'd argue that there is a third: change. The internet is a constantly evolving thing – and Google is a huge part of that change and evolution.
Google constantly changes its algorithms – and when it does, the tactics that websites use to direct traffic must also change. Those algorithm changes have had devastating effects, causing some sites to lose all of their directing traffic overnight.
That said, it isn't as though Google updates come with a manual. This means that SEO strategists and website owners are constantly left scrambling in an effort to find out how to get their content in the search rankings.
After all, without those rankings, our sites aren't found. And if they aren't found, it's like they don't exist; and what good does that do? The good news is that there are ways to grow your business without relying on Google search at all.
Living the Evolution
My site, WebHostingSecretRevealed.com (WHSR), is a perfect example of how Google's search algorithm evolves, and how that change can affect things. My site was quite successful – I had a loyal audience, a great SEO strategy that was BFFs with Google and other search engines, and content that kept flowing. It was on a great path… and then Google Penguin came along.
The Google Penguin algorithm released in 2012 made drastic changes to how websites "scored" within Google, particularly hitting hard linking techniques, among other things. Needless to say, Google's algorithm updates spur change to SEO strategists' techniques, and following Penguin's release, sites everywhere required quite an update – and my site was no exception.
In the aftermath of Penguin, I reworked everything from scratch, creating my new domain, WebHostingSecretRevealed.net. Since launching my new domain, I have been consistently finding new out of the box ways to pull in targeted traffic beyond those that rely on Google search.
After all, Google can be great and is admittedly important – but it is also fickle. By thinking outside of the box, we have been able to consistently build our site traffic without putting all of our eggs in one basket, as they say.
There are tons of ways out there to make your site a success – even if Google didn't exist.
Ways to Build Web Traffic and Grow your Business
Comment on Blogs
Your business always comes from the people who trust you, so being a part of the conversation is always a good idea. Commenting on blogs give you the chance to develop that trust with your ideal clients and prospects.
But wait, there's more! Making a connection and building rapport with your prospects is good, but it's even better if you can find a way to drop a link to your site or reference your brand, IF it's relevant to the discussion.
For example, if you sell Brand A of cameras, you might comment back on a camera review something to the effect of, "I agree – I've also had issues with Brand B cameras and found that "______." We sell Brand A, and have had great feedback from customers. If you're interested in taking a look, here's the link. I'd be very happy to provide specific recommendations here or by email if you're not sure what's going to be the best fit for you."
Since you're simply introducing the topic and opening it up to other feedback, you are able to draw attention to your knowledge without making false representation. Commenting can also a great way to learn more about what clients honestly think.
Q&A Platforms
People love to talk, which makes forums another great way to join that conversation. The trick to successfully engaging your clients on forums is to monitor the dialogue in your niche on an ongoing basis. This way, you can chime in whenever you have something to say, adding value to the conversation with your comments or your blog posts (if they're relevant).
Consider building custom content to fit into a conversation on a hot topic with lots of interest. For example, if someone asks about how to do something with .htaccess code, you might write a simple tutorial on your blog, then answer the question on the Q&A site and include a link to your blog for the person who asked the question to get the actual codes and demos.
After all, if one person has the question, odds are that others do, too. By providing custom answers, you can position yourself as a true resource and expert in your space.
In my experience, I've found Quora, Klout, and Yahoo! Q&A to be the three best general Q&A platforms to draw website traffic. If you happen to be a publisher selling programing books, check out StackOverflow – or at least ask your writers to stay active at the site! For those in the travel space, Trip Advisor is invaluable.
Newsjacking
Growing your business with this strategy takes a bit of prowess, since it requires being the first (or among the first) to blog and comment on the latest news. Generally speaking, the first to write about a hot topic or news story have a better chance of being quoted as a "source." That said, you need a way to find out the news before everyone else does – Twitter won't cut it here.
Crowd Sourcing Posts
Crowd sourcing is a way to use content marketing to leverage the reach of a given crowd or group. You might invite bloggers, customers, or other business owners who could benefit from cross-promotion or even a simple link-back from your website to publish their opinions or tips. Their popularity and notoriety helps to draw their followers to your page, gaining new traffic to your site. It also the underlying strategy behind guest-posting.
I personally have had success with this method. For example, I previously asked 30 bloggers/ Web developers about their web hosting choices. The response to their input was overwhelming and resulted in hundreds of social shares and followers – at no cost and without relying on Google.
Sponsor or Speak at an Event
Events are a great way to get your name out there and grow your business, while also getting in front of your audience. Not only do events give their sponsors and speakers great publicity, making events an effective marketing channel, but they extend your reach for your online business into the offline world.
Be sure to let your audience know where and how to keep up with you, including accessing your presentation slides, finding your blog, following your Pinterest boards, and more. Not only will you find new visitors at the events, but you will maintain them through your online channels after the event is over.
Freebies Marketing
Who doesn't love free stuff? From my end, they are a great way to draw people's attention.
For instance, my core business at WHSR is to promote hosting services as an affiliate. However, I've found that rather than squeezing into the crowded Google search engine results page, I have better odds of success when I target web designers and bloggers who might have an interest in my hosting advice.
As such, I give out tons of valuable icons for free. Yes, these icons do not come cheap (time + effort = money!), but they pay off in dividends on the back end. /Giving out these free icons bring me 1,000+ new visits monthly via social sharing and back links (see image).
Furthermore, if I were to use these free icons to build an email list, these freebies could work as the key to open the door between me and my prospects. It's permission marketing – get your prospects to find you and you'll have the permission to keep communicating with them.
 What's next?
Getting traffic is a great first step towards growing your business, but isn't the end game – you also need to keep that traffic coming back. This is where it's really important to start building relationships before they get to your website. That way, you can focus on the conversion when your prospects arrive on your page, then continue building the relationship by offering them more value and more opportunities to work with you.
In reality, Google is likely to stay important and SEO will likely remain a key strategy for many business. However, there are plenty of other ways to make your site successful and to drive traffic without optimizing your content for the search giant.
Your Turn
Now, couple of questions for you folks here.
How has Google updates affect your business in the past? What have you been doing to hack growth outside Google? How has inbound and content marketing strategies changed your life and your business?
I would love to hear your thoughts, comments, or questions in the comment section.