Must-Follow Digital Marketing Trends For Businesses In 2023
Burkhard Berger
It's always a challenge for marketers to keep up with the ever-changing digital marketing trends. Every year comes with new apps, digital marketing platforms, and advanced marketing tools. The success of a digital marketing strategy is directly linked to choosing the trends that are best suited to your business needs.
Following the current and trending marketing options can help online course businesses create brand awareness, a positive brand identity, more sales, and revenue. It's the right time to skyrocket your marketing game as online courses are estimated to earn $115,000 in 2023.
If you're on the lookout for the latest digital marketing trends that'll survive and thrive in 2023, you're in the right place. We've compiled 9+ must-know digital marketing trends to follow to help you maximize your business success. From integrating good old marketing practices to advanced AI and machine learning tools, let's help you wade through the hype.
Toward the end of this article, you'll filter and choose the right marketing platforms and strategies for your business.
Let's get started.
9+ Digital Marketing Trends For Businesses In 2023
Digital marketing trends are ever-changing as technology advances. Here are 9+ digital marketing trends to keep your business current and boost sales and revenue in 2023.
1. Use Of Chatbots
Chatbots make the buying journey more personalized and customized. Instead of searching for relevant products, customers prefer chatbots for quick and fast assistance. It's interesting to note that 88% of customers experienced at least one chatbot conversation in 2021.
The use of chatbots in businesses considerably reduces the burden on the conventional customer support department and online virtual assistants. However, if a customer demands a special query that's not in the automated chatbot responses, it's forwarded to real representatives to handle. This makes customer service faster, more time-efficient, and more reliable.
Chatbots have become an integral part of eCommerce marketing and are now expanding their role toward healthcare, real estate, and B2B companies. Additionally, they serve as an effective tool to gather customer data and facilitate a personalized experience for customers. Current chatbots can even detect when a customer is sad, angry, or happy with advanced artificial intelligence, machine learning, and natural language processing technologies.
For example, when you visit this site for eCommerce solutions you can contact the chatbot for any queries regarding the services offered by the site. Similarly, you're given the option to contact the site representatives for a tailored query.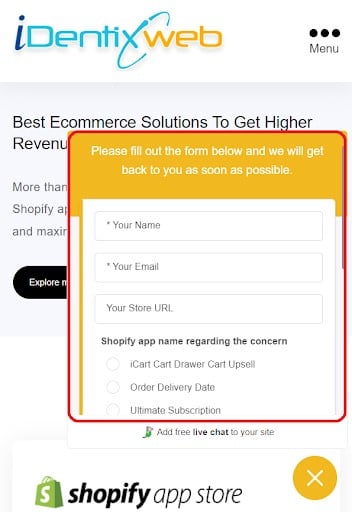 2. The Popularity Of Voice Search
Today, as life becomes increasingly fast-paced, customers are expecting businesses to become proactive and faster. Customers no longer want to type in the products they intend to buy as it takes up some time. On the contrary, voice search is getting more popular, especially among Gen Z. Here are some popular virtual assistants that are actively used for purchasing decisions:
Apple Siri
Amazon's Alexa
Google Assistant
Microsoft's Cortana
According to research, 27% of people make screenless browsing sessions via smartphones worldwide. Google "near me" searches have been extremely popular for the past few years, especially for finding local businesses. As many as 58% of buyers were successful in finding the best store for their purchasing needs through voice search.
To reap the full benefit from these digital marketing efforts, businesses should work on voice SEO. For example, if a customer is looking for an online resume builder, they might make a voice search like "What's the best online resume builder?" Also, note the keyboard search for the same query could be different such as "online resume builder" or "best online resume builder". So, marketers should optimize their websites for keyboard search and as well as voice SEO.
A few methods to optimize voice SEO are:
Use rich snippets
Add schema markup
Keep content current and up to date
Keep Google My Business listing up to date
Use natural language for direct answers to specific questions
3. Using Website Pop-ups
In 2023, the use of pop-ups will become more popular than ever. Pop-ups are considered a trending marketing medium that is directly linked to higher conversion rates. Businesses can incentivize people into making purchasing decisions by offering them discounts, coupons, and special offers.
Similarly, pop-ups are a great tool for getting people to subscribe to your website newsletters and promotional emails. Pop-ups are usually displayed right after you land on a website homepage. The idea is to offer the best incentives and make customers subconsciously aware of the actions they must take while surfing the website.
For example, when you visit this eCommerce store for solar kits, you're greeted with a questionnaire pop-up. Upon answering the questions, you'd be recommended the best solar kit for your specific needs. This form of digital marketing is very effective as it lowers the burden on customers to choose the right product for their needs, and encourages them take action on your site.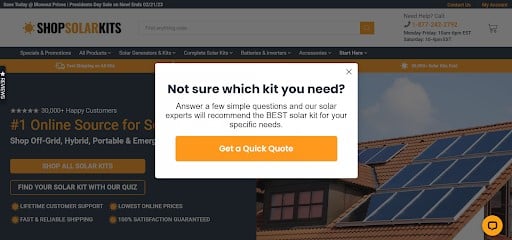 Expert Advice:
While designing your website pop-ups, keep minimalism and creativity as the key drivers to attract maximum customers. Look into these classic pop-up examples to get started.
4. Utilizing SMS Marketing
SMS marketing is not going anywhere in 2023. It's more convenient and effective than email marketing, because customers are more likely to open a text message compared to an email. Through effective SMS marketing, business leaders can make sure they get promotional texts to reach the right audience at the right time.
Another advantage of SMS marketing is it eliminates the chances that your promotional messages will go into the spam folder as is the case with some promotional emails. In addition, this form of digital marketing is fast, automated, and convenient.
The best part is, you get to interact with customers directly. To make the most of these interactions, make sure your messages are short, to the point, and easy to read. Most importantly, never forget that humans make purchasing decisions based on emotions. Hence, adding a little emotional and human touch to your messages so they don't sound robotic is the key to effective SMS marketing.
You can use SMS marketing to let your audience know about:
Coupons
Discounts
Promotions
Order Status
New products
Seasonal sales
Order confirmation
5. Effective Email Marketing
You might be thinking email marketing will not be among the top digital marketing trends in 2023. On the contrary, it will remain on top of the list and the number of promotional emails sent and received is expected to grow to over 347 billion towards the end of 2023. Email marketing is a cost-effective, fast, and efficient way to get your word to your current or potential clients.
It's interesting to note that marketing emails are directly linked to increased ROI. For instance, an ROI of $36 is earned for every dollar spent on email marketing.
While creating an email marketing strategy, make sure to segment your list to make it more relevant to the customers. Sending emails that don't add value tempts the customer to unsubscribe from the mailing list. To overcome this issue, send personalized promotional emails depending on where a customer is in his buying journey.
Here are a few of the most common examples of email marketing:
Promotional emails
Transactional emails
Abandoned cart emails
One of our favorite examples is this cleaning business site that prompts users to submit their emails to get free cleaning tips in their email. Once a business gets hold of a potential customer's email, it's easier to send personalized offers and services which in turn boosts business sales. So, email marketing can also work as a two-way process where customers and businesses benefit from each other.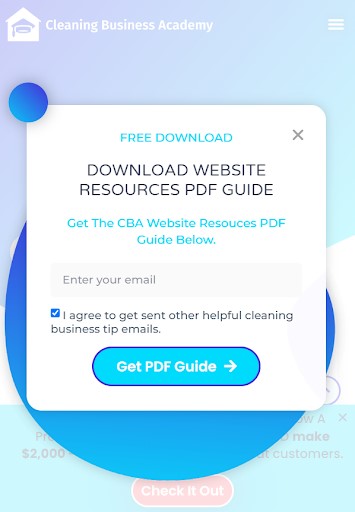 6. Using Video Marketing
Video marketing is among the hottest digital marketing trends in 2023. It's an interesting fact that the average person spends about 100 minutes a day just watching video content. Marketers are using this opportunity to turn online video watchers into potential customers.
Businesses can leverage video marketing in two ways:
Create a business account on YouTube, TikTok, Instagram, and other video-centric platforms.
You can add informational videos, client reviews, and promotional videos regarding your products and services. This form of marketing is more organic and helps businesses create brand awareness, affinity, and lasting customer engagement. Using appropriate hashtags and tags in the video description is the key to attracting your target audience.
Create over-the-top (OTT) video ads to run over other videos your potential customers are watching.
Video ads should be 10 to 15 seconds long with a creative message targeting the pain points of customers in minimum time. Make sure to put the key information at the starting few seconds of the OTT ads as people can skip them afterward.
7. Influencer Marketing Trend
With the rise of social media usage, influencer marketing is getting more hyped up and even generated a $13 billion revenue in 2021. Influencer partnerships are beneficial for businesses to reach their target audience with minimum effort. All you need to do is partner with influencers who have a considerable number of followers to reach your niche-specific audience.
Social media marketers do paid partnerships or provide free products or services to social media influencers or content creators. In turn, they promote your business in their social media posts, reels, and stories. Some of the popular social media platforms to leverage influencer marketing for your business are:
TikTok
Twitter
YouTube
Instagram
Facebook
Snapchat
Blog posts
The good news for small businesses is, partnerships with micro-influencers with comparatively lesser followers will be more fruitful and cost-effective in the coming years. They directly impact the decisions of their audience because of closer connections, unlike big celebrities. They also target a segmented demographic group that's more inclined to buy online products.
8. Leveraging In-Feed Shopping
Connecting your business website with social media accounts for an easy in-app shopping experience will remain an efficient digital marketing trend in 2023. Instagram and Facebook users can find your products in their feeds and click right through the posts to make purchases.
Similarly, you can launch Google ad shopping campaigns to attract a target audience to your online course website. For example, your online course offer is displayed as shoppable links through ads. People can search the products and Google ads will show your products at the top of the SERP for easy discovery.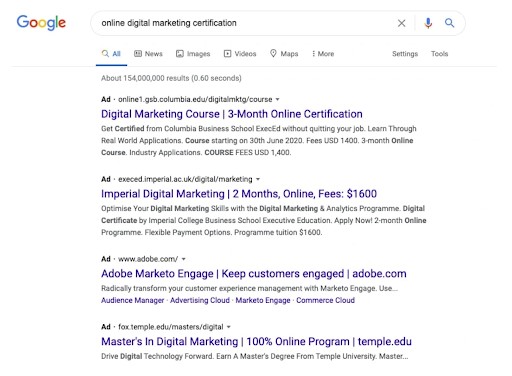 Using the right keywords is crucial to reach your target audience through in-feed shopping.
9. Utilizing The Power Of Search Engine Optimization (SEO)
Having a killer SEO marketing strategy for your online business can help you reach your target market organically as 53% of the website traffic is a result of organic Google searches. Among many factors that constitute website optimization, the right keywords relevant to the audience search come at the foremost importance.
The website's technical health is also a crucial part of SEO that's termed as "page experience" or "Core Web Vitals". Here are the three components that impact page experience:
Website Loading Time: The time taken to open a web page is called loading time. The loading time of 0-4 seconds is ideal for a better page experience that drives conversions.
Website Interactivity: Website interactivity refers to content that's easily clickable, scrollable, engaging, collaborative, and amusing at the same time to offer the best user experience.
Website Visual Stability: The site design has to be consistent, appealing, and attractive to keep visitors interested and engaged. There shouldn't be any inconsistencies or overly-loaded content to keep users focused on what's important.
To illustrate the power of SEO, let's say you want to find the best digital marketing classes. Your first instinct would be to search "best digital marketing online course" on Google. Now if you look at the organic results, it shows the sites that are SEO-friendly for the relevant user searches.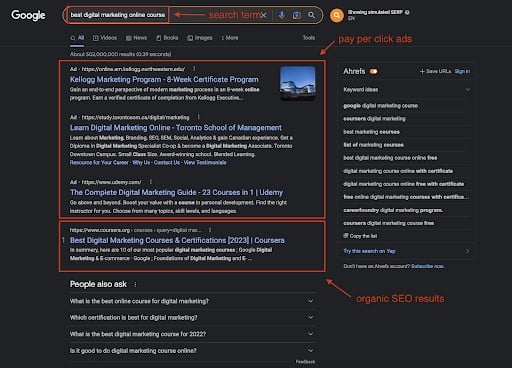 10. Green Marketing Trend
Sustainability has become an important part of a business's success. The products or services aligning with the legal environmental standards for sustainability are considered eco-friendly. Digital marketers have understood the importance of green marketing to attract more buyers, increase customer loyalty and create a positive brand reputation.
Some of the green marketing practices are:
Using organic products
Energy-efficient products
Eco-friendly products packaging
Using renewable energy sources
Products having a low carbon footprint
Using harmless/chemical-free products
Products made with recyclable materials
Giving product repair options to customers
Partnerships with green NGOs and government bodies
By implementing green marketing, environmental resources can be saved, the carbon footprint reduced, and packing pollution can be considerably minimized. The customers also feel good using a product that's eco-friendly and cruelty-free. Moreover, green brands also get a competitive edge over other brands due to their dedication to environmental responsibility.
One of our favorite green brands is Vivion. They're associated with the National Association of Chemical Distributors (NACD). The association members follow high environmental standards, safety, performance, and security practices to ensure the high quality of retail products. There's also a third party involved to verify the quality against a set of industrial standards.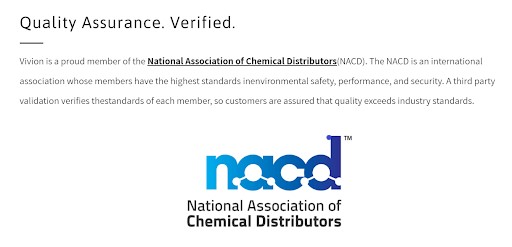 On the downside of green marketing lies greenwashing. It is the practice where businesses fake their products and services as green and eco-friendly when they actually aren't.
One such example is IKEA. In 2020, they were called out for an illegal logging practice in the Siberian forests for building furniture while they promoted themselves as a sustainable brand. The relevant environmental protection agencies took action against them for greenwashing.
Keeping Up With Digital Marketing Trends
In this fast world, digital marketing trends are upgrading and innovating faster than ever. From leveraging traditional marketing practices like SMS, email, and SEO to advanced technologies like chatbots, voice search, and virtual assistants, the shift in the marketing niche is inevitable.
To help your business thrive, it's crucial to keep up with current digital marketing practices. Now that you've learned the must-follow marketing practices, it's time to take all that knowledge into action to create the best customer experience, and brand awareness, boost sales, and generate greater ROI.
Want to learn more secrets about running a successful online course business? Then you might be interested in enrolling in our free Course Builders Bootcamp, where we teach you all you need to know to create your successful online course.