How To Create "Content Upgrades" That Turn Your Readers Into Email Subscribers
Can you name the best tactic to convert your blog visitors into email subscribers?
If you think it's the pop-up email form – you're wrong.
If you think it's the so called "feature box" – you're wrong again.
Even the "opt-in bribe" floating in your sidebar isn't the best converting tactic.
I wish I could keep the intrigue a little longer, but there's a spoiler right in my headline, which I'm sure you've noticed.
The name of that tactic is "content upgrades" and today we're taking a very detailed look at it.
The All-Important Email List
Everyone knows how important an email list is to a blogger.
Your subscribers are the people who you email about your new articles. They are the people you pitch your products and services. You can even ask them for advice when you're out of ideas on what to write about.
But there's one thing that took me a few years to understand:
Your email subscribers are the people who help you grow your blog!Click To Tweet
Whenever you send them your new article – they will share it with their friends and followers and bring a lot of new people to your blog.
Your job is to turn these new visitors into your email subscribers.
I call this thing the "subscriber growth loop."
The most effective way of creating a subscriber growth loop on your blog is the shiny new content upgrades strategy
Lets take a closer look at it.
Using Content Upgrades In Your Articles
I'm sure you've already noticed how some bloggers are filling their articles with catchy yellow boxes.
These boxes prompt you to download the complimentary bonus materials that go along with the article you're reading.
Here's a screenshot from the blog of Brian Dean: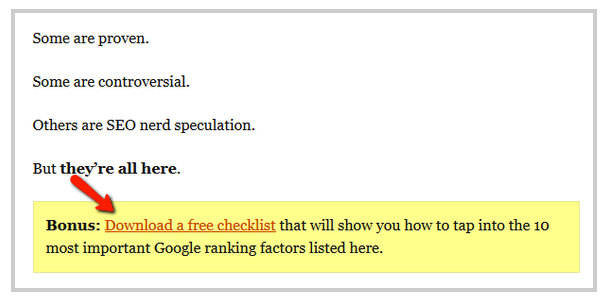 If you click on that link, a pop-up box will appear, asking you to leave your email address in order to get the bonus materials. And once you do that, you'll instantly get redirected to a page with the file that you have requested.
You won't believe how effective this is.
Some of the bloggers I've talked to say that they're getting conversion rates of up to 30% on some of their articles. But why does it work so amazingly well?
Well, think about the opt-in bribe that you offer to your visitors. Is it 100% relevant to every article that you have on your blog?
Let's say a person came to read your article on content promotion, and you're showing him a pop-up with your free ebook on getting more Twitter followers. Your opt-in bribe is not something he is interested in at the moment, and that's why your conversion rate will be very, very low.
It would be much more effective to create a dedicated opt-in bribe for each of your articles. This way you'll be offering your readers something you know they are interested in and your conversion rates will go through the roof!
Here's another reason why content upgrades work so well: you have the full attention of a person who is reading your article and thus you can easily persuade him to download your freebie.
This is something Seth Godin calls permission marketing. By reading your article, the reader is giving you his permission to tell him whatever you want.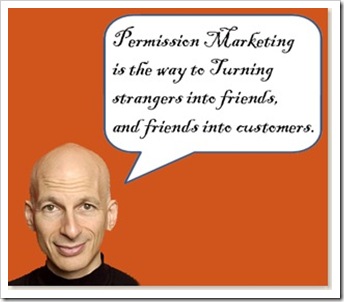 On the contrary, pop-ups and sidebar forms are the examples of interruption marketing, where you interrupt the reader on his way of reading your article and try to sell him on something that might not even be relevant to him at the moment.
How To Create a Content Upgrade That Converts Well
It does not matter what you use as a content upgrade, as long as you have the arguments to persuade your readers to take it.
Think of your content upgrade as if it is a product and your article is sales copy.
Many bloggers go the easy way and give out the PDF version of their article as a content upgrade. But if you ask me, I have no clue of why would anyone want it.
To save for later? – just use bookmarks
To print it? – you can print directly from your web browser
To read on iPad? –

Pocket

app seems to be more convenient
If you don't have a strong reason for why readers should take your content upgrade, you're going to have a hard time selling it to them.
But if your content upgrade complements your article and contains a lot of extra value – they'll go for it.
The best way to accomplish that is to write an article that tells people WHAT they should do, and offer them a content upgrade that shows them HOW to do it.
Example:
Let's say you're writing a post titled "5 Ways To Promote Your Content Online." A perfect content upgrade for this article would be a video screencast where you show people how you execute each of the promotion tactics that you shared in your article.
And maybe you could also give out some of your own templates and spreadsheets which will make readers want to get your content upgrade even more.
The Technical Side Of Content Upgrades
If you're still reading, I guess my rant about content upgrades was persuasive enough and now you're looking forward to trying out this fancy new tactic on your own blog.
I have two different options for you.
Option #1: LeadPages
Most pro bloggers are using an online service called LeadPages to create content upgrades in their articles.
LeadPages is a very powerful service with a variety of different tools for webpreneurs. The one we're looking for is called "LeadBoxes"

"LeadBox" is basically a pop-up that you can easily customize to make it sell your content upgrade: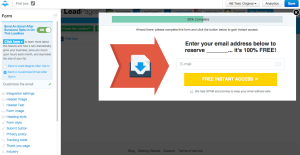 Once you're happy with how it looks, the service will give you a link that you can use to call that pop-up within your article.
But a simple text link might easily go unnoticed. So most bloggers use a few lines of code to place that text link into a catchy yellow box.
If you want to learn how to do that, check the tutorial by Brian Dean: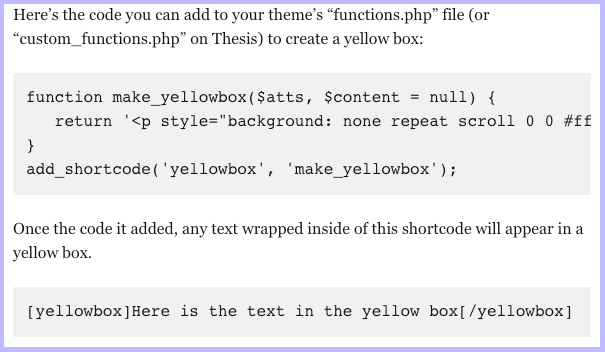 LeadPages is easily integrated with your MailChimp account, or Aweber, or almost any email service.
But the most important question is how do you deliver your content upgrade to a person who have just opted in?
This mostly depends on your preference to have people confirm their email addresses or not.
Double Opt-in turned OFF
In case you have the Double Opt-in option turned OFF, you can just redirect a person to a page containing your bonus right after he submits his email address.
You can specify a different page for each of your bonuses, making sure your reader will get exactly what he has opted for: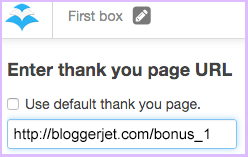 Pros:
Visitors are redirected to the exact content upgrade that they have opted for
They don't have to confirm their email address to get it
Cons:
Since visitors don't have to confirm their email, you will end up with tons of fake emails in your list
Double Opt-in option turned ON
But what if the Double Opt-In option is turned ON, and people have to confirm their email address by clicking on the confirmation link that was sent them?
In this case, your only option is to store all your bonuses on the "thanks for subscribing" page where your email service will redirect people after they confirm their email address.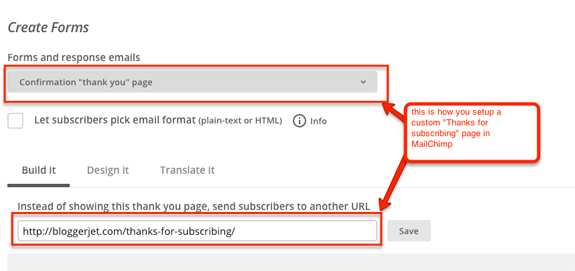 I tried to find a way to have MailChimp redirect people to a different "thanks for subscribing" page based on a specific bonus they had opted for. And the only way to do that is by creating a separate MailChimp list for each of your content upgrades which is not very convenient.
Pros:
Cons:
Your visitors will be redirected to a page with all the bonuses that you have, instead of only getting the specific one
But if you ask me, I see nothing wrong with giving all the bonuses I have to my new subscribers. And I would definitely want to avoid fake emails in my list.
Automated Email
LeadPages gives you an option to send a custom automated email to the address that was submitted to your LeadBox.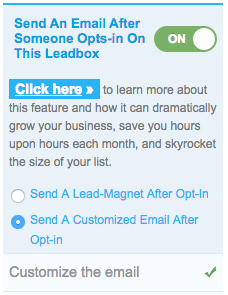 This is a great way to avoid all the hassle of creating different pages with bonuses on your site.
But there's one major downside to this method if you want people to confirm their emails.
The email with the bonus and the email asking to confirm your email address arrive to your inbox pretty much at the same time. This way a person can download his bonus while ignoring the email confirmation, which means he won't be added to your list.
I should also mention that LeadPages is a subscription-based service and the pricing starts at $25 per month.
It may sound a little steep to some people, but like I said, LeadBoxes is just one of the many awesome tools they have in their toolbox.
Option #2: Content Upgrades PRO
Another way to setup content upgrades on your website is a WordPress plugin called Content Upgrades PRO.
It has two versions: the premium one and the free one.
Let's focus on the latter.
The free version of Content Upgrades PRO requires people to confirm their email address. So your only option is to store all your bonuses on the "thanks for subscribing" page.
But like we just discussed, that's not too much of an inconvenience since your subscribers are getting even more than they have opted for.
So in the admin panel of Content Upgrades PRO you're given a simple popup design which looks like this: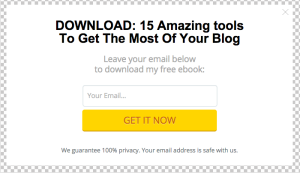 And you have the shortcode that you can use to link to this pop-up from your article (the whole process is not much different from LeadPages):

Since you're going to offer different content upgrades in different articles, you can easily customize your pop-up in the settings panel right under your post editor:
This is roughly all you need to know in order to create the first content upgrade on your blog using this free plugin.
I should also mention that I am the one who developed it. And I purposely didn't talk about the benefits of the premium version, because that would be considered shameless self promotion.
So in case you have some further questions or need some assistance with my free plugin – please ask your question in comments and I will happily instruct you.
Take Action Now
One of the coolest things about this strategy is that you can use it on your past articles and get tons of extra email subscribers with the same traffic that you're getting right now.
First, go to your Google Analytics account and get a list of your top landing pages.
Then, open each article and think of what people reading it might want to get from you. Create that thing they want and use it as a content upgrade for your article.
And don't worry, there are tons of different things you can offer as a content upgrade.
To prove to you that I practice what I preach, I'm inviting you to take a look at my Guide To Strategic Writing I recently published on my own blog.
I'm offering four different content upgrades there:
The PDF version of my Strategic Writing Checklist
The contacts of an illustrator, who can draw awesome comics for just $5
The example of a specification that I've sent to this comic-guy
My "Headline Formulas" Cheat Sheet
Each of these content upgrades is highly contextual and perfectly complements my article.
I'm afraid I don't have the exact numbers (my plugin doesn't have statistics yet), but based on my raw calculations  more than 12% of people who visit my guide subscribe to get the bonuses.
This is a way better conversion rate than I get with my pop-up and my feature box combined.
So what do you guys think about this new strategy? Are you willing to try it on your blog?
Feel free to throw examples of your articles with content upgrades in the comments to this post.