Content Marketing Plan for the Biz Blogging Telesummit
Note: This post was part of the "Marketing That Works" Ideas Contest, showcasing 20 of the most innovative marketing ideas from the blogosphere's up and coming marketers. We've since picked a winner – check out this post for the details! 🙂

I had a crazy idea over the summer.
Why not run a telesummit featuring experts in blogging, social media and SEO providing information designed specifically to help small businesses market online? Oh, and why not add in actual small business case studies as well?
Great idea, right?!
Well, I pulled together the pitch, signed up some amazing interview subjects including Marcus Sheridan, Pamela Slim, Denise Wakeman, Jack Humphrey and Danny Iny (of Mirasee) and started conducting the interviews.
This may sound easy, but how I did this is another story! Anyway… halfway through the 18 interviews I started to realize the enormity of the task required to not only pull this off, but to get people to attend!!
(Go here for more on hosting a telesummit)
So I quickly pulled together my marketing plan consisting of…
Email marketing (marketing to my list)
Affiliate marketing (marketing to their lists)
Advertising (marketing to the world)
Social Media Marketing
And…. Content Marketing
For this article, I'll focus today on the last one (Content Marketing), including what I created, how well it worked, and what I would do differently next time.
But first, what is Content Marketing?
This is a marketing competition so I have to set the stage about what I tried to pull off here. What is the definition of Content Marketing? I take a fairly broad and simplified definition of content marketing:
"Content that serves as Marketing for your business, organization or cause."
This (in my opinion) can include:
Content that adds value or entertains.
Content that gets shared or helps people discover you.
Content that you create, have created for you, or that you curate.
Content that gives you an excuse to get out in front of people more often.
Content that leads users down a path to perform actions you would like them to.
Content that is shared via your blog, social media, advertising or email marketing.
Content Marketing and Social Media Marketing
While content can be spread a variety of ways, one of the best ways is via social media platforms such as Facebook, Twitter, LinkedIn, Google+ and YouTube. Spreading to even a small number of followers, you can get extremely broad distribution if a) influencers find it and spread it to large number of people, or b) lots of people spread it and it moves from network to network and "goes viral" (or a combination of both).
Content is the fuel of social media marketing. Without content you'd have very little (of interest) to share with people on social media and you'd have a hard time staying top of mind with them (which would impact your marketing efforts negatively!).
Here are the five types of content that I created for the Business Blogging Telesummit and my assessment of how well each worked for the event.
1) Blog Posts on my site:
The first order of business was to get some compelling content on my Right Mix Marketing site. I had been on the fence about going to Blog World LA, which was just 350 miles down the road in Los Angeles (I'm located near San Francisco). I'd missed all of the promotional pricing, so I bought a one-day pass and booked a hotel and flight. Little did I know that this event would lead to the development of blog content, pictures and videos that would play a large role in my content marketing effort.
Blog World LA-related posts:
I covered a couple of the most popular presentations at Blog World (Peter Shankman's keynote, Guy Kawasaki & Chris Brogan on Google Plus), conducted a video interview (with Joe Pulizzi of the Content Marketing Institute), and shot a some pictures and video. The subjects and audience for this content are mostly influencers of my target market (small business marketers). This turned out to be a great way to create useful content with a ready-made audience to spread it more broadly than I possibly could have.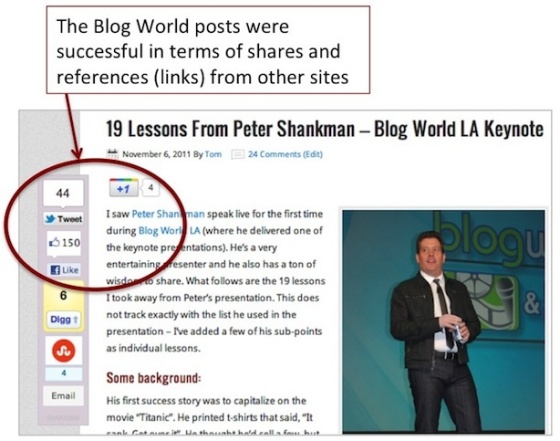 Business Blogging Telesummit Speaker Posts:
I also wrote three posts featuring the speakers for my event. Versus being puff pieces or purely promotional posts, I wanted to make sure they added value so people would want to share them. In addition, the speakers were naturally incentivized to spread the content via social media to help get the word out. See Business Blogging Telesummit posts.
Other Targeted Posts:
Separately, I wrote several posts about blogging, WordPress security, Guy Kawasaki's book launch, content curation, #blogchat, and other topics of interest to marketers. These added to the content marketing mix that I hosted on my own blog. Having this content allowed me to stay top of mind for my own social media audiences on Twitter, Google+, Facebook, and LinkedIn and provided content for my new friends (e.g. speakers, partners, new connections) to share as well!
While I think email marketing (both your list and affiliates) provides the most direct bump in terms of registrations, I think good, shareable content on your own blog provides a steady stream of sign-ups, gets people excited about an event, allows people to get to know you (including potential buyers), and keeps you on the radar of your speakers, participants, audience and supporters.
Score: 9 of 10
The timing of Blog World really worked to my advantage. Also, I'd say the content was solid and was shared well by my network of contacts and by key industry influencers.
Do better next time:
Next time I would do more posts featuring the presenters – including featuring them individually or getting them to do guest posts.
2) Guest Posts on other sites:
The next order of business was to make sure that I "borrowed other people's audiences" via guest blogging. I managed to get post ideas accepted at Problogger.net, at DeniseWakeman.com and at Technorati.com. The first two posts proved to be very popular, allowed me to get in front of different audiences and also allowed me to interact with people via the comments.
This is an essential part of a launch and I'm following in the footsteps of people like Jon Morrow and Danny Iny who have used guest blogging as a powerful tool to launch a new program, book or other offering.
Score: 6 of 10
The guest posting I did was good, targeted at the right audiences, and was effective in bringing traffic and creating interest. But, more would be better!
Do better next time:
Guest blogging takes lead time and requires some up front work. I was clearly behind in my planning on this one. I was lucky to get two posts scheduled prior to the event at popular blogs! Next time I would start planning for this first and get my requests out to the target blogs. Also, I would find more blogs that are focused on niche small business topics or on specific industries and pitch articles that suited those audiences.
3) Participating in Podcasts, Online Radio Shows and Video Interviews
Part three was to get interviewed on video, on radio shows and on podcasts.  With my efforts here, I was able to secure spots on The Online Business Hour, on the Women Entreprenuer's HQ and on Tapping To Success (on Blog Talk Radio).
This rounded out my content marketing effort and allowed people to see me in action. It also allowed my message to get on other platforms such as iTunes, Blog Tak Radio and YouTube and gave me multimedia content to post on my own site.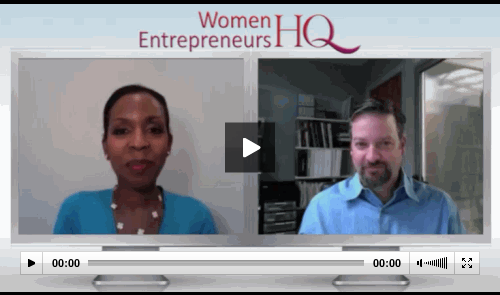 Score: 5 of 10
I was very happy with the interviews I did and the people who hosted me but there were not enough.
Do better next time:
Next time, I would start earlier and spend more time identifying top radio shows, podcasts or video interview series in order to have a larger set of potential venues to be featured on. I would then pitch interesting or unique topics that would intrigue the hosts.
4) Video and Photo Creation and Sharing:
In my opinion, multimedia content is an important part of a content marketing campaign. With that in mind, I create some video content as well as did some photography at Blog World LA and with the Minimalists (two my interview subjects) up in San Francisco. In addition, Denise Wakeman created a short video for the event using YouTube search stories. The video content included Blog World LA clips of Guy Kawasaki and Chris Brogan, the interview of Joe Pulizzi and telesummit promotional videos (not much "value add" in those). I shot pictures at Blog World of Mari Smith (see it on Facebook), Guy and Chris, Joe Pulizzi and Jay Baer (see it on ConvinceandConvert.com), Amber Naslund and Peter Shankman. In addition, I was interviewed on video for the Women Entrepreneur's HQ (mentioned earlier).
The video and pictures liven up your content marketing efforts, allow you to reach people who consume information differently, enhance sharing on places like Facebook, Google+ and YouTube and allow you to be found on more social media platforms.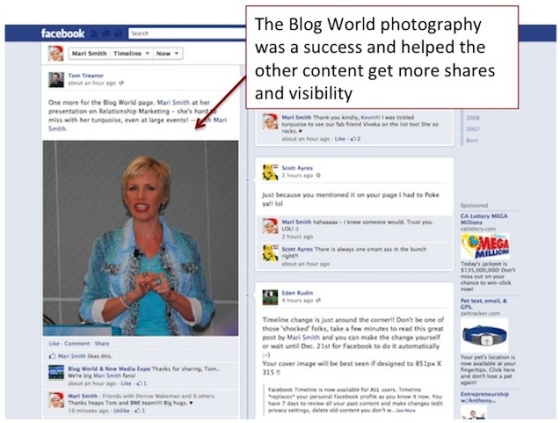 Score: 7 of 10
While the video portion lacked enough value-added videos, the photography portion was a nice surprise and led to a lot more sharing of both the pictures and the associated content!
Do differently next time
I was pleased to be able to include the Blog World pictures and video as part of the content marketing strategy. Also, it was important to produce some of my own videos and to include these as video responses to some other popular videos (thanks Paul Wolfe for your timely YouTube marketing tips!) . Next time I would take the time to make more valuable video content such as tips or strategies targeted at my ideal audience. I would also consider doing short video interviews with some of the presenters (again with some tips or advice).
5) Press Releases
I used PRWeb and created a press release for the event. While more promotional in nature, this can help with search engine optimization (backlinks), in getting your message out broadly via all the sites that pick up (and publish) press releases, and it can give you the opportunity to be found by the press.
>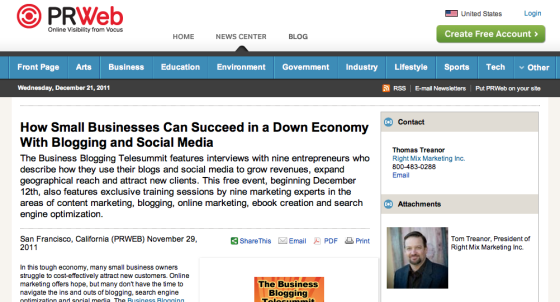 Score: 5 of 10
I think the press release was decent, but more releases may (or may not) provide more opportunities.
Do differently next time:
The jury's still out on how much this added to the marketing of the event. If the budget was there, I would consider running a series of releases every 2 weeks or so with different messages and "angles" and then try to measure the impact in terms of press contacts and traffic generated. Another option to consider is responding to HARO (helpareporter.com) requests to get some press coverage on topics related to the event.
Final Assessment
All in all, the Content Marketing efforts were a huge success despite the limited time and resources available. The content helped bring hundreds of new visitors to both the Right Mix Marketing and the Business Blogging Telesummit sites. While the affiliate and email marketing efforts led to probably two-thirds of the sign-ups, the Content Marketing probably brought in one to two hundred new subscribers. The advertising efforts were probably the least successful (although some portion of it fed into the Content Marketing).
In addition to subscribers, the content – including blog posts, videos, pictures and audio – also helped to keep the event top-of-mind with the audience and the speakers. It also gave people a chance to get to know me and the interview subjects in a much deeper way. Another great side benefit is that it allowed me to model Content Marketing in action for a major event that featured Content Marketing as a major component!
Let me know your thoughts? What would you have added to the Content Marketing plan?