How to Overcome the Top 3 Content Marketing Crises
No content marketing strategy is free from crisis.
As content marketers, we know.
In managing our projects, we face many pitfalls. But we also know how to turn those pitfalls into benefits.
If there is a content marketing crisis, there is always a way to overcome it.
Click To Tweet
While there are too many potential issues that could arise to cover, there are a few common potential crises of every content project.
So the question becomes:
Do you know, follow, and use all recommendations and instruments that help in overcoming such crises and move you to the next stage of your content project development?
No? Then let's discuss these crises and solutions.
Crisis #1: Little Traffic, Much Conversion
You get regular and proper traffic, but it's not enough.
As far as you know, all content projects pass through this stage of life cycle, and your strategy here will depend on the project's age.
If you are getting ready to roll, everything you need to do is work on audience attraction and to keep increasing conversion rates.
If your project has been in a state of stagnation for a long time, and if you don't see any changes in the dynamics of its growth… Perhaps, the niche is too narrow for you to go wild.
Here's what will help:
1. Share buttons
Make it easier for visitors to share interesting content with friends and subscribers on social media.
According to the Social Media Marketing Industry Report, 92% of marketers consider social media important to businesses, and 97% of them employ social media marketing with the help of best instruments to do this.
Top 5 of them are:
Monarch (Price: $89/year)
Social Warfare (Price: Starts from $24/year)
SumoMe (Price: Free with paid options)
Easy Social Share (Price: $14)
Shareaholic (Price: Free)
Do your best to increase social shares, and your content marketing strategy will get one more helper to flourish.
2. Social media channels
The Pew Research Center reveals the latest social media trends and proves that more than 75% of Americans use social media today, which makes it attractive for content marketers to use different social media channels for increasing traffic and making their content spread.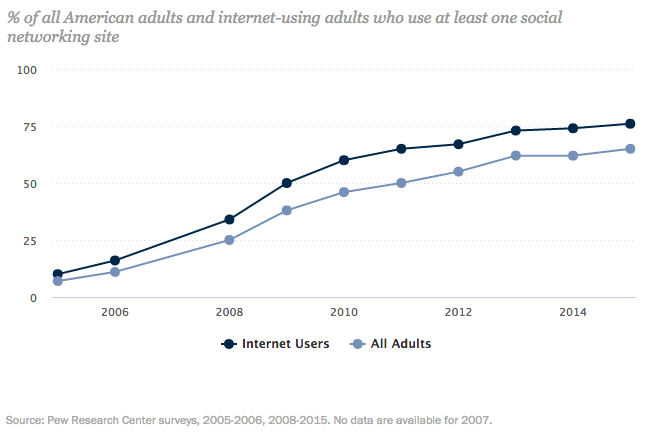 Let visitors choose the channels they want to get your info from.
Click To Tweet
It can be Facebook, Twitter, Google+, and LinkedIn, or experiment with niche platforms such as Tumblr, Ello, Pinterest, or Scoop.it.
Set automated cross-posting with the help of Hootsuite, Buffer, or Stacker, but remember: eventually, you'll need to adjust your content to a format for particular platforms.
The most popular social platforms include: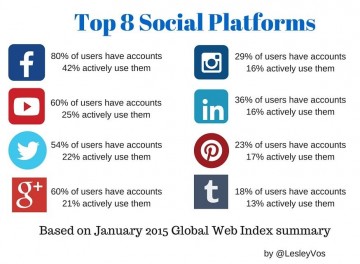 3. Content life cycle
If your goal is to create content that will have been in trend for a long time after publishing, make sure you tracked the relevance of your topic. Two tools you can use to check this: a free option is Google Trends, or a paid account with Semrush.
4. The interests of your audience
Use such instruments as BuzzSumo, Scoop.it, or Feedly to track and analyze popular feeds, evaluate the content of your competitors, and find materials with the highest level of involvement.
5. Content recommendations
Automate the process of content recommendations for your readers, as they influence audience retention positively. Duration and depth of a visit, as well as the number of re-entries, are essential factors for search engines.
Don't hesitate to use different plugins, such as NextClick for example, to automate content recommendations based on your readers' interests.
6. Link earning
It's well-known that organic backlinks rule! Use different instruments to connect with influencers of your niche and offer your content for them to share: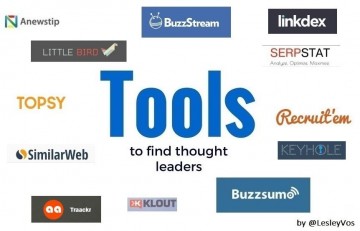 Most popular:
Anewstip
Topsy
SimilarWeb
Buzzsumo
BuzzStream
SerpStat
Rectuit'em
Klout
LittleBird
Traackr
Linkdex
Keyhole
7. Analyze the time of publishing
Use general statistics or data from applications for posting, but the best variant is creating your own chart and evaluating from there.
Day and time of publishing, day and time of publishing of your competitors, information on experiments, etc. Studying this information and how users engage with the content will help you optimize your content plan in the future.
8. Analyze feedback
Besides analyzing quantitative metrics (shares, likes, reposts), try to analyze qualitative ones, too: talk to your audience, reply to their comments, ask questions, and involve thought leaders into a dialogue.
Constructive feedback is a useful driver of your content project development and perfection.
Click To Tweet
Use tools like Babkee, IQBuzz, Social Mention, or Klout to automate your social media listening.
9. Analyze your audience behavior
Remember that you are a spy. Cool web analytics tools let you spy on your website visitors and customers to gather data and analyze their behavior to better understand what changes your content needs to drive more traffic.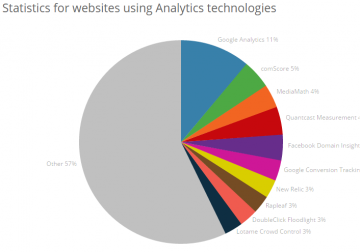 Builtwith data reveal that Google Analytics remains #1 tool marketers use, but it doesn't mean it's the one and only to try. Rankwatch, KissMetrics, Click Tale, and Zapbi are worth mentioning, too.
Crisis #2: Much Traffic, Little Conversion
With this crisis, the reasons can be numerous.
Thank you, Lesley, you are so informative!
OK, so let's cover a few of those numerous reasons.
First and foremost, pay attention to the following:
1. Your content project doesn't meet your audience's expectations
Content that is low quality and with unclear navigation, too much advertising, bugs, no mobile version—these are the main reasons for  your audience's disappointment, and why they ultimately leave your website.
2. Product/service doesn't meet audience expectations
Are you sure your content helps to sell your product?
Maybe the product and content don't complement each other?
Or, your content is not convincing enough to encourage sales, especially if it's a complex B2B product with a long sales cycle. If the latter, you need to change your marketing communications strategy, not the content strategy itself.
3. Social media marketing and paid channels
If your content and platform are fine, it's time to examine your social media marketing strategy.
Where do you get untargeted traffic? And how does it relate to conversion?
For example, let's say you get more traffic from Twitter than LinkedIn. But because you provide services for businesses conversion is higher with the LinkedIn traffic.
4. They don't understand what you sell
I had a chance to see several content projects that tried to be so tricky and hide their commercial interest, making it almost impossible to uncover their offer.
It's a sin to do so!
Track and analyze a visitor's way to conversion, help them understand what you want from them.
5. CTA
There is no need to "chew" this aspect again.
We all know the importance of CTA; just try to see it from your readers' eyes to understand if they see what you want from them.
6. Registration form
As clear as noonday, your registration form shouldn't be so complicated your visitor can't subscribe.
Make sure your registration page/sign up form is designed to attract readers and make them want to sign up.
Crisis #3: Little Traffic, Little Conversion
Okay, sh*t happens…
So what to do?
To understand the source of the problem, you need to come back to the first stage of your content project and answer the who, what, why questions.
The success of content marketing depends mostly on the content strategy that determines the steps to take in terms of profiles and informative needs of your target audience.
No matter how hard you try to investigate a market and insure yourself from possible failures, most marketing initiatives come with risk.
The cut-and-try method is the only way to see if your content and marketing ideas work.
Click To Tweet
Content marketing is not an instrument in your marketing plan but part of a long-term strategy of marketing communications adjusted to product marketing and a company's corporate strategy.
But I am sure you all know that already.
Your turn. Do you have any recommendations and tools to overcome a content project crisis? Leave a comment below!

Stay on top of the trends!
Learn about the up-and-coming marketing trends that will involve your readers beyond the words on the page.