Compelling Content in 4 Easy Steps: Read At Your Own Risk!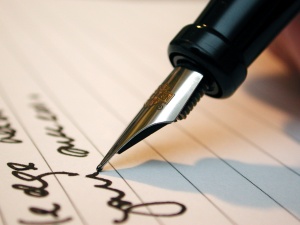 The writing I'm most proud of has never been published. It's never been Liked, Tweeted or Stumbled Upon. Few have ever read it, yet I consider it my most compelling work.
It's not a blog post, e-book or autobiographical novel (though I've written all three).
It's an essay that I wrote from my grandfather's perspective… during and after my grandmother's funeral.
I wrote the essay in my college dorm, in one sitting, with tears pouring down my face. One minute, I wasn't writing; the next, I'd been writing for hours. For a brief period, I entered into my grandfather's grief. Though I'd not yet met my husband, I could feel a small portion of what it must be like to lose the love of your life.
That small portion devastated me… and it brought my writing to life.
The secret of this essay, my most compelling content, my best work? Connection. And that's what you're striving for as a writer. Writing great, connective content lays the foundation for your site's success.
How do you foster this deep connection with your audience?
1. Write about the things that make you human (the things that humble you).
Your moments of vulnerability, the things you've done that both scare you and shape you? Those are the stories you need to write.
It's no coincidence that my post on smashing my brother's guitar sees significant traffic. It's no surprise that readers keep returning to posts like Jon Morrow's On Dying, Mothers, And Fighting For Your Ideals, Ash Ambirge's The 67 Emotions Of Online Success, and Niall Doherty's My Biggest Secret.
What do these posts have in common? All are deeply personal, yet they aren't about sharing private details simply for the sake of it. They are about writers humbling themselves and telling their truths so that readers are empowered to do the same.
To write a post like that, you need two things: a sense for what your compelling story is, and a critical eye to discern how it can help your readers.
Not sure what your story is? Write the one you're afraid to tell. In the words of Rainer Maria Rilke, "Our deepest fears are like dragons guarding our deepest treasures."
Next, think creatively about how your story could serve your readers. I struggled with the thought of telling the I-smashed-my-brother's-guitar story with my kind, caring (presumably non-instrument-smashing) readers… until I realized that it could form the first in a series of posts on 'Owning Your Anger'.
2. Write about the things that are (almost) too painful to share. Tell the truth.

For example…
Here's the thing about my grandmother's death: though I loved her, I didn't know her. Not really. We didn't connect when I was young, and we didn't connect when I was older, either.
It's sad, but it's the truth.
As I recall, this lack of connection had something to do with a poem I wrote about her being too busy. In all fairness, my grandmother had seven children, a myriad of grandchildren and a lot of baking to do for the holidays. Even so, I longed for her company, not her cooking. I reached out to her, and she wasn't available. So I poured my feelings into a poem, which went something like, "Can't she spare a moment/To talk and listen to me?"
In all innocence, I shared the poem with her, thinking that my truth would help us to connect. I was maybe seven or eight, too young to realize that brutal honesty might not be the best place to start.
Needless to say, it did not go over well.
This incident sent an unfortunate message to my childhood self: don't tell the whole truth in your writing. Don't upset the grown-ups. When you did that, it made your grandmother feel bad.
As a writer, you probably have a similar experience locked in the dark corners of your psyche. Somehow, somewhere, someone told you that telling your truth was a bad idea. That telling your story would get you in trouble.
Maybe it was true then, but it most likely isn't true now.
Now, you've got to tell your truth. (If you need a boost to get started, I recommend the Cowardly Lion crash-course in courage.)
3. Identify, identify… and then identify some more.
Oddly enough, I feel as though I got to know my grandmother when I wrote about her from my grandfather's perspective. When I looked through my grandfather's eyes, I saw my grandmother anew. Instead of seeing a busy woman with a sink full of dishes, I saw a beloved wife. I saw the woman my grandfather loved for over fifty years. It was my identification with my grandfather that allowed this; I wrote the essay for him, to him, as him.
This is your mission as a writer: to identify with your readers. To share your story, and in doing so help your readers see their struggles and heartbreaks in a new light. As Anne Lamott writes in Operating Instructions:
"…the job of a writer is not to get up and say [to the troops], 'Tomorrow, in battle, most of you will die…' Instead, a writer must entertain the troops the night before….the best way to entertain the troops is to tell stories, and the ones that they seem to like best are ones about themselves."
4. Empathize (bridge the divide).
Last Thanksgiving, my grandfather was laid to rest beside my grandmother. In the years before his death, I built the kind of friendship with him that I longed to have with my grandmother. My essay sparked a connection, and somehow, that terrible time brought us closer together.
That's your task as a writer: to be an alchemist. To take loss and pain and turn it into work that benefits others. To feel what your readers feel, and show them that they're not alone.
Your work will deepen as your compassion deepens. In response to my essay, my grandfather wrote: "Your insight as to what must have been going on in my mind at that emotional time was remarkably accurate….I [give] you an A+."
I'd found a way to empathize with my grandfather, and the result was writing magic.
In my essay, my grandfather quotes a verse by poet John Ashbery. This line seems particularly resonant now, after his death: "The factories are all lit up/The chime goes unheard./We are together at last, though far apart."
Whatever brings us together though we are far apart…that's what's worth sharing. That's what you need to be writing about. That's what makes content compelling. And that, my friend, is the only guide to great copy I'll ever need.