Boost Your Productivity with These 7 Apps
Imagine working for hours on end and accomplishing nothing.
All the emails or social media responses you made? Those don't matter in the grand scheme of things. The important tasks that require doing are still there, waiting for you. *Cue the frustrated scream.
Could it be that you have a time management problem?
The internet is a double-edged sword after all. On one hand, you can use it to communicate with business partners and clients the world over. On the other hand, it can be quite distracting. It's quite possible to waste countless hours each day, surfing the web when you shouldn't, and performing unimportant tasks online.
So, if your problem is wasting time online, then you need to change the way you go about your business.
Say hello to mood-enhancing, internet-blocking, and time-tracking productivity apps.
All these are wondrous digital inventions of man.  The software products track time spent online and set the right mood for work. They also block access to distracting sites thus boosting your productivity levels.
Below are apps that you should try out if you want to be more productive in the future:
1. Ambiance

Are you one of those people who need to get into the zone before getting things done? Consider Ambiance! It is a great tool for such occasions.
Ambiance is a mood-enhancing app. It provides you with a collection of 3,500 sounds to choose from. Use the sounds that catch your fancy to sharpen your focus or relax, and boost your productivity.
You can even create customized versions from what's available.
There are different versions of the Ambiance app for different devices. In addition to desktop devices, Ambiance can be downloaded and used for iPad, iPhone, and Android devices.
The price for the app is $2.99. There is a free trial for the desktop computer.
2. Cold Turkey
If you want to get your work done and are always making excuses, Cold Turkey could be the perfect solution to your problem.

This app has both a free and paid version and can block an unlimited number of sites. If you have a huge list of sites that need blocking, simply import a file of domains and feed the information to the app.
Cold Turkey's effects are far reaching. It works on all browsers and users on the computer in which the app is installed.
You also have the option of determining the period during which you want the app to remain active. Once the timer is set, undoing it is too much of a hassle forcing you to be productive even when you don't feel like it.
The premium version of Cold Turkey has additional features worth checking out. With this version, you can set short breaks within the block periods as well as longer breaks.
You can also set blocks for specific groups on a regular basis and set site exceptions that you can access in order to work, while still blocking the remainder of internet sites on your list.
The Cold Turkey free version is available for everyone. If you want the more advanced features, there is a $19 one time fee. The paid version comes back with a 30 day money back guarantee making it risk free.
3. Freedom
Do you want extra time to perform more tasks and boost your productivity levels?
Hooray for Freedom!
Freedom is another app to consider if you're looking to cut internet distractions.
---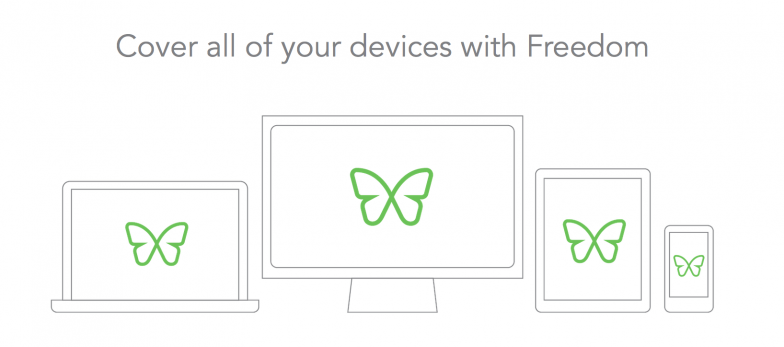 ---
Once you download and register the Freedom app, you can create productivity sessions on the spot, or schedule internet-free time blocks well in advance. You can even create regular distraction-free periods that will help improve your working habits.
Freedom also blocks social media sites like Facebook, Instagram, Twitter, and YouTube. However, it's not limited to just these sites. You can also block access to the internet as a whole and intensely focus on offline tasks.
It's worth noting that Freedom can be used on a large scale in educational and business organizations.
The beauty of Freedom is that it works on multiple types of devices and operating systems. It is compatible with iPad, iPhone, Android and Windows devices, as well as Mac. You can even use it on multiple devices with different operating systems.
The basic version of Freedom is free.
4. Focus Booster
It's important for you to understand how your time online is spent, so that you can change possible bad habits. Focus Booster is something you should consider having if accounting for time spent is a huge problem for you.

Focus Booster's design is based on the Pomodoro technique. This technique is used to create work sessions which incorporate regular rests to boost productivity. The app provides you with dark and light themes that are used to account for time spent on each session.
You also have access to a mini-timer. The timer is used to monitor your work session progress discreetly. In case of interruptions, the app takes note of every event and allows you to save those minutes for future reference and use.
Every time you record your Focus Booster sessions, timesheets are created automatically. In time, you will be able to access information on the available dashboard about how you spent your time, and the revenue you generate based on your activities. This information are in the form of generated reports filtered by time, client, or label. You can even export them for referencing purposes.
Focus Booster has a 30 day free trial. After the trial period, you can pay a monthly subscription fee of $2.99 for individual use, or $4.99 for professional use.
There's also a free starter package that will allow you to determine the work schedule that works for you.
5. LeechBlock
If Mozilla Firefox is your favorite browser, and you are looking for a simple productivity tool then LeechBlock is a good option.

Once you install the LeechBlock extension, you can use it to block up to six sets of sites. You can dictate the period during which the blocked sites should remain inactive. You can also block sites for short periods every so often.
If necessary, you can combine both techniques to ensure that you do not compromise your ability to be productive. The app also keeps a record of the time you have spent on the blocked sites (against your better judgment).
This should give you an idea of what's eating up your time and needs stricter regulation.
LeechBlock is completely free. All you need is the Mozilla Firefox Browser.
6. RescueTime

RescueTime is an online productivity tool that not only tracks your internet usage, but also blocks the distracting sites to keep you focused. This app runs in the background of your computers as well as mobile devices once installed.
RescueTime tracks the time spent on different applications and websites and generates detailed reports of your activities. Once you gain insight about your internet usage, you can then use the app to block the websites on which you waste lots of time.
The online tool has alerting capabilities that let you know when you go over your time limit on certain activities. All these features are instrumental in helping you make better use of your time to accomplish your most important tasks.
Think of RescueTime as the ideal productivity tool to enhance your work-life balance. It also helps that the software tool is compatible with Mac, Android, PC, and Linux.
RescueTime comes with a free 14 day trial. After the trial period is over, it is $9 a month or $72 a year.
7. SelfControl
SelfControl is a Mac application. It to blocks mail servers, any websites that distract you, as well as anything else online that you do not want to access when working.
In order to benefit from SelfControl, just create a blacklist, include every online site you want to block, set a timer for the length of time you want to focus, and voila!
The beauty of SelfControl is that it is unforgiving of your own relapses. Even if you change your mind, try to delete the application, or restart the computer, it doesn't matter.
You will still be unable to access the blocked site until the timer expires. Talk about tough!
This Mac application also happens to be free for anyone with a compatible device with Mac OS X 10.7+
How You Use Your Time
How you make use of your time online can make or break your career.
The seven tools listed above can be instrumental in helping you create a good environment for work, track your time effectively, and cut internet distractions to a minimum.
Once you can account for your working time properly, you should notice a significant boost in your level of productivity.
Over to you! Any tools or apps you use to keep you focused, on track, and productive? Let us know in the comments below.