Blogs: Business Asset or Vengeful Pagan God?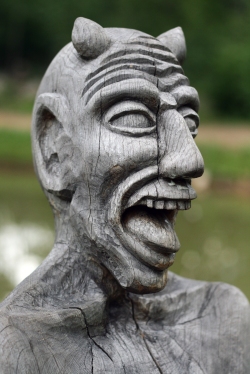 Note: Some of the advice shared in this guest post is a little bit different from what you'll usually find here at Mirasee, and it conflicts with some of the things that we usually recommends. It's an interesting perspective, though, and Jarom has proven it to work – so we encourage you to give it a fair hearing. 🙂
"Kneel before me!" cackles your blog like an vengeful ancient god from ancient times. "You will sacrifice 3 afternoons a week to feed my insatiable need for new content!"
Your blog incessantly demands your time and attention, threatening to go stale and look neglected if you don't continually write for it. So you spend hours pouring your heart and soul into thoughtful, informative, entertaining blog posts each week.
And what do you get in return for your devotion?
Nothing.
No email signups. No search engine traffic. No customers beating your door down because of the overwhelming display of knowledge and competence you exude on your blog. All you get is the ever present "0 Comments" designed specifically to publicly humiliate you and inform visitors that nobody loves you.
"Is this ever going to pay off?" you demand of your blog. "Remind me again–why are you supposed to be so important to my business?" But your blog, like any self-respecting vengeful deity, has grown tired of your questions and is silent.
And so it slumbers until next week, when it will awaken hungry again.
So what can you do between now and then to turn the tables on this evil blog of yours?
Read on to find out.
The Myth of the Blogging Gods
Here is the fable I was told when I started blogging:
If you write really good posts every week then search engines will send you traffic, your readers will tell others about you, your influence will grow exponentially, and the blogging gods will rain money down upon your head. That last part was implied.
So I spent a year following what I had seen the big-name bloggers do. I spent hours each week writing in-depth blog posts on every useful tip, trick, and strategy I could think of. I really worked hard at it with the hopes that my struggling business would benefit.
A full year later I had a blog full of "0 Comments" and about 70 people on my email list (60 of whom I knew personally). That was demoralizing. I quit blogging for several years because I couldn't see the point.
When I started blogging again, I began to realize that big-name bloggers and small bloggers need to follow different strategies.
Big bloggers have hard-core fans who will share their every word, connections with other popular bloggers to expand their influence, and if they take a month or two to write an epic blog post their audience doesn't forget who they are but will go wild when the post is published.
You, on the other hand, are relatively unknown (when you're getting started). You can't count on your friends and family to spread the word. You don't have time to write Pulitzer prize-winning posts. If you disappear for a month or two people will easily forget who you are and they'll unsubscribe. You've got a business to run and bills to pay, so how are you supposed to succeed like the big bloggers?
You're not. Not the same way the big bloggers do anyway.
So I've created a blogging 101 blueprint especially for you.
First, Cut Down on Your Writing Time
Step one to overcoming your ancient deity is to keep your blog posts short.
Answer a single question or focus on a single tip that will give your readers a desirable outcome. No need to write a novel. Long posts (like the one you're reading now) are great for popular blogs, but are unnecessary for your own blog.
You get bonus points if you can keep each post to under 500 words. Short posts are easy to write, your audience likes reading them, and they work great for gathering email addresses (we'll get to that in a moment).
Bring on the Blog Traffic
How to get more blog traffic? The fastest, easiest way to drive instant traffic to your blog is to go where your target market congregates and offer them a link to your post.
For example, if I wrote a short post titled "A simple tip to increase your email signup rate", I could then share that post with people on social sites, forums, blogs, or anyplace else where people gather who might be interested in increasing their email signup rate.
Here's how it works…
LinkedIn discussion groups, for example, are a great place to spread your blog posts around. First you find a group that caters to your target market, and then you post a discussion that has the following two items:
Your short, informative, well written blog post followed by
A Link to the whole post, and a couple of  links to related blog posts located on your site
Why would you structure your post this way?
Just ask yourself what you do whenever you find yourself on an informative blog full of good information—don't you click on all the interesting "related articles" you see at the bottom of the blog post and end up surfing around the site? That's what most people do, so why not take advantage of that tendency?
If the article you share is useful and informative, people will comment on your post which will help it stay at the top of the discussion list (where it will get a lot of attention). If the links to the related articles are attention-getting, people will click on them and visit your website.
That can result in a lot of good comments, and a lot of traffic.
This also works for Facebook groups and forums. Depending on your topic and audience you might also consider Twitter, bookmarking sites like Digg and StumbleUpon, Pinterest, and popular blogs in your industry.
With a little effort your new blog post will be seen by many people, and if you wait a month you can share this same blog post all over again and get a new wave of visitors. This is the first way you can make every blog post you write well worth the time you spent writing it.
Building your Email List
When you have people visiting your blog, the next step is to get them on your email list.
But building your email list through a blog can be a tedious process because chances are you're getting around a 3%~5% signup rate.
Considering how much time you put into writing blog posts, that's an awful signup rate. Especially considering that even a cruddy squeeze page will get 7%.
You may feel at first that you have somehow angered the blogging gods to deserve this, or that your writing sucks and nobody wants to hear more from you.
But the truth is actually the opposite. If your blog is well-written and informative, your visitor is not motivated to join your email list nearly as much as they are inclined to surf your other blog posts and soak you for all the information you're worth.
Remember how we talked about what you do when you find yourself on an informative blog full of good information? You click on all the interesting "related articles" until you've had your fill. Right?
Because why would you sign up for somebody's email list and get more emails cluttering your inbox when you can just come back to that site any time you want and peruse everything at your leisure?
You wouldn't.
There is an unusual solution to this. It's not for every business model, and I'll tell you now that many people think it's a bad idea at first. But after you warm up to it you'll see how it can work wonders for many types of blogs.
The solution is simple: remove your category and archive links.
If you look at my post "A simple tip to increase your email signup rate" you'll notice that there are no links pointing to my other blog posts. In addition, there is no date and time stamp at the top and the comment section at the bottom has been replaced by a signup form to my email list.
The purpose of my blog post is simple—teach something useful and then invite readers to join my email list. With a clear call to action, no distractions, and a little social proof (a "like" button displaying my Facebook fan count) these posts gather an email signup rate upwards of 23%.
Blogs Were Not Meant for Businesses
To understand why it's okay to strip your blog of links, comments, dates, and everything else we've come to expect on a blog, you need to realize that blogs were not originally created to help you make money online.
Blogs weren't created for business. (Although using wordpress for business is a common and effective way to get going fast!) They were created so individuals could share pictures of their dog and talk about the adorable thing their toddler did that morning. Right? They're meant for personal stuff.
As such, not everything that comes standard with a blog is a good idea to keep around.
If you're getting "0 Comments" on most of your blog posts, it will look like your blog is a ghost town to your visitors – complete with little tumbleweeds rolling in the distance. It's hurting your email signup rate, so you might as well take the comments off.
If the date on your blog post is more than a couple months old, your site visitors may doubt how valid the information still is. Where there is doubt, there are low signup rates.
Taking these things off your blog tends to focus your site visitors on the thing you most want them to do: learn something good and then join your email list.
There are some exceptions. If your business model requires that visitors be able to peruse your site (i.e. you sell products or properties by category) or you focus on information that has a short shelf life (i.e. breaking news or celebrity gossip) then by all means give people full access to everything. But if you are using tutorial-style information to build an audience, there's no reason to give it all away at once.
Technical note: At this time most WordPress templates only allow you to remove categories, archives, and dates from your blog posts if you're comfortable digging in to the code that holds your site together. Placing your email signup form at the bottom of all your posts, as well as making sure search engines can still find everything you've written even though your site visitors can't, is also a code thing. If you're not comfortable with code, any web designer should be able to do these things for you quite quickly.
While these suggestions gel in your mind, let me show you how these blog posts will also help you make more sales.
Keeping in Touch With Your Leads
There's an old sales adage: "Customers will buy when they're ready to buy, not when you're ready to sell to them."
That being the case, we need to touch base with our customers regularly so when they're ready to buy, they'll buy from us.
Email is a great way to keep in touch, but you have the same trouble that you have with your blog. Namely, you have to come up with interesting content all the time to send them.
We've already talked about how anti-productive providing category and archive links on your site can be. But not letting your site visitors surf your older posts gives you an added bonus…
Let's say that you've created a dozen posts on your site. Each of them are short and useful, and when somebody comes to your site and joins your email list, they've only seen a single blog post of yours. This means there are 11 posts they haven't seen. You can then send all your other posts to them by email one at a time. If you send them once a week, that's three months of content you automatically have ready to send them.
In other words, if Joe read article #7 on your site and joined your email list, you can send him articles 1 through 12 over the next three months by autoresponder and only one of them will look familiar to him!
This method makes blogging less like making sacrifices to a pagan god (where you cross your fingers and hope that some mystical good fortune will befall you if you spend enough time writing blog posts) and more like a purposeful marketing strategy (where each post you write is a little traffic magnet you can share at different times on different social groups to bring visitors to your site, and each of them will also get sent to everyone who joins your email list).
This is how you can squeeze the maximum usage out of use out of each post you write, and keep in touch with your prospects at the same time! You may need to update your posts from time to time to keep up with new developments, but that's sure easier than writing a completely new post every week.
Turning Email Signups Into Happy Customers
And how do you sell to your list?
You can place gentle calls to action in each autoresponder email you send out, and occasionally send a sales email to your entire list with any specials you're running or events you're hosting.
If your customers usually buy within 3 months, you're all set with a dozen blog posts. If you have a longer sales cycle, simply write new posts at your leisure and add them to the end of your autoresponder series.
The nice thing about autoresponders is you can skip writing a blog post for a week or two and the only people who might notice at those at the end of your autoresponder series. Since they've already heard from you every week for several months, so they're not going to forget who you are any time soon.
Suddenly your blogging schedule is flexible, requiring your time only when you feel the need to reach out to your audience.
Overthrowing The Gods…
The blogging strategies in this article are the result of years of trial and error, throwing out convention in an effort to help you turn your evil pagan god of a blog into a true business asset.
Because business is about changing and adapting. It's about being willing to adopt what works and dropping what doesn't. It's about reexamining the practices that others blindly follow in order to find a better path to your success.
Don't hesitate to sacrifice anything that doesn't serve your purposes, especially when it comes to technology and the internet.
These digital tools are meant to be your minions, ready to serve at your command. It should never be the other way around.
You are the master! Make sure your blog and the rest of the world knows it!