SEO Copywriting: The Complete Guide (+12 Best Tips)
Willy Wood
In the digital age, businesses simply must have an online presence to reach their target audience.
However, having a website alone isn't enough to get you noticed; it's just the price of entry. Your content must also be search engine optimized. And that's where SEO copywriting comes in.
SEO copywriting is a crucial aspect of digital marketing that has a significant impact on your website's ranking and traffic. It involves creating engaging, relevant content that is optimized for search engines. By incorporating specific keywords and phrases, SEO copywriting aims to improve website visibility, attract more visitors, and ultimately drive conversions.
However, creating effective SEO copywriting is not as simple as stuffing a bunch of keywords into a piece of content. It requires a deep understanding of your target audience, the search engines, and best practices for creating high-performing content.
In this complete guide, we'll cover everything you need to know about SEO copywriting, from the basics to more advanced techniques.
Let's get started!
What Is SEO Copywriting?
To understand SEO copywriting, you need to understand both parts of the phrase–"SEO" and "copywriting."
First, SEO (search engine optimization) is the process of optimizing your copy for the search engines so that it ranks higher in search results compared to others targeting the same keyword or phrase. There are a number of strategies for doing this effectively, but at a 30,000-foot level, the keys to performing well in search are:
The quality of your content,
The relevance of your content for your target audience, and
The authority of your site in your niche.
"Copywriting" is the art and science of creating content that provides a solution to the target audience's problem(s) and then persuades the audience to take action in some way–share or comment, sign up, or click to buy, for example.
(For a "deep dive" into the different types of copywriting, check out our blog post on the topic.)
"SEO copywriting," then, is the process of creating the kind of content that Google values and, at the same time, that people want to read and that helps them solve their problem(s) by convincing them to take action.
Bottom line, SEO copywriting is all about creating content that both humans AND the search robots love.
In the next section, we'll take a look at some key elements to optimize in order to help your web pages rank well in search.
Key Components of SEO Copywriting
Let's start our exploration of SEO copywriting by looking at some of the more technical components of a successful SEO strategy. These components include:
Site Speed
Site speed refers to the amount of time it takes for your website to load. Google considers site speed an important ranking factor, as a slower website can negatively affect user experience, resulting in higher bounce rates.
How important is site speed? Kissmetrics found that:
40% of people will abandon a site if it takes more than three seconds to load, and
47% of internet users expect a site to load in two seconds or less.
That's right–two seconds!
Not sure how fast your site loads? You can check it out with Pingdom's Website Speed Test. If your site needs improvement in this area, follow the recommendations the test provides. This could radically reduce your bounce rate.
Keywords
Keywords are the words or phrases people use to search for information online.
Keyword research is a crucial aspect of SEO copywriting that helps you identify the best keywords to use in your content. Incorporating relevant keywords into your content is essential for SEO copywriting because it helps search engines understand what your content is about.
For copywriting purposes, keyword research is important because it allows you to understand the intent behind your audiences' searches, which in turn allows you to better satisfy their needs with your content.
Headlines
Headlines are the first thing users see when they come across your content. Compelling headlines can attract users and encourage them to continue reading. On the flip side, headlines that don't grab the reader's attention can cause all of your great content writing to go to waste, as people will often immediately click away if the headline isn't compelling.
To ensure that you're not wasting your copywriting efforts (and your money, if you're writing a paid ad) on copy that never gets read, make sure that your headlines are:
Descriptive and specific
Concise
Accurately reflective of the content of your copy
Here are a few techniques you might consider using when writing your headlines:
Use Numbers: Many high-ranking authority sites regularly use numbers in their headlines. Why? Because they work! Headlines with numbers in them also get shared more often on Facebook and Twitter.
Want proof? Here are the top organic results for the term "effective copywriting":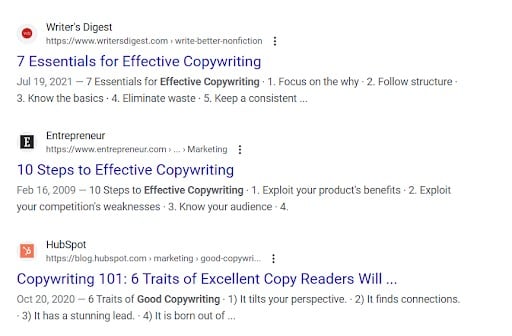 Use "How To": The old stand-by "How to" still works because it implies that the content that follows will teach the reader how to do something to solve their problem. For example, on page 1 of the search results for "writing effective content and copy," you'll see:

Use Direct Address: Headlines that speak directly to the reader using "You" or "Your" imply that the content will address not some generic problem, but the exact problem that "you," the reader, has. For example, also on page 1 for "writing effective content and copy," you'll find:

And don't limit yourself. With a little creativity, you can often use two or even all three of these approaches in the same headline!
SEO-Optimized Content
As we've already mentioned, successful SEO copywriting is well-written, informative, and relevant to the target audience. But remember, the human reader is only one side of the equation, and there are certain elements you'll want to include to please the search engines, as well.
Of course, the starting point for good SEO-optimized content is finding and using relevant keywords. But it's not enough just to use the keywords once or twice in your content. You need to be strategic about where you use your keywords.
Using your keyword(s) in your title, especially at the very beginning of the title, helps your content rank higher for that keyword. Other places to use your keyword(s) include in one or more subheadings and in the first 100 words of your body copy.
For example, here are the top results from page 1 for the keyword "guest blogging":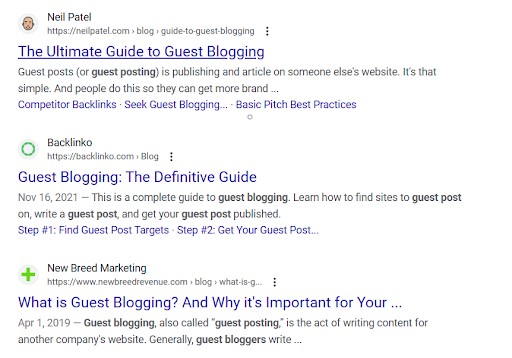 One warning, though: don't overdo it. The old practice of "keyword stuffing" (more on that in a bit) no longer works. It's much better to use your keyword a few times and then, if it works in the flow of your content, to use several long-tail synonyms for the keyword where they make sense.
Another important tactic for optimizing your content for SEO is using internal and external links.
Using external page links (linking from your content to content on other sites) tells Google that you're connected and sociable and that you've got useful content that people can access somewhere else. Linking out to other authority sites and pages is an indication that you value what other people create.
Internal linking (linking to other pages on your website from within your content) helps search engines understand the structure of your site and the relationships between pages. You should strive to include internal links throughout your content, without overdoing it. Link to relevant pages using descriptive anchor text (the text that is clickable).
And to take your linking game to the next level, you can employ a strategy to get backlinks from other authority sites to your site. Check out our in-depth post on backlinks to learn more. (See what we did there? That was an internal link.)
Including your main keyword in your title and a few times in your copy and using both internal and external links will make your content very attractive to the search engines.
Meta Descriptions
Meta descriptions are brief summaries of your content that appear beneath your headline in the search engine results pages (SERPs). Writing compelling and informative meta descriptions can encourage users to click through to your website, so it's important to take the time to get this right.
Meta descriptions help both search engines and human searchers to understand what the topic is and why your targeted keywords and phrases keep appearing in the content. Your meta description provides a concise explanation to the search engines of your page's content.
For SEO purposes, your meta description should be 155 characters or less (so it doesn't get truncated) and appears in black type just below the blue headline in Google:

This meta description is 151 characters long, counting spaces, which keeps it from being truncated.
How do you write meta descriptions that catch people's attention, as well as rank well in Google? It's really pretty simple…
Step 1: Understand searcher intent (more on this in a moment). If you understand the audience you're writing for, you'll know why they're searching for this particular keyword. So make sure that your meta description speaks to the problem they're trying to solve.
Step 2: Include your main keyword and any important secondary keywords in your meta description.
That's all there is to it.
10 Steps to Successful SEO Copywriting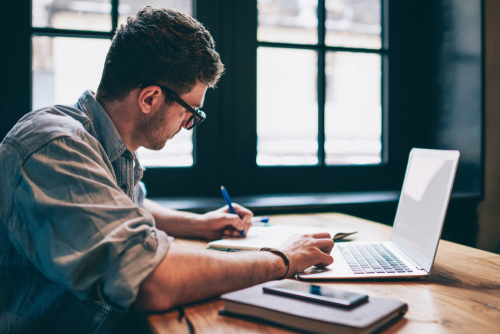 Now that you have a handle on some of the basics, let's look at a step-by-step process you can follow to write successful SEO copy.
Step 1: Conduct Keyword Research
As we've already mentioned, keyword research is the foundation of effective SEO copywriting. It involves identifying the keywords and phrases that your target audience is using to search for products or services such as yours online and using them in your copy to attract that audience to your pages.
And that's why keyword research should always be step one in your SEO copywriting process.
You can use various keyword research tools such as Google Keyword Planner, Ahrefs, SEMrush, or Ubersuggest to find the most relevant and high-traffic keywords surrounding your topic.
You should also consider the competition level and the intent behind the search query. Using long-tail keywords and phrases can help you target specific audiences and increase your chances of ranking higher in search engine results pages.
Step 2: Analyze Top-Ranking Content
Once you've nailed down your topic and researched the keywords for which you want to rank, it's time to do a little competitive research. You do this by analyzing the top-ranking web pages that are currently ranking on your keywords.
Try to identify the key elements that make them successful. This includes how the content is written, how the keywords are used, and the formatting of the content.
If, for example, you were writing about "top tips for writing SEO content," here are some of the competitor articles you'd find on page 1: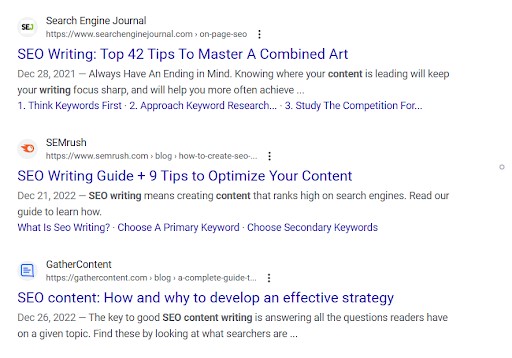 Analyzing your competitors' content and strategies can help you identify gaps and opportunities for your own SEO copywriting. You can use tools like Buzzsumo, SEMrush, and Moz to analyze your competitors' content, backlinks, and social media presence.
The goal is to understand why your competitors' content is working so you can create even better, more relevant content.
Step 3: Understand Searcher Intent
The most important key to successful copywriting (and actually, for ANY kind of writing) is knowing your audience. Without this information, it will be impossible to compel them with your writing as you don't know who they are or how to appeal to them.
Identifying your audience for SEO copywriting follows the same process you would use when creating a targeted marketing campaign or any other type of content you would create for your business: buyer persona research.
Buyer personas (also called client or customer avatars) are fictional representations of what your ideal customer looks like based on market research and your existing business data and customer profiles.
If you're writing content for your own site, you should already know who your audience is and how your planned topic is relevant to them. If you don't yet have this information, you can use various tools and techniques to gather data about your audience, such as surveys, social media analytics, and website analytics.
To learn more about researching your target audience, check out our blog post, "How to Find Your Target Audience in 7 Steps."
If you're writing for someone else's audience, be sure to get their buyer persona information before starting. This will keep you from producing content that their target audience doesn't want to read.
To begin nailing down searcher intent for a specific project, start with the big picture. Broadly speaking, there are four kinds of intent searchers can have when they type a search term into Google:
Informational intent: to find information on a specific topic.
Navigational intent: to access a specific website by entering the term in a search engine.
Commercial intent: to buy something sometime soon, so they're doing research before making a purchase.
Transactional intent: to buy something after doing their commercial intent searches.
Once you know the audience's basic intent, dig deeper to identify their more specific needs related to your project. By understanding your target audience, you can create content that resonates with them and addresses their pain points. You can also use the language and tone that they use to communicate and build trust and credibility with them.
Step 4: Outline Your Content
Now that you know your target keywords and what your audience is looking for, it's time to get ready to write. Outlining your content helps you structure your ideas and ensures that your content flows logically. It also helps you identify where best to incorporate your target keywords.
As you create your outline, pay special attention to the structure of your article. Sure, the ideas within the content are the most important thing, but readability is nearly as important. Google values readability, and so do readers, many of whom will likely be skimming through your article on a mobile device rather than reading it word for word.
Here are a few tips to make your content more readable. Go ahead and plan these elements into your content while you're creating your outline. This will lighten the cognitive load later on when you're writing.
Visual media: Long blocks of text are hard to read, especially on mobile devices. If your human audience struggles to read your article, Google isn't going to be favorable toward it, either. Break up text with images, videos, and white space.
Subheadings: Make it easy for skimmers to scroll through your content and find the most valuable sections for their needs and interests.
Lists: Break up important points into bulleted or numbered lists whenever possible. Lists are easy to read for humans, but they're also a favorite for Google to easily generate information for a featured snippet (more about featured snippets in a bit).
Once you've outlined your content, it's finally time to…
Step 5: Write Your Content
We've already covered a number of tips that will help your content rank well in search, but now that it's time to actually write your content, here's rule #1: remember that you're writing for humans!
The goal of copywriting is to entice your real, human audience to take action. So, as mentioned above, it's important to always write with your audience in mind. Your buyers are looking for solutions, and you're writing to tell them about your solution.
So, when writing your content, focus on creating high-quality, engaging, informative and/or persuasive content that resonates with your target audience. Your content should be written in a way that provides value to your readers and answers their questions or solves their problems.
Of course, you should keep in mind the keywords and phrases that you want to rank for and include them in the high-impact places we mentioned previously, but don't sacrifice the quality of your content for the sake of SEO.
And while you're writing your content, here are two tried-and-true techniques that virtually guarantee you'll be able to grab and hold onto your reader's attention:
Storytelling: Everyone loves a good story. In fact, humans are biologically wired to be engaged by stories, which is great news for you as a writer. Whether it's in blog posts or on product pages, including a (relevant) story will go a long way toward catching your reader's interest. Stories are also memorable, meaning that whatever message you're trying to send in your copy will be retained better if you include one or more stories.
Humor: People like to smile and laugh. It makes them feel good. And when they feel good while reading your copy, they'll be more positively disposed to your message. You don't have to tell jokes throughout your content. Something as simple as a pun or other clever use of language, some witty sarcasm, or some self-deprecating humor can go a long way toward predisposing the reader to your message.
So, while your main objective is to entice the reader to take the desired action (opt-in, click, buy), don't forget to use these powerful techniques for keeping them engaged while they consume your message.
Step 6: Format Your Content for SEO
Formatting your content for SEO involves using headings, subheadings, bullet points, and other formatting techniques to make your content more readable for humans and optimized for search.
One important strategy to achieve these goals is the proper use of headings to organize your content.
Header tags (H1, H2, H3, etc.) are used to structure the content of a web page and provide context to search engines. Here are a few tips to keep in mind:
Use one H1 tag per page (your headline), and include the primary keyword in it.
Use H2 tags (your subheadings) to break up the content into sections and include secondary keywords where relevant.
Use H3 tags for subsections within sections.
Second, use bullet points and numbered lists to break up long paragraphs and make your content more scannable. You want to let your copy breathe!
Finally, here's a simple little technique that will keep your human readers engaged AND please the Google bots.
It's called the "bucket brigade" strategy by some. Here's how it works:
Whenever you have a point with a couple or more sub-points, first introduce the main point and end the sentence with a colon.
Add a line space and give your first sub-point.
Add another line space and give your next sub-point, etc.
By breaking the content up into short one or two-sentence paragraphs, you allow the reader's eye to quickly scan down the page and take in the content. By the way, check out the four paragraphs directly above this one. Yeah, that was us using the bucket brigade strategy. 😀
It's easy to use and quite effective. Give it a try!
Step 7: Add Meta Tags and Meta Descriptions
As mentioned previously, meta descriptions and title tags are important elements of technical SEO that copywriters need to pay attention to. These elements provide search engines with information about the content of a web page, which helps them determine its relevance to a user's search query.
Here are a few tips:
Write unique and descriptive meta descriptions for each page, including relevant keywords.
Keep meta descriptions under 160 characters to ensure they display properly in search results.
Include the primary keyword in the title tag and keep it under 60 characters.
Avoid using duplicate meta descriptions and title tags across multiple pages.
Step 8: Publish and Promote Your Content
Once you've published your content, don't just sit back and hope it will attract attention. You have to actively promote your content if you want to get eyeballs on it!
Two of the best ways to do this are through social media marketing and link building.
Social media marketing is an effective way to promote your SEO content. By sharing your content on social media platforms, you can increase its visibility and attract more traffic to your website.
When promoting your content on social media, it's important to keep in mind the following tips:
Create eye-catching headlines and descriptions that grab the attention of your target audience. Keep in mind the guidelines we mentioned previously for creating attention-grabbing headlines. They work just as well for social posts as they do for other content.
Use relevant hashtags to make your content more discoverable.
Share your content at the right time when your audience is most active on social media.
Engage your followers by responding to comments and messages.
For some excellent examples of social media marketing, check out this post.
Link building is another promotional strategy that improves SEO. This strategy involves getting other websites, especially authority websites in your niche, to link back to your content. This not only helps to increase your website's visibility, but also improves its authority and ranking on search engines.
One effective link building strategy is guest blogging, where you write high-quality guest posts for other websites in your niche and include a link back to your content. Guest blogging helps you establish yourself as an authority in your field and attracts more traffic to your site. When guest blogging, it's important to keep in mind the following tips:
Choose websites that are relevant to your niche and have a high domain authority.
Write high-quality content that provides value to readers.
Include a link back to your content in the author bio and/or within the guest post itself.
Promote your guest post on social media and other channels to attract more traffic to your website.
Step 9: Track Your Rankings
Measuring the success of your SEO copywriting efforts is essential to understanding what works and what doesn't. By tracking your metrics, you can identify areas that need improvement and adjust your strategy accordingly. For this you can use a right rank tracking tool Such as Zutrix, Semrush and Ahrefs.
Here are some key metrics to track:
Organic Traffic: The number of visitors who come to your site through search engines.
Keyword Rankings: The position of your website in search engine results pages (SERPs) for specific keywords.
Click-Through Rate (CTR): The percentage of visitors who click on your website in search results.
Bounce Rate: The percentage of visitors who leave your website after viewing only one page.
Conversion Rate: The percentage of visitors who take a desired action on your website, such as making a purchase or filling out a form.
Make it a goal to regularly review these key metrics for your published content and use the results of these reviews to course correct when necessary.
Step 10: Keep Creating SEO-Optimized Content
You've probably heard of "the magic of compound interest" when it comes to saving and investing.
Well, the same basic approach applies where SEO is concerned.
The more high-quality, SEO-optimized content you add to your website, the more your efforts will "compound" and the more the search engines will view your site as an authority in your niche.
Which means that your site will steadily climb in the search results…which leads to more traffic to your site.
It's what they call a "virtuous cycle."
So, don't create one or two pieces of SEO-optimized content and then rest on your laurels. Keep the pedal to the metal–and reap the rewards!
SEO Copywriting Tips and Best Practices
By now you know that search engine optimization (SEO) copywriting involves a variety of techniques that help search engines understand the content and context of your web pages, while also ensuring that your readers find your content relevant and engaging.
We've already covered quite a bit of territory on this topic, but just to be sure you know exactly what to do after reading this article, check out the following effective SEO copywriting tips and best practices to help you create compelling, SEO-optimized content.
1. Match Searcher Intent
We talked about search intent above, but it bears repeating…
The first and most important tip for effective SEO copywriting is to match searcher intent.
This means that you need to create content that satisfies the user's query and provides valuable information that answers their questions.
Understanding your target audience is critical to achieving this goal. Use keyword research to identify the keywords and phrases that your target audience is searching for and create content that is relevant to those terms.
This will help your content rank higher in search results and attract more qualified traffic to your website.
2. Be Concise
When it comes to SEO copywriting, less is often more. Studies have shown that shorter content tends to perform better in search results and attract more engagement from readers.
Keep your sentences short and to the point and break up long paragraphs with subheadings and bullet points. Use clear and concise language that's easy to understand and avoid jargon that may confuse your readers.
3. Speak Your Audience's Language
To create effective SEO content, it's essential to speak your audience's language. Use words and phrases that resonate with your target audience and avoid technical terms that may be unfamiliar to them.
Use the same terminology that your audience uses when searching for information online. This will help your content appear more relevant and authoritative to your target audience.
4. Use a Conversational Tone
Another essential tip for SEO copywriting is to use a conversational tone. Write as if you're speaking directly to your reader, using a friendly and approachable tone that makes them feel comfortable and engaged.
This will help your content appear more natural and engaging to your audience, while also increasing the likelihood that they will share and link to your content.
5. Demonstrate Your Authority and Credibility
To create compelling SEO content, it's essential to demonstrate your authority and credibility in your field.
Use data, statistics, and other evidence-based information to support your claims and provide readers with valuable insights into your topic. Use authoritative sources and link to reputable websites that support your content. This will help your content appear more authoritative and trustworthy to both search engines and readers.
6. Aim for the Featured Snippet
The "featured snippet" (also known as "position #0") is a coveted position in search results that can dramatically increase your visibility and traffic.
For example, here's the current featured snippet for the search term "copywriting tips":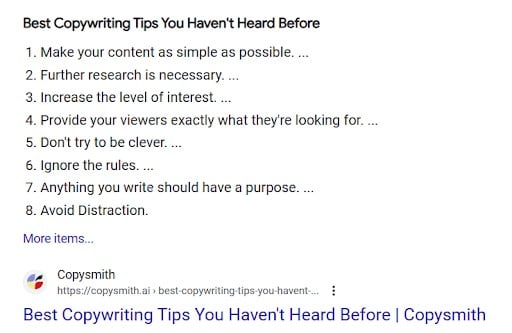 This snippet appears just below the sponsored links on the page.
To optimize your content for the featured snippet, focus on creating clear and concise answers to frequently asked questions in your field. Often the answer to the searcher's question will be a definition of some sort.
If you can, place your "snippet bait" high up on your page, as Google appears to give special consideration to that positioning.
Also, use subheadings, bullet points, and other formatting techniques when writing this material in order to make your content more scannable and easy to read. This will also make it more likely that your content will be selected for the featured snippet.
It's worth putting in a little extra effort to shoot for the featured snippet, as websites who achieve this positioning receive a huge boost in traffic.
7. Avoid Keyword Stuffing
Keyword stuffing is an outdated SEO tactic that involves overloading your content with keywords in an attempt to manipulate the search rankings. As search engines have adjusted their algorithms to penalize people who use this practice, this can be harmful to your rankings and may even result in penalties, such as having your site banned entirely from the web.
Instead, focus on creating high-quality content that is relevant to your target audience and includes natural variations of your target keywords (also called Latent Semantic Indexing, or LSI, keywords). So, the rule of thumb is to use your keywords sparingly and only where they make sense within the context of your content.
8. Create Impactful and Engaging Headlines
As we've already stated, headlines are the first thing your readers see when they encounter your content, and they play a critical role in attracting their attention and encouraging them to read further.
To create impactful and engaging headlines (in addition to the tips we shared previously), focus on using emotional language (but not over the top or "hyp-ey"), asking questions, and/or creating a sense of curiosity.
9. Don't Forget Meta Tags
Meta tags are snippets of text that describe a page's content; the meta tags don't appear on the page itself, but only in the page's source code. Meta tags are essentially little content descriptors that help tell search engines what a web page is about.
The only difference between tags you can see (on a blog post, say) and tags you can't see is location: meta tags only exist in HTML, usually at the "head" of the page, and so are only visible to search engines (and people who know where to look).
There are a number of types of meta tags, but the two types worth paying the most attention to are:
Title Tags: These are the most important of all of the meta tags because they have a real impact on search rankings and, perhaps just as importantly, they're visible to the average user. In Google, your title tags show up in larger, blue font above your meta description:

Title tags are particularly useful if you want to give the page one primary title for the user but want to clarify or simplify that information for SEO purposes.
Meta Description Attribute Tags: We've already discussed meta descriptions, so we won't repeat all that info here. However, we will repeat that a compelling meta description tag could entice searchers to click through from the SERP to your site, especially if the description includes the keywords they were searching for. And a strong click-through rate from the SERP could indirectly improve your rankings. Just to be clear, though, the meta description tag won't always show up in the results for a Google search (Google frequently picks a snippet of text from the page itself), but you never know which way Google will go with it, so it's important to always pay attention to your meta descriptions.

10. Promote Your Content in Your Meta Description
A last thought about meta descriptions: Meta descriptions are important for both human internet searchers and search bots.
For humans, your meta description is your page's "front door" in the search results, so it's your first chance to persuade users to click on your result.
Meta descriptions are important for bots because they let Google (and other search engines) know what your webpage is about. If Google can read and comprehend the content of your meta description, it will have an easier chance of ranking your page to answer search queries.
And don't try to be clever and write a meta description that you think will get more clicks but that doesn't accurately reflect the content of your page. You may get a temporary bump in clicks through to the page, but you'll only ultimately make both your human readers and the bots angry!
11. Include Secondary Keywords
We mentioned Latent Semantic Indexing (LSI) keywords briefly, above, but it's worth adding a few more words here.
Don't be tempted to repeat your main keyword over and over ("keyword stuff"). We've already pointed out that you'll likely be punished in the search rankings if you do so. This is because Google wants you to produce content for readers that's actually…you know, readable. And constant repetition of a single word or phrase makes for a poor reading experience.
But there is another approach. Use your main keyword a few times (in the title, the first 100 words of the text, maybe in a sub-heading) and then use a few long-tail keywords that are synonymous with your main keyword.
These LSI keywords can bring other readers to your content, as competition for long-tail keywords is less fierce, so people searching for those terms are more likely to find your content. And Google will be happy because your copy will be more readable for the humans that do find your site.
12. Use Short URLs Containing Your Target Keyword
Long URLs take up a lot of room, they're hard to remember, and aesthetically, they're just ugly!
If you want to make it easier for people to remember how to get to a specific page on your website, a shortened URL is the way to go. The fewer characters in the URL, the easier it will be for people to remember.
Also, If you add a long URL to a text message or share it using any service that has a character limit, you might wind up using all of your available characters with the link alone. Shortening a URL gives you more room in your text message or post for your own content.
For SEO purposes, though, there's another advantage to shortening the page URL: services such as Bitly and Tiny Url allow you to customize the back part of the short URL, which means that you can actually add your main keyword to the URL. You end up with a short, memorable URL that tells both humans and bots what your page is about. Win-win!
SEO Copywriting: The Final Word
SEO copywriting is a crucial part of any digital marketing strategy. It involves creating high-quality, engaging content that not only appeals to your target audience, but also helps your website rank higher in search engine results pages.
By following the tips outlined in this guide, you can create content that is both user-friendly and search engine-friendly. Remember to always keep your target audience in mind and conduct thorough keyword research before you start writing.
Overall, SEO copywriting is a long-term investment that requires patience, dedication, and a willingness to adapt as search engine algorithms change over time. Stay committed to creating high-quality content and you will achieve long-term success and drive more traffic to your website!
As an online course creator, copywriting is an essential skill that can help you create more engaging courses. To learn more about what it takes to create a successful online course, we invite you to join our FREE Hybrid Courses Bootcamp.
Let's Start Building Your Online Course!
In our FREE Hybrid Courses Bootcamp, we'll walk you through how to transform your knowledge and expertise into a profitable online course… one your students will love.