4 Ways to Turn Social Media Followers into Raving Fans
Khalid Saleh
So you have a Facebook page with a decent number of followers.
You're excited about the content you publish there. People like your posts, comment on your content, and even click on your links from time to time. The number of your followers continues to grow.
What they don't do, however, is tell their friends about your brand or take any other actions that can help your bottom line—in spite of all your efforts.
Having a big number of followers is a good start. But it's far from the end-goal of social media marketing.
"Are your social media contacts more like quiet followers or engaged fans?"

Tweet Me
It's a problem many businesses face: you have followers, but not fans.
Fans voraciously devour your social media content. They rave to their friends about your new updates. And they cheer your every move.
So how do boost your social media engagement so that your followers become fans?
Here are a few time-tested tactics you can try:
1. Align Your Brand with a Mission.

Consumers increasingly choose to patronize businesses that support causes they care about. This is especially true of millennials (generally those born between 1980 and 2000). A study of millennials by Gallup found that millennials are driven, not by money, but by mission. They care about things and want to change the world.
There are more than 75.4 million millennials in America alone today and they're also the largest generation in the workforce. Millennials use social media heavily: 93% of them are on social networks and 90% own smartphones. Chances are, they make up your biggest (and growing) customer base.
If you want to attract value-driven audiences, especially millennials, then it's a good idea to associate your brand with more than just a product or service; associate it with a mission. Brands that align themselves with a narrative larger than themselves (or their products) frequently get better social media engagement.
"Associate your brand with a mission, not just a product, to attract a value-driven audience."

Tweet Me
Take a look at Dove. Instead of just selling soap, Dove's mission is to redefine beauty. From its Facebook updates to its Twitter bio, virtually everything about the brand signals its desire to change things for the better.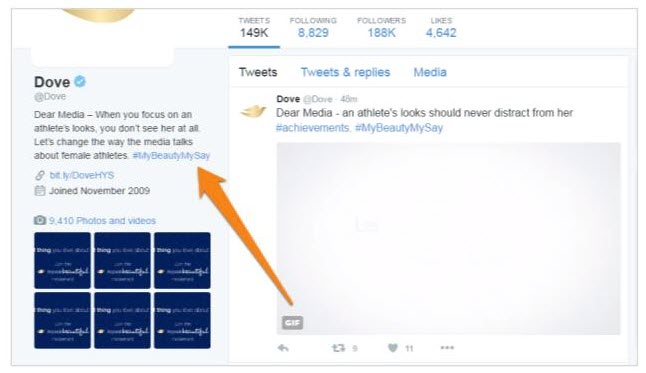 B2B brands can also benefit from mission-focused work. HubSpot, for example, frequently talks about its mission to change marketing and "spark a movement":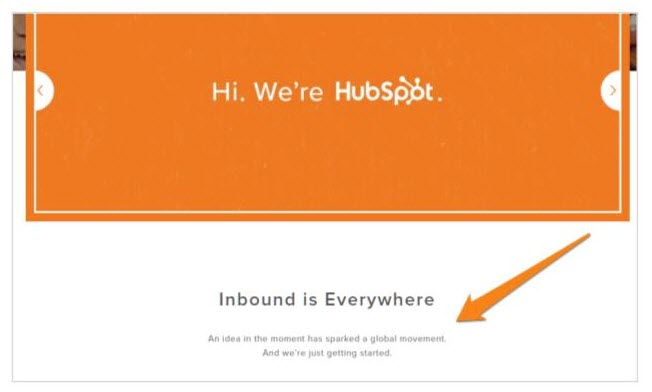 This mission-focused work spills into its social media marketing as well, where HubSpot frequently hosts events that resonate with younger audiences. For example, it recently hosted an LGBTQ intern social at its Boston offices and shared highlights on social media:
Small businesses can engage in socially-responsible marketing in different ways. You can volunteer at charities, reduce your energy consumption, participate in recycling programs, start your own cause marketing program, or help global causes.
In Her Shoes, a shoe store from Palo Alto, gives a portion of its proceeds to the Global Fund for Women, an organization that gives humanitarian grants to women's projects that promote human rights and social justice in their communities.

This powerful branding tactic goes beyond helping you get more customers. It also lets you create a compelling brand that has, not just followers, but ardent fans.
Plus, it's also great for attracting top-tier talent.
2. Give Your Followers a Sense of Ownership in Your Brand.
Giving social media followers a sense of ownership in your brand also inspires them to become fans.
Case in point: GoPro.
GoPro's social media feeds are curated from its customers' content. GoPro highlights, shares, and spreads this user-generated content widely, thereby positioning its social accounts as being "owned" by its users.
If you hop by GoPro's Instagram page, for instance, you'll see a bio description asking users to share their updates with the #GoPro hashtag:
Even small businesses can use this approach.
SkinnyTaste, a website for family-friendly recipes, reposts user-generated content on its Instagram account.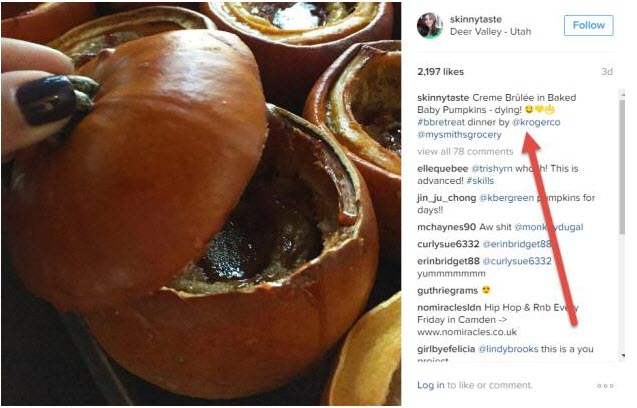 Mobilizing user-generated content gives your customers a sense of ownership in your social media activity and, by extension, your brand.
3. Leverage Influencers.
Top influencers often have millions of social media followers. And because their content is personality-focused instead of brand-focused, their followers are usually highly engaged and loyal.
By associating your brand with an influencer, you get exposure to their followers. If your content resonates with them, it's easy to convert them into fans. After all, you  come with a recommendation from someone they already trust: the influencer.
You can leverage influencers in several ways.
One way is to get a tacit endorsement from the influencer on their social feed. On Instagram, for example, influencers ask their followers to "follow their friend(s)," like this: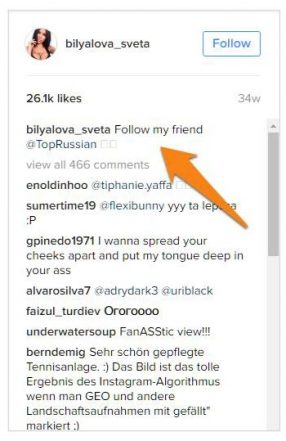 Thanks to social media, the number of celebrities and influencers has increased more than before. Also, the whole influencer market is extremely fractured. So, the key thing in influencer marketing is the audience fit. Sure, you want an influencer with a wide audience, but their audience should also align with your own target audience.
After you identify the influencers who have the best audience fit for your product, build relationships with them by sharing their content and commenting on their posts. Influencer marketing is an ongoing process. You never stop engaging with influencers, even when you think you don't need them. This makes it easier for you to persuade them to participate in your campaigns when you do need their help.
You can engage influencers through:
asking them for quotes or insights on your content

asking them to review your products (don't be put off if an influencer asks for monetary compensation aside from the actual products you give them; just make sure you get value in return)

promoting them or their achievements through your content
Another tactic is to collaborate with an influencer for a "social media takeover." This means the influencer takes over your social media account for a specific time period and shares content they like.
First, define the goals of your campaign. Do you want to increase the number of followers? Do you want to boost awareness of your new product? Do you want to generate $X in sales?
Then identify the influencers who have the most relevant audience reach, and build relationships with them to invite them to host your social media platform. To find social media influencers, use tools like BuzzSumo, Klout, or Followerwonk.
Influencer takeover works very well as a cross-promotion. The influencer gets access to your followers, and you get access to theirs.
For example, Birchbox collaborated with Christina Zilber, founder of JOUER cosmetics. Christina took over the Birchbox Instagram page for a time. This generated more exposure for both brands.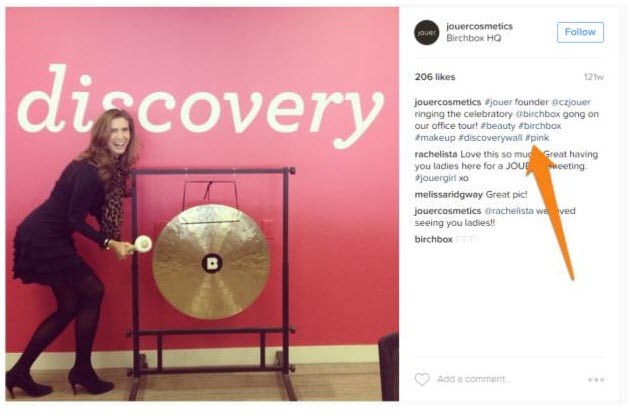 Another idea is to create co-branded products. Co-branding means that a company and an influencer work together to create marketing synergy in a product or service.
Birchbox did this with beauty and fashion blogger Emily Schuman of Cupcakes & Cashmere. They created a co-branded product which was then cross-promoted on both Birchbox and Emily Schuman's social media channels: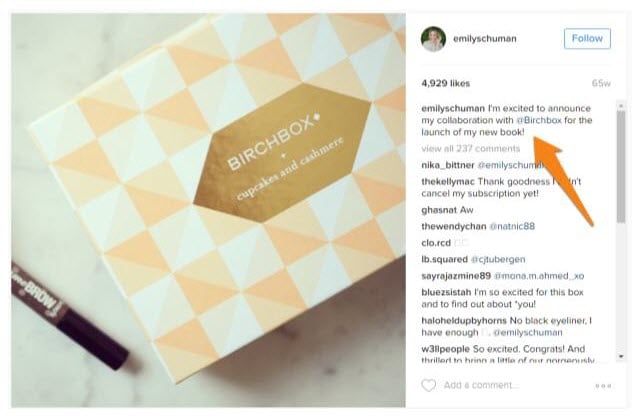 4. Solve Customer Problems.
If you look at the Royal Dutch Airlines' Twitter page, you'll see their cover image: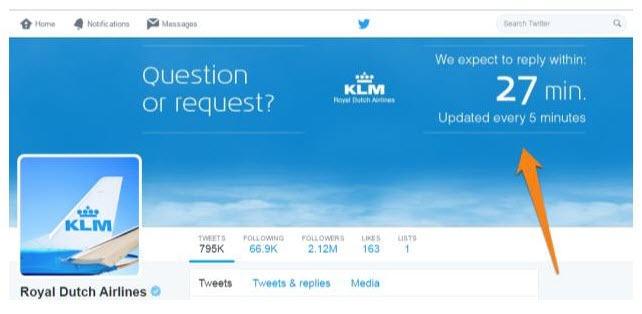 KLM uses its social media accounts to support its customers, and they're so good at this that they even boast their average support time on their Twitter cover image.
Supporting customers on a public platform like Twitter goes a long way towards establishing loyalty and increasing social media engagement. Remember that a customer complaint on social media isn't just visible to you; it's also visible to the public.
"Doing this one simple thing will go a long way towards establishing loyalty with your customers. "

Tweet Me
This is a double-edged sword. On one hand, any mistakes you make are visible to everyone. On the other, everyone else also sees any steps you take to remedy the situation. Happy customers may even give you a shout out, which carries much more weight than any advertising you pay for.
If you establish yourself as a brand that takes extraordinary steps to solve customer problems, you'll win yourself a lot of followers and fans.  
For example, Microsoft maintains a separate Twitter account just to answer customer queries for the XBox. Since 2009, this account has sent out 2.62 million tweets. It solves customer problems in minutes on a platform customers prefer. Quick resolution frequently earns praises from the customer as well as from their followers: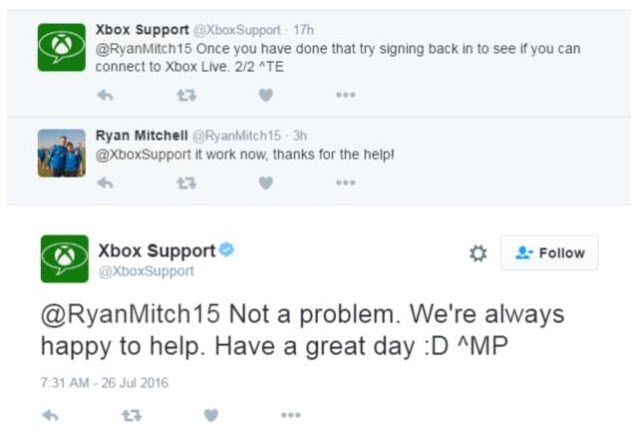 Boloco, a burrito company, doesn't have a separate Twitter account to deal with customer queries, but they also use it to reply to every customer's question: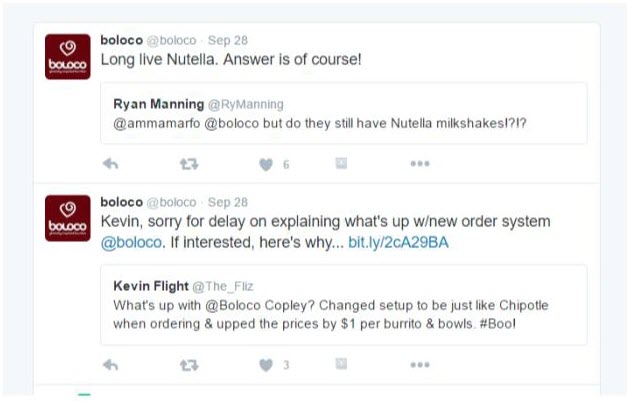 If you have a consumer-facing brand, focusing on customer support on social media can turn more of your followers into fans.
Over to You
Your followers and customers demand more from your social media accounts than tired memes and recycled content. They want to feel that you're there to solve their problems, to engage them with exciting content, and to share your mission… not just to make money.
The four methods I outlined above will show your followers that you care about them, their problems, and their ambitions.
Here's a quick roundup of what you can take away from this post:
Showcase your brand's mission and support it with your social media content.

Publish user-generated content to give customers a sense of ownership in your brand.

Work with influencers to give your brand a wider reach and access to a more loyal following.

Solve customer problems as quickly and effectively as possible through your social media channels.
What about you? Are your social media contacts more like quiet followers or engaged fans? Which of these tips do you think will improve your social media engagement?
Attract Your First 1,000 True Fans!
size-large wp-image-24036" />
Get the critical mass you need to have a sustainable and impactful online business.