What Are Backlinks? (What They Are & How to Get Them)
Andrew Folkler
Do you have a link building strategy for your website?
Building backlinks to your website is an important part of your overall SEO strategy, and is crucial for helping your site rank on page one of Google.
Without quality backlinks, your website is isolated on the internet. Backlinks allow you to extend your reach to other websites, connecting you to a broader audience. A good backlink strategy helps you cast a wide net across the web. You will increase your overall organic traffic and grow your company brand in the long run.
And of course, a larger in-flow of traffic will lead to more opportunities to grow your sales.
However, there is more to SEO backlink strategy than just hyperlinking a website in your blog. In this article, you will learn to maximize your SEO reach with backlinks. We will go through the definition of backlinks, the backlinking process in your website, and how to craft your backlink strategy.
Let's dive right in!
What Are Backlinks?
Backlinks are embedded links that can direct a user from one webpage to another. When another website links to your webpage, you have a backlink. In the eyes of Google, your backlinks prove that your content is valuable to the community.
In a nutshell, backlinks are a form of social proof.
But what does that get you in the long run?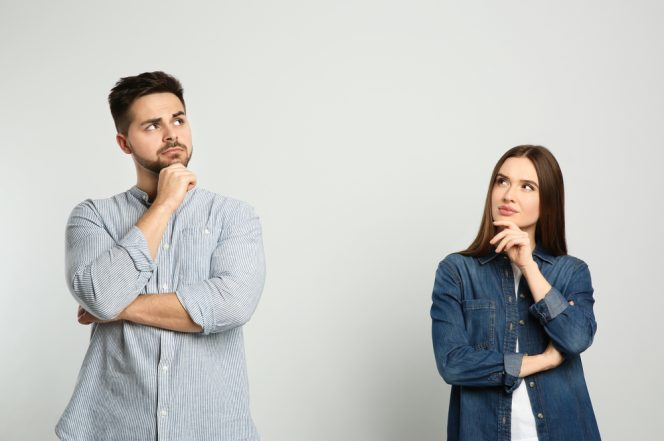 Why Are Backlinks Important?
Social proof is a crucial component of showing up on page one of Google and backlinks are how Google measures social proof. As you grow your number of backlinks, you will start to see quite a few benefits.

One of the most important benefits is you will have a higher domain ranking. Domain ranking or domain authority is a metric that Google's algorithms attribute to your page. One of the key factors in determining your domain ranking is your number of backlinks.
If your page has a higher domain ranking than your competitors, it's much more likely that your page will rank in the first few pages of the search results.
Once your webpage shows up on the first or second page of a Google search, you also increase your chances of people clicking on your website. In addition, any backlinks you have will also direct you to referral traffic.
However, Google does have the ability to measure the quality of your backlinks. This means that you will have to dig deep to find high-quality backlinks to boost your SEO. However, once you accomplish this, you will be able to grow your brand and your sales.
What Are High-Quality Backlinks?
If getting backlinks was all it took to build domain ranking, you could theoretically cheat the system easily. However, even if you were to find a way to inflate your total number of backlinks artificially, it would not be a viable SEO strategy. On top of this, your backlinks would not help promote your content.
There is no way you can artificially inflate your total number of backlinks. And if you tried, you would only be shooting yourself in the foot. Google's algorithms have specific criteria for assessing the quality of your backlinks. There are several ways to find high-quality backlinks and integrate them into your SEO strategy.
Here are five ways to identify a high-quality backlink.
1. They Come From High-Authority Websites
Let's say you need your car engine examined. Would you rather trust a seasoned car mechanic or someone with no experience working on cars? Of course, you would trust the expert!
As we mentioned earlier, the Google algorithm determines domain ranking for every website based on the number of backlinks. If a high-ranking website creates a backlink to one of your web pages, that is a strong indicator that you have quality content.
It might seem simple, but the implications are enormous. Google trusts referrals from high authority websites more than low authority websites. To find a website's domain authority rank, you can use SEO tools like Ahrefs, SEMRush, and Ubersuggest. These tools can help you examine whether a website would be a good fit for your backlink strategy.
2. They Include Your Target Keyword In the Anchor Text
Anchor text is simply the keywords where your hyperlinks are attached. For example, in the sentence "Mirasee is a company that teaches online businesses how to bring more value and impact to their customers through online courses," the word 'Mirasee' is the anchor text.
If you hover your cursor over the link, you will see that the embedded link leads to the Mirasee homepage.
When you are building your backlinks, you can set up your anchor text in a couple of ways. You can use generic language such as "click here" or "learn more" as your anchor text, but it is not as effective.
Instead, do keyword research prior and try to use your target keyword in the anchor text.
However, you will still need to be specific and honest. You cannot use the anchor text "cat food" and then have a backlink to a website about an online coaching business.
As long as your anchor text matches the focus topics of the linked site, Google will view your link as a quality backlink.
3. They're From a Site That's Relevant to Your Site
Google wants your backlinks to be relevant to your web content.

For example, if you are running a blog about cats, a backlink from a website about car insurance will not qualify as a good backlink. You will only want backlinks from websites that are similar to your website.
When your website has multiple backlinks from relevant sites, the algorithm will determine that your site is reliable.
4. They're From a Domain That Hasn't Already Linked to You
Backlinks from the same domain have a diminishing return for your domain rank. Building your domain rank as a long-term backlink strategy will require you to seek out other websites to backlink to you. The more domains that link to your site, the more reliable you are seen in the eyes of Google.
Once again, you want to ensure that your new backlinks are from websites relevant to your site.
5. They are "Dofollow" Links
There are two types of links, "dofollow" and "nofollow". A "dofollow" link is a hyperlink that enables a search engine to point toward your website. Conversely, a "Nofollow" link does not allow search engines to point to your website.
When inserting links in your site, make sure that they are "dofollow" links. That way, you can build greater authority when adding links to your site. The Google algorithm recognizes that your website is linked to other sites. Alternatively, nofollow links like blog comments and social media comments do not improve your domain authority.

You might be worried and think, "How do I know if my links are dofollow or nofollow?"
Fortunately, most links are dofollow.
But if you would like to verify if your links are dofollow, you can use free tools like Coder Duck's Link Analyzer to check your web links.
If you are more technically savvy, you can check the source code to see if the link is dofollow. Simply right-click on the link and then click Inspect. You will have a window pop up with the HTML source code.

You might see a bit of HTML code that looks like this:
<a href="your link here"> Link Title <a/>
This bit of code would be a dofollow link.

However, if your code has a rel="nofollow" tag, it is a nofollow link. A no follow link might look like this:

<a href="your link here" rel="nofollow"> Link Title <a/>
The majority of your links will likely be dofollow. Examining your links to ensure they are dofollow is more a precaution than a focal point in your backlink strategy.
How to Get Backlinks to Your Website or Blog
Now that you know how to identify high-quality backlinks, how do you get them? There are many great strategies that you can implement into your overall backlink strategy to boost your SEO rankings. In fact, to manage your SEO campaigns better you can even opt for a SEO project management software.
1. Ask Existing Partners to Link to You
One of the first places you can look for in building your backlink strategy is your existing network. If you have partners in your industry, they can be a source of a high-quality backlink.
Identify opportunities where they can link to your site. These opportunities can come in affiliations and endorsements, partnerships, or linking to resources.
If a company has a resource or article that you can get backlinks from, then take the initiative to ask them to link your website. In some cases, you might need a resource that you can share with your partners that would be valuable to their audience. If you take inventory of your available resources, chances are there is something you can provide to your network that can help you get a backlink. And perhaps, in return, you can provide your network with quality backlinks as well!
2. Create Resources That are Worth Linking To
Google has made it a priority always to feature the best materials available when it comes to its search engine.
That is why quality content should always be a priority when looking to increase your backlinks. A backlink is an endorsement that the content is so valuable that it must be shared with others. If your content is hard to read, inaccurate, or inappropriate, no one will want to link to that content.
Creating great content is more than just writing a compelling blog. You can create a wide variety of consumable content that can provide tremendous value to another company's audience.
Great resources can include but are not limited to:

Case Studies
Blog posts
Infographics
Reports
White Papers
Ebooks
3. Offer Something of Value to Other Sites
Now that you have resources worth linking to, you can use those resources as collateral for backlinks.
Start by building a list of companies that create content for the audience that you are targeting. These companies should not be direct competitors but are tangentially related to your field. Be sure also to examine what content has already been posted by your target companies so that you are not offering any duplicate content.
Once you have your list, you can reach out to these companies and offer to write a guest blog post or share a link to your downloadable resources.
The most important thing to remember is that your content must be valuable to their audience. If you are unsure what topics might interest another company's audience, don't be afraid to ask! Sometimes, an excellent idea for an article can come from a conversation about the audience's challenges.
4. Seek Out Unlinked Mentions
Sometimes other companies might reference your content without ever linking to your website. This can be a huge missed opportunity, and it only takes a few steps for you to turn this into a new backlink!
First, log in to your SEO tool of choice and search for unlinked mentions for your website. This should pull up a list that you can start to comb through.
Next, start identifying the domains that would offer you a quality backlink. Once again, you can examine the domain ranking of the website with your SEO tool of choice.
Once you have a list of authoritative websites, start communicating with the marketing director for each company. Ask them to link to your website. You might not always get a response, but you won't get those backlinks if you do not ask!
Another way that you can find unlinked mentions is through a Google search.

Simply type in → intext: *your website* -yourwebsite.com.
Here's an example using Mirasee: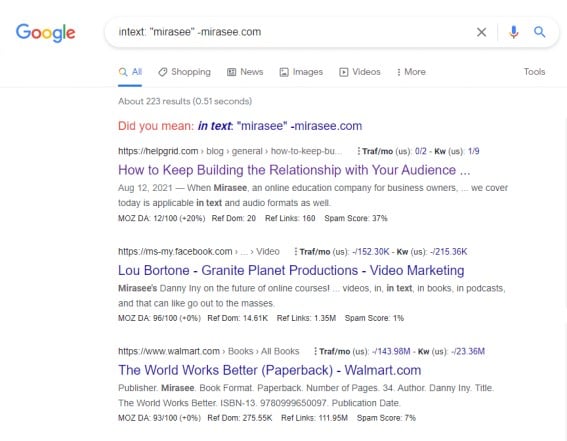 This search aims to help you see where other websites have mentioned your brand but may not have linked to your website. Also, when you add a hyphen to your website as part of the search, Google will recognize that it should filter out any inclusion of your website. This isolates your search to only include mentions but not any existing backlinks.
It is best to collate this data into a spreadsheet so that you can start communicating with each of these companies to ask for backlinks.
5. Write Some Strategic Guest Posts
Nowadays, some marketing experts argue that guest posting is dead… so is guest posting still viable? Of course it is!

In the early days of Mirasee, Danny Iny was known as the "Freddy Krueger of Guest Posting." Everywhere people went, they would see a guest post from Danny. However, Danny was not working 24/7, cranking out countless blog posts.
Instead, he gathered a list of people to write guest posts for, and then he reached out to them.
Start by looking in your industry for content creators with high domain authority, relevance to your site, and who have not previously linked to your website. Build a list of potential candidates and outline what possible blog posts you could write for them.
Once you are ready, reach out to them. Make sure you share how you will bring value to their audience with your content. If you have written guest posts before, share the success stories from your previous posts!
When writing your guest posts, you can include links back to your website and blog to build a backlink. If there is a bio section for the author, you can have your company homepage linked.
6. Give the Broken Link Method a Try
The Broken Link Method is a fantastic SEO strategy that can get you quality backlinks. The Broken Link Method is where you look on the resource page of companies that produce content for your target audience. Then you look for any potential 404 errors in their content. A 404 error signals that they have a broken link.
If you have a resource about the same topic as their broken link, you can contact the company and offer your link in place of their broken link. They better serve their readers, and you get a backlink. It is a win-win.

To find websites with related resources, start with a Google search. You can search your target niche + "resources" or + "Links."
Then use the chrome extension Check My Links to see if you can find any broken links on the resources page. Once you identify a broken link, send an email to the website owner and offer your link as a replacement.
7. Respond to Journalists on HARO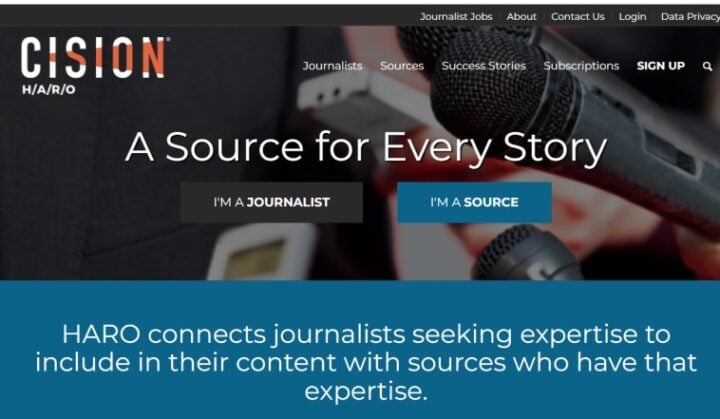 HARO stands for Help a Reporter Out. Often journalists are looking for subject matter experts to partner with for an article they are working on. This can present an excellent opportunity to get press coverage and a backlink.
Simply go to the Help a Reporter Out website and open an account as a source. Once you sign up, you can adjust your settings only to receive emails about reporters looking for your niche of expertise.

A good tip is to create an email filter for your HARO emails. That way, your inbox does not get flooded with messages. If you filter your HARO emails into a folder, you can quickly review them on your own time without having to worry about a cluttered inbox.
When you work with a reporter, be sure to request that they link their article to your website. Reporters and journalists often write for high-ranking domains, and this will provide you with a high-quality backlink.
Backlinking Like a Pro
Now you know what a backlink is and how to incorporate them into your SEO strategy. With a little bit of research, you can quickly grow your backlinks. These strategies can help you gain greater visibility through Google and raise your domain ranking.
But remember, backlinking is only one part of search engine optimization. You will still need to grow your visibility with keyword research, optimized meta descriptions, meta tags, and quality content.
So start today by crafting your backlink strategy to get your content in front of your target audience.