Do More in Less Time Using a Productivity System
It's July already. Half the year has passed. But where has it gone? Your energy and possibility in the New Year inspired a list of dozens of things you wanted to accomplish this year.
And how are those New Year's goals coming along?
Maybe the excitement wore off, and your vision for 2015 has either dimmed, or goals backburnered. Client work, and 'life' got in the way.
There is just too much to do, not enough hours in the day, and not enough to show for all of your hard work.
Maybe last year when the Fall approached, you were in a mad dash to catch up. And likely…
You felt resigned and said to yourself "Better Luck Next Year."
So a fresh start in January came and you said, "this is my year!" So you recommit. You read up on productivity to find more time. Maybe you have tried using extensive and detailed productivity systems like David Allen's Getting Things Done.
You tried to be accountable for your time with software like Rescuetime. Then you set up project management software or a task list to stay focused. You might even have gone as far as moving to a different workspace to avoid distraction.
And, success! You start getting more checked off your to-do list. Progress! Or so you think.
But have you actually accomplished what you set out to?
Are you actually living up to what you know is possible for yourself?
Click To Tweet
So often the answer is NO.
Because getting more done, doesn't mean you are getting the right things accomplished. You think you're productive. But you might just be busy.
The real reason why we don't reach our goals as fast as we'd like is not what you think. It's probably not that your plans aren't detailed enough. It's not because you're lazy, or that you don't care.
The cruel reality is that we are hardwired to NOT succeed.
In fact…
We Are Hardwired For Failure.
As humans, our default environment is to do what is safe. This tendency has ensured our ancestors' survival and is why we thrive as a species today.
Unfortunately though, our survival programming can hamper growth in our business. Because getting to where we want to in our business requires CHANGE. Which to your reptilian brain, the most primitive part of the brain, is dangerous.
What wildly successful people DO that underachievers don't…
They feel the fear and do it anyway. A wise man named Danny Iny said…
"Success comes to those who ship! THOSE WHO SHIP DO AMAZING THINGS!"
'Shipping' is making your ideas and plans happen, in whatever rough form. You "start where you are, use what you have, and do what you can."
The key to your success is to ship more… and ship faster…
Your ability to consistently execute is one of the biggest determining factors to your success. It doesn't matter how big your ideas are.
When your excuses are bigger than your actions, you'll never be able to accomplish what is truly possible for you in your business.
Click To Tweet
To keep taking consistent action in line with your goals, you need a failsafe for when your willpower dries up.
What Wildly Successful People HAVE That Underachievers Don't
They set their commitment, and they are accountable for their success. They have a structure or framework that enables them to overcome whatever environment they're up against. Highly successful people have a strategy for moving past whatever is their way.
Because otherwise, left to our own devices….
We'll do whatever we can to avoid growth and discomfort.
So if you want to accomplish more, you have to anticipate the resistance, and have a proactive plan to help you consistently move forward.
2 Keys to Shipping Faster and Crushing Resistance
1. Use a Framework and Go MICRO
The best way to sabotage yourself from the start is to overcommit! Instead of a dozen or more goals in a year, massively focus on a few important priorities within a micro time frame.
Brian Morgan and Michael Lennington in The 12 Week Year suggest that the key to accomplishing more in less time is to look at your year as just 12 weeks. This more manageable time frame, creates intense urgency to accomplish all that you are capable of.
To to accomplish more in less time:
Decide what outcomes in your business would make the biggest impact to your long term objectives. Commit to and create an action plan for what you'll accomplish in your next "12 week year" or sprint.
Break down your actions week by week.
KEEP SCORE.
An entrepreneur named Jenny who uses this format finds that the weekly plans keep her focused and productive. She knows to only focus on this week's plan to accomplish her goals.
Instead of feeling overwhelmed, and not knowing where to start, taking big action is much easier. She also finds that reflecting on her week and keeping score, motivates her to stay on track. And she sees how her plan needs to be tweaked to reach her outcome in the short timeframe.
This structure helps you make every single moment count and eliminate everything that detracts from the outcome you're committed to.
Now that you have a structure to take the right actions…
2. Hedge your bet with leverage
Where could you be in your business if you had a group of people holding you accountable for taking the action you said you would?
This support structure is what enables you to keep taking uncomfortable action that will lead to the growth you're after.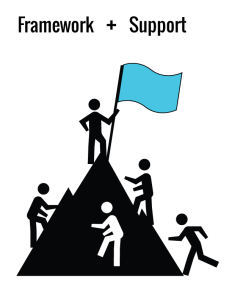 Napoleon Hill chronicled the success habits of the most wealthy people of his time in "Think and Grow Rich." His research indicates that utilizing group support will enable you to "accomplish more in 1 year than you could accomplish in a lifetime if you relied entirely on your own efforts for success."
Masterminds have become very popular. But the problem is that most groups often miss out on a most essential element. An article in Forbes includes 7 reasons to join a mastermind group, but neglects one of the most important success drivers: ACCOUNTABILITY.
Masterminds are a great place to connect with other successful entrepreneurs and share ideas. But when strategy trumps execution, you can be left scattered and distracted. Too many perspectives, without action, will weaken your focus and slow implementation.
To make sure you get what you need, join a group that supports maximum performance and achievement.
With this structure in place, your peers can help you take your business to the next level by holding you accountable for taking the rights actions that lead to your next level of success.
Especially when roadblocks creep in, your drive is gone, and enthusiasm is all spent.
To Make Progress Now
Set up a framework to help you take focused action when the drive is gone. Be accountable for your own success with a support group that will, as Napoleon Hill said, help you "accomplish more in 1 year than you could accomplish in a lifetime if you relied entirely on your own efforts."
Then you be able to finally make BIG progress on what really matters in your business in less time than you ever thought possible.
What about you? Do you see how taking this approach could get you where you want to be with your business? What blocks have you experienced? Do you know if you're actually being productive or filling your time with busywork? Leave a comment below!