When Time Flies – How to Boost Productivity, Lower Stress and Increase Energy Levels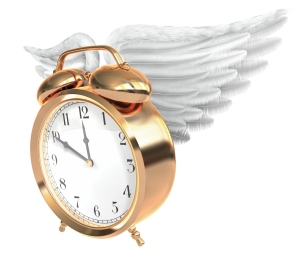 Have you ever had a day like this?
Just before launch, you discover that someone you were counting on dropped the ball.
So now you are burdened with an unexpected workload, on top of a colossal heap of tasks you already had to do.
You need to hunker down and push through – somehow.
But you're good at meeting high-pressure deadlines. Typically, as you work on one task, the back of your mind thinks about what you need to do next.
But this tedious task is taking longer than expected. Although your fingers efficiently scamper across the keyboard, you're getting tired. And you don't have time to rest.
You un-clench your jaw, stretch your stiff neck and shoulders, and look at the clock.
Hours have already flown by. How on Earth are you going to get everything done on time?
If only there was a way to slow down the remaining time you have left.
Well, (believe it or not) there is…
It's How You Perceive Time
Everyone has the same 24 hours in a day to work with.
The day before a launch zips by in a blink. On vacation, a day can feel like a week.
How can the same amount of time seem to pass by so differently?
It has to do with how you perceive time.
The good news is, you can control that. You control it by what you put your attention on.
The week before launch, you fixate on accomplishment.
You prepare. You produce. You're quick and efficient.
And you're constantly thinking about what you're going to do next.
You get caught up in a tornado of achievement (with papers and emails scattering everywhere, I imagine).
And you often pull it all off by the deadline.
But at what cost?
Your body pays. And wearing that tense, heavy coat of stress just isn't worth it.
On vacation, you do things in your natural time. You relax. Time seems to slow down. You slip out of that stress coat you've been wearing.
So how can you change your perception of time so that you get work done without stress?
Work with Your Own Creative Rhythms – Your Natural Time
What is natural time?
If you act in your own natural time, you are aware of your energy levels at different times of the day and night. You are also connected with the waves that life sends your way.
For example, when you sail on an ocean, you are connected with nature. You drift with the waves and the wind. You move with the forces of nature that come your way.
You trust that these natural elements will propel you in the direction that you want to go. All you need to do is harness it with a sail at the right moment.
At work, you co-operate with different natural forces.
One force is how much energy you wake up with in the morning. And that is a direct result of how much restorative sleep you got the night before.
(Oh, and by the way, if you're not getting good quality sleep, be sure to get your FREE copy of the Restorative Sleep Project  – it'll really help you!)
There are other forces at work, too: your thoughts, your emotions, how fulfilled you feel, relationships with your coworkers and your community, and relationships with technology.
Sometimes these forces will propel you in the direction that you want to go and increase energy levels. All you need is to take hold of the opportunity, and sail on.
But some forces – especially relationships with people and technology – can bring you to a screeching halt. Sometimes, they cause you to backtrack. And many times, the only way out is to rethink the way you're going about things and tweak it.
For example, one way to reframe a poor interaction with someone is by using the "power of 3" technique. If you have a sinking feeling in your belly, this potent technique will help you focus.
The way you work with these forces – or against them – directly impacts how stressed out you feel.
When you work with these forces, you begin to deeply trust your ability to create and accomplish without the stress of doing. Work flows from you. With ease.
And surprisingly, what you create will seem to take no time at all.
That all sounds great and esoteric, Master Kenobi, but how do I tap in to this state of flow with my work?
1. Know your natural energy cycles, and work with them.
If your mind is freshest first thing in the morning, then start with a task that needs creative focus and a long attention span.
Processing email at this time will only drain your abundant creative force. It's like choosing to clean your sailboat instead of harnessing the morning wind.
Instead, save those short, quick tasks—such email or phone calls—for when your energy wanes. And if the abundance of email stresses you out, check out what Danny does to process email and to cultivate relationships.
Schedule your meetings or phone calls during your mid-afternoon slump for a quick pick-me-up. Socializing with others – even if it is business-related – can increase energy levels.
Well, unless your version of scheduling meetings results in a slurry of "I'll be there" emails. In that case, use Doodle  to bring a little peace and quiet to your inbox.
After all, less email = less time processing email.
So…
2. Do less.
How can I do less, when I have a start-up business? I want to be more productive, not less productive.
Doing less doesn't mean that you have to be less productive.
For starters, you can stop distracting thoughts of what you're going to do next. These thoughts only compete with the task you're working on now. And that slows you down.
Doing less highlights only what is most important to you, rather than just doing things for that little brain cookie you get when you cross it off your list. (And here are some ways to get off the hamster wheel and experience the power of less.)
After all, we are human "be-ings", not human "do-ings".
Which brings me to another point. As you work, be present.
3. Forget the clock. Focus on now.
How can I meet deadlines if I forget about the clock?
Looking at the clock triggers you into thinking about what you have left to do, and what you are going to do next. This adds to your stress levels.
So stop checking the clock.
Instead, set a timer in regular intervals of work time and rest time. Ignore it until it beeps. The Pomodoro Technique uses intervals of 25 minutes of work time followed by 5 minutes of mental rest time. Every 4 cycles, take a much longer break (an hour or so) to refresh your mind.
(And during your mental rest time, use some of these techniques to keep your mind fresh.)
As you work during these short intervals, eliminate distractions. Focus only on the task. Nothing else. No thinking about what comes next. All that matters is where you are with this task now.
Now, there's only one trick left in the bag…
4. As you work, turn on your peripheral vision (and sustain it).
This technique – while simple – is critical to slowing down your perception of time and to lowering your stress. (I saved the best for last.)
When you focus so much on your workload that the rest of the world vanishes, time whizzes by.
So turn on your peripheral vision. Take in and receive more of the world than just your workload. It slows down your perception of time, for you sustain a connection to the world around you.
When I started to do this simple practice, I was floored as to how effective it was. I used to feel overwhelmed with my workload – especially just before a critical deadline.
With my peripheral vision active, my tasks are just a small part of a greater whole. I feel more relaxed while I work on my computer. And I tap in to a creative flow that makes my work feel effortless.
To turn on your peripheral vision:
 Right now, soften your eyes so that you can see your hands while still looking at the screen as you read this.
 Now, take in more of the room around you (while still looking at the screen).
 Sustain it for as long as you can.
When your clock beeps, check in to see that you are still sustaining it.
Another easy place to practice this is while driving to work:
While you are driving, soften your gaze enough so that you can see the cars on the road and your hands on the steering wheel.
Expand your peripheral vision to include the radio dial.
While sustaining that, expand so that you can also see the cars in the rear view mirror (while still seeing the cars on the road in front of you and on the sides).
Sustain this for as long as you can.
The longer you practice this while working, the more those distracting thoughts will turn off. Without distractions, tasks take less time to finish. And you are open to receive inspiration.
The more open you are to creativity and inspiration, the more easily work flows out of you. And working with your natural energy cycles allows you to improve productivity.
Without stress.
Readers: Did this exercise help your perception of time slow down? How did it affect your stress levels? Did it help you achieve a state of flow while working?