Online Networking: The Little-Known Problem That's Sabotaging Your Chances of Connecting With Influential Bloggers
Tom Southern
You're working hard to connect with influential bloggers in your niche. But you can't help wondering if you're being ignored.
It's a horrible thought, isn't it?
You're doing all the things the experts tell you to do if you want these connections to lead to your content being linked to, talked about and shared to the 1000s of people who follow these influential bloggers. But …
It still feels like you're invisible.
Your emails go unanswered. Your content isn't getting linked to, or talked about, or shared.
What's going wrong? Why aren't those expert online networking tactics working for you?

Good question. And the answer is: Connection Fatigue.
It's a problem that's beginning to affect influential bloggers across the internet. And it's getting worse.
Too Many Copy-and-Paste Tactics Smother Sincerity
The causes of Connection Fatigue have been described by sufferers as "boiler-plate" emails lacking any thought or individual flair. No sign of creativity or with anything new to say. These boiler-plate emails arrive from hundreds of bloggers everyday, all asking for the same thing, in the same way, for the same reason …
Getting promoted.
"… you don't just want to copy and paste some sort of boiler-plate email because it's immediately apparent that you copied something, that you're doing something that somebody told you to do."
– Corbett Barr, fizzle.co/sparkline
The focus on getting promoted as the end all and be all of online networking is causing Connection Fatigue because people are forgetting what makes a genuine relationship. Heck, forget genuine relationships! They're forgetting that it's FRIENDSHIPS that matter most of all.
What it really  boils down to is this: if you haven't put anything personal into the process of connecting with influential bloggers, then why should they care about or promote you?
You Just Want Me For My Clicks, Likes and Shares!
Trying to connect through a generic email just makes people feel that the only reason you're contacting them is because they happen to be someone whom you thought would be useful to you and give you a leg-up the blogging success ladder.
It hurts.
Getting in contact for your own self-interested reasons sticks out like a sore thumb, because  you haven't taken time to think about how to make them feel good about themselves. Or about hearing from you.
Influential bloggers aren't automatic link machines who spit out shares whenever you send them a copy-and-paste email. They want to feel like they matter and that when you do get in contact, it's because you want to let them know how much they matter to you.
How To Side-Step Connection Fatigue (and Prove You're Worth Noticing)
Blogging needs you. It needs your individualism, unique voice, new ideas and your rocking content need to be promoted as massively as influential bloggers can promote it.
So, don't let Connection Fatigue  and online networking gurus sabotage your chances. Give those influential bloggers a reason to feel like they really matter to you.  Make them actually want to promote you.
Do something different.
Something that side-steps Connection Fatigue. Something that makes people sit up and notice you. Instead of following boiler-plate tactics that reflect a me-me lack of creativity and self-interest, create a reputation as someone who not only cares about other people and what they do, but someone who proves it.
How?
Make it your purpose to put others first by promoting their content.
Promote it selflessly. Promote it because you just enjoy their content. Because you think it rocks. Because it makes you sit up and take notice. Because it's valuable to you.
People notice this kind of selfless generosity.
You may not realize how much people notice it until you start getting attention and feedback like this.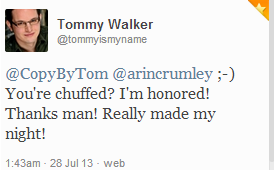 And this…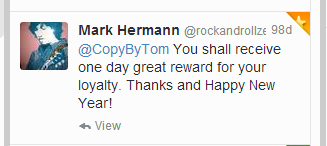 Attention and feedback like this is priceless. It needs to be earned. Here are some simple ways to earn it for yourself …
Step One: Stop Creating Content
This goes completely against what most experts tell you to do if you want to stand out and make connections online, right?
Their advice is to create awesome content that influential bloggers will want to tweet and share with their readers.
But Connection Fatigue means that your email has little chance of getting seen, let alone opened, read and clicked. So what chance has your content, got unless you side-step Connection Fatigue?
Giving your content a shot starts by taking a break from creating any content to concentrate on doing something a lot more useful to creating connections…
Step Two: Start Reading
There are a lot of great writers out there. Promoting other people's awesome content begins by going out into the blogosphere and reading.
Begin with those bloggers in your niche whose content you already think is awesome.
Remember all those blog posts you've bookmarked?
Check them out. Take time to actually read them. If any of them still stand out to you, think about why and how. What it is about the writing, the ideas, the message, the usefulness that resonates with you?
Then, promote this content. When you do, say why you're promoting it.
Once you've read the bloggers in your niche, it's time to go further a-field and venture into niches outside your own. For example, maybe your personal development niche intersects with marketing, business, parenting, health, fitness, finance – the list is almost endless. Pay attention to who the great writers are talking about in your related niches. Often, they'll talk about other great writers, which will introduce these new writers to your sphere of reading.
Start following all these great writers on Twitter. Circle them in Google+. Keep an eye out for who they're following, tweeting and talking about. I've found most of the writers I love via other writers tweeting about them, or mentioning them in their content.
Every influential blogger got to where they are by reading, not just writing. So work to become a great reader as well as a great writer. You'll discover it pays off big time.
Step Three: Promote The Hell Out Of Those Bloggers You Love
Once you start promoting bloggers, it's important that you keep promoting them. As part of your online networking, set aside time at least once a week to:
Read a piece of content from someone you love. And promote it.
Discover a new writer who's writing knocks you out. And promote them.
Step Four: Introduce Bloggers To Each Other
Because influential bloggers are great writers, they love reading. Especially other great writers' content.
So introduce them to content you think they'll love.
Here's an email I sent to Chris Garrett, of Copyblogger and Authority Blogger fame:

And here's his reply:

Step Five: Have Real Conversations
Influential bloggers, like all of us, like to be recognized for who we are. Let's face it –  a lot of them have earned it.
But, they're human too.
They have lives beyond their blogs. Often they talk about their lives on their blog, or on social media. This is how I discovered Chris Garrett likes Pink Floyd.
Most people stick to trying to engage influential bloggers just stick to topic-related things like: "Great post!"
Asking an influential blogger about their latest cruise holiday, or their family's trip to Disney World, or their fondness for Eighties one-hit-wonders will get you noticed. Not just because it will be a refreshing change, but because it shows that you're not just out for blatant self-interested gains. It shows you're interested in them as people. It shows you're human too.
Step Six: Accept Their Offers of Help
Do creative justice to steps one to five and sooner or later those bloggers you've spent time promoting with genuine interest will start responding with gratitude, offers of thanks and an interest in your content.
You might get an email from someone saying something like this: "Thanks for your thoughtful comment. I think if your blog posts are anything like your comments, I'll be heading over for a read. Just let me know when you launch."
Step Seven: Make Damn Sure You Follow Through
Don't let these golden offers slip through your fingers! Respond to them as fast as you can with your appreciation, and be sure to follow through. If they say they want to know when you launch your blog, let them know. If they ask for a link to your latest post, send them a link.
Part of making awesome and real connections is showing how much you care about other people. A big part of caring is responding and saying thank you. We're all human. Sometimes, life can interrupt us or distract us. But if you keep an ever watchful eye out for responses to your promotions, you'll be ready for them.
Step Eight: You've Made Some Truly Awesome Connections… Now What?
Now that you've become a whiz at online networking, it's time to start creating content that is worth your connections' time, effort and reputation to promote.
This doesn't happen by falling back on "boiler-plate" content that you bang together in 30 minutes. But, you know this, right? You're a Mirasee reader; you're smarter than the average blogger out there. Right?
You're not going to spend all this time cultivating connections that matter just to throw them away.
So do the work.
Put in the hours it takes to create shareable content. And make those influential bloggers who think you rock proud to promote you.
Because you matter. Your content matters. Your success matters. You're not alone. There are people out there waiting to make sure you matter. More people than you think. Get out there and show them how much you care by helping them matter even more too.
Success is a community activity. It happens when people help each other out. No strings attached.
Get started now…  Who are the writers and bloggers you love? Leave a comment to tell me about them, and why you think they're awesome.