How to Get Your Instagram Marketing Off the Ground
I used to think working hard to be "instafamous" was for celebrities and teenagers, nothing there for real business owners like you and me.
But little did I know Instagram could propel a business forward like few other social media platforms. I didn't know until I got firsthand experience with the platform.
And want to know the most amazing part?
You don't need a million followers, you don't even need 10,000 before you start to feel the effects of Instagram marketing.
In case you don't know, Instagram is a simple app that allows you to share your best pictures with the world. And if it's a good one, you're rewarded with a bunch likes, a boatload of traffic, and visitors that convert like gangbusters.
What most people don't realize is that Instagram is an amazing platform to do all these things without spending a fortune.
Let me explain.
In a study published by Forrester, Facebook accounts received about 700 likes, comments, and shares per post for every one million fans they've managed to amass. Twitter was even more disappointing with about 300 interactions for every one million followers.
---

Instagram on the other hand, received about 58 times more engagement than Facebook and a whopping 120 times more engagement per follower than twitter.
As of September 2015, Instagram had 400 million monthly active users, and the engagement has been steadily climbing ever since.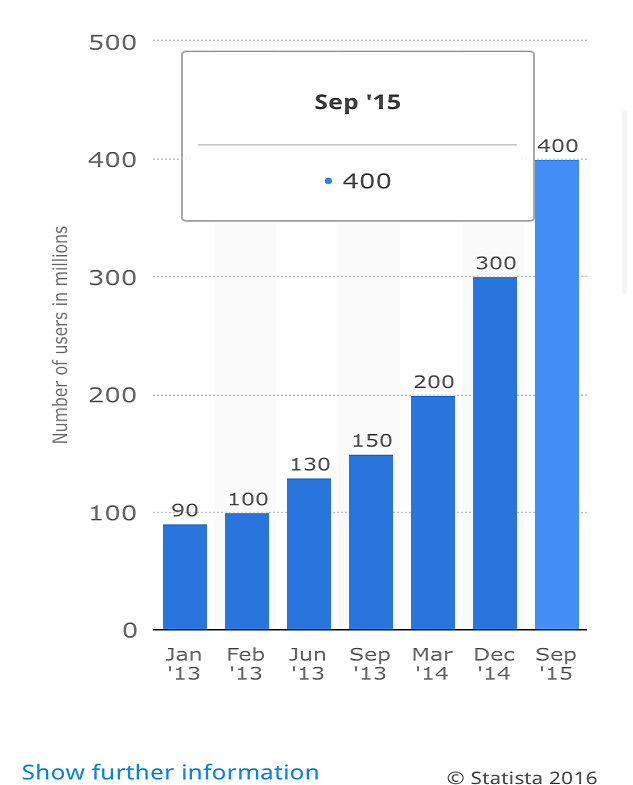 In a nutshell, Instagram is the best social media platform at this time to build engagement with your audience and drive some serious sales.
With that being said, we're going to dive into the main elements of building a strong Instagram account. We'll cover the ins and outs of an Instagram post, how to use the right hashtags for engagement, giving your audience what they want, cross-promotional avenues, and of course how to drive serious revenue.
What is Instagram, Really?
In its purest form, Instagram is a photo sharing application that lets you put your best foot forward in the world. It comes with built-in filters making sure you and your images look like a million bucks every time.
You can tag friends, like photos, send direct messages to anyone (that's an important one), and most importantly, get followers.
For your business, it's a way to take advantage of visual content marketing in 2016 and beyond.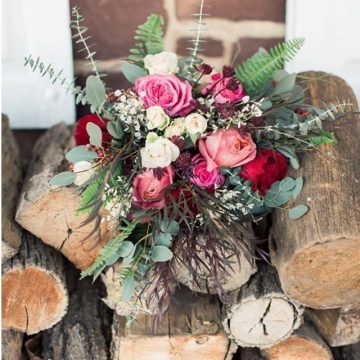 Belovely Design is one Instagram account that really stepped up their visual marketing game. They post pictures of brides, floral arrangements, and settings from events that give a rustic feel to their page.
They also mastered the art of consistency in order to build a loyal fan base of almost 10,000 followers at the time of this writing.
But how can you unlock the power of Instagram for your business? It's not nearly as difficult as you may think.
Keep reading.
The Anatomy of an Instagram Post
Let me be frank, Instagram is an intensely visual platform so your images have to be breathtaking every single time. If they're not, you'll feel shortchanged by all the hype about being able to build a business from Instagram.
Get in the habit of taking a moment to think about what emotions your picture elicits in the person viewing it. Is it desire, fear, happiness, rage, pride, or empathy?
Often, it's enough to use a slick graphic overlaid with text prompting users to take action. Other times, you're going to want to create a more visceral reaction from your audience.
You know your business better than anyone, so you're in the perfect position to map out the types of images you're going to be using.
I suggest you take a moment to develop a style guide for your Instagram account that takes into consideration the following things:
What filters will you use? Choose 2–3.
Pick the font you want to use for overlaying your images.
Consider the frequency of promotional posts to posts your audience would find interesting. For example, ratio of 1:15.
How are you going to structure your caption text and call to action? Will you post short captions with a quick call to action or long ones that tell a story?
What's your unique business hashtag as well as the general hashtags you will put in the comments section?
Don't worry if you're a little lost, we're going to touch on each element individually in this post.
This is the point where you leave your products and services behind, and think about the value you can add to your followers on Instagram.
Use Compelling and Engaging Text
At the time of this writing, School4Success, an account with more than half a million followers, employs this strategy very well. They focus on motivating their followers to achieve greatness and occasionally include a call to action to click the link in their bio.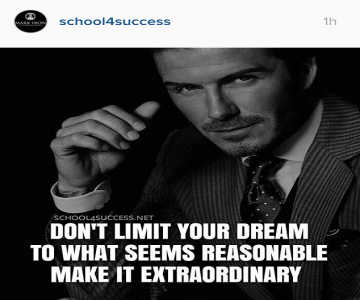 Looking at the picture, you can see they've also included their website URL in the image without seeming overly promotional. This is important because Instagram only allows you to place a hyperlink in your bio.
Since they've grown such a large following, they've been able to add another layer of monetization to their account: paid shoutouts, which we'll talk about in a moment.
Not only is the text engaging, they use one or two fonts for all of their images to give their account a consistent feel.
If your business lends itself to image quotes then this is something you should consider. Choose a few fonts and test them out on your page and see which ones your fans seem to like the most. From there, incorporate them into all of the images you overlay with text.
Build Engagement with Questions or Embedded Commands
An old copywriting trick is asking questions or placing embedded commands. Many accounts are using this to gain traction, and one of my favorites is Build Your Empire.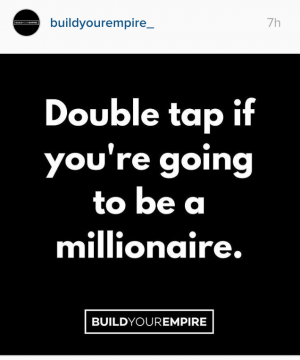 In this particular post, they focus exclusively on the call to action to get their followers to like the post. You can combine yours with compelling imagery to get your message across, or take a cue directly from this page and make your words the focus of your post.
Going a step further, you can also use your caption to keep the conversation alive.
Many people leave this blank or just stuff it full of hashtags. Neither one of those is the best option.
Instead, use the caption area to tell a story about the image, add another call to action, or show the personality of your brand.
Whether you want the caption text to be long or short is your choice, but never ever leave that vital piece of screen real estate blank.
Consistent Imagery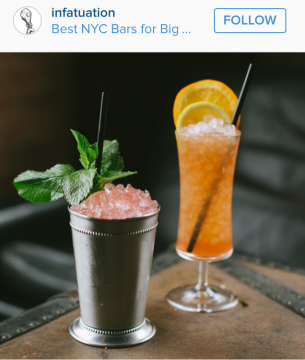 An important step in making sure Instagram works for your business is deciding and sticking with a very specific style of imagery.
Infatuation is an Instagram food account with more than 500k followers. Their images are bright and colorful leaving you with the promise of better days and good times ahead.
Even if you don't have the budget to eat all over the country and haven't gotten a large enough following to launch a successful user-generated content campaign, you can still apply a consistent style of imagery to your page.
The app comes built in with many different filters. And when you're first starting out, it's a good idea to choose a few to represent your brand.
It could be Hefe, which gives a vintage look to pictures, or X-pro which gives your images a darker cast.
That way, whenever people see pictures with the filter you chose, they are be unconsciously reminded of you and what your brand is offering.
Instagram Hashtags
Hashtags are a blessing on Instagram and cannot be ignored as a powerful tool for driving your Instagram account forward. In Instagram, hashtags provide a way for users to quickly search the 70 million pictures and videos uploaded daily to find what they're interested in.
Making hashtags work for you isn't difficult. Use a service like Top Hashtags to search for and compile a list of hashtags relevant to your business.
When you're done you should have at least 100 to choose from. 
Every picture you post is unique. The more relevant hashtags you incorporate into your marketing, the more likely you are to attract a range of visitors to your page.
Avoid placing your hashtags in the post caption, since nobody likes looking at dozens of hashtags packed into that space. Instead, after posting your image, place the hashtags in the comments section.
Once a few people comment, the original comment with your hashtags will be buried and still perform the same job.
Remember there's a limit of 30 hashtags per post so choose the ones you want to use wisely.
Conversely, you should also consider creating a unique hashtag for your business.
Make your unique hashtag:
Short
Relevant
Memorable
Unique
Once created, encourage your audience members to tag their photos with it.
Doing this allows you to start getting a handle on: 1. the people highly engaged with your brand on Instagram, 2. user-generated content you can use on your page later, and 3. the reach of your brand i.e., how many total pictures have been posted with that hashtag.
Shoutouts
In addition to following the tips above, one of the fastest ways to grow your Instagram account is to get other accounts to promote yours. This is called a shoutout.
This exposes you to their audience and a decent percentage will most likely then follow you.
The types of shoutouts
Caption only: With this type of shoutout, the other account will make an image for their feed with their own branding. In the caption section, they'll place a call to action asking their followers to check out and follow your page. It's effective in some cases, but not the best option.
Image Shoutouts: Here, you make an image consistent with their page, but it has your own branding. In the caption area, include a strong call to action asking the followers of the page to check out and follow yours.
There are three ways to go about getting a shoutout.
Pay for it
This is probably what you're going to be doing if you have an account with less than 5,000 followers. Many accounts on Instagram make money from shoutouts, and you can identify them because they either put an email in the description or they have a KIK username listed.
It's strange, but most of the Instagram deals go down via KIK. The account owners doing paid shoutouts will usually keep it on their page for 24 hours before deleting it.
On average, you should pay about $50 for a shoutout on a page with 200,000 followers, 3% or more engagement, and be able to create your own image and caption description.
This is a snapshot of a conversation I had with an account with just over 150,000 followers: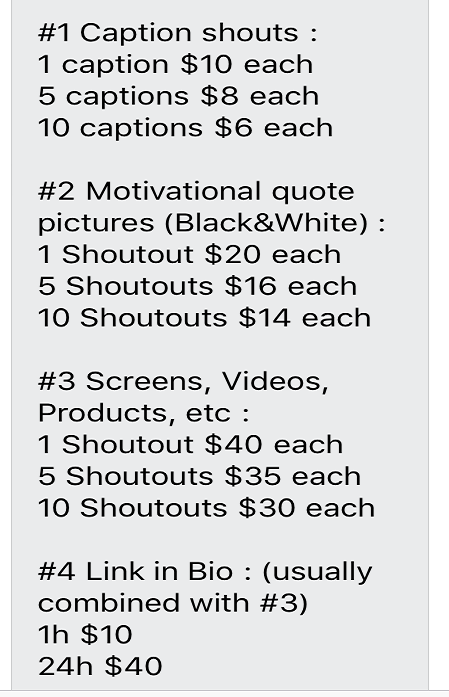 As you can see, the pricing varies depending on what you want. To advertise your products and services with a link in their bio is the most expensive. A caption shoutout is the cheapest.
Shoutout Swap
This is also called shoutout for shoutout (S4S). Once you get a larger following, you can approach other pages related to yours and ask if they'd be willing to do a promo swap. If they agree, you'll create an image for them to post on their page, and they'll do the same.
After you keep it up for a minimum of 24 hours, you can delete it or leave it there, the choice is yours (I suggest you delete it to keep a consistent feel to your page).
This is an image a pitch that led to a successful shoutout swap.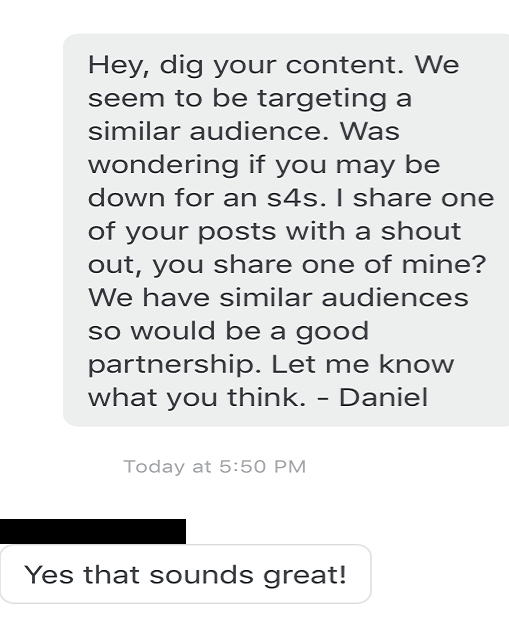 Ask for a favor
We've all been at the point where we're just starting, and there's no shame in asking someone to give you a shoutout for free.
The key to this strategy is to network. Tag the account you want a free shoutout from in a few of your posts, follow their account, and comment with some nice insights.
Once you actually approach them, you'll already be on their radar and the process will be much smoother.
Driving Revenue with Instagram
Ah, what we've all been waiting for.
Up until this point, I've talked about how to get your account in order and grow it. Now it's time to turn all your work into cold, hard cash.
Instagram is a tricky platform because you can't place hyperlinks in any of the picture captions you post unless you use a paid ad.
In fact, the only place to add a link is in your bio. This means the big ask is telling your followers to click the link in your bio.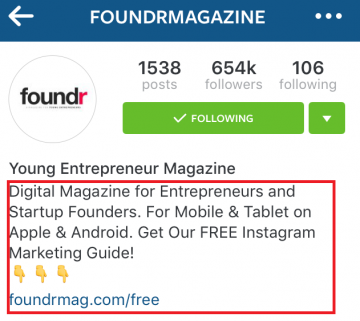 It can be tough to get users to check out your bio because they've gotten a bad rep. Either they're too sparse or they have a call to action that's too strong.
Foundr Magazine does a great job of balancing the call to action with a short description of what they do.
It's short, sweet, and leaves the emphasis on the link. That particular link leads to a landing page that receives about 30,000 visitors a month and converts at more than 30%.
The secret to driving revenue with Instagram is delivering a ton of value before ever asking for the sale.
For a new Instagram account or one without many followers, you should be posting three to four times a day. For every 20 posts you publish, only one of them will be a call to action to the link in your bio (i,e., asking for the sale).
But once they're on your mailing list, you're free to market to them however you choose.
I highly recommend you try out the frequency to see what works best with your audience, there are no hard and fast rules with social media.
Always remember people aren't on social media to buy. Rather they've come to spy on their friends, goof off at work, or be inspired by the world.
Tap into that and become part of the conversation instead of bombarding your followers with sales messages.
Honestly, it doesn't take much to drive a ton of business with Instagram. Again, post three to four times a day, and every 20th post, include a compelling call to action for users to sign up to your mailing list or check out your services via the link in your bio.
Examples of Successful Brands on Instagram
Frank_bod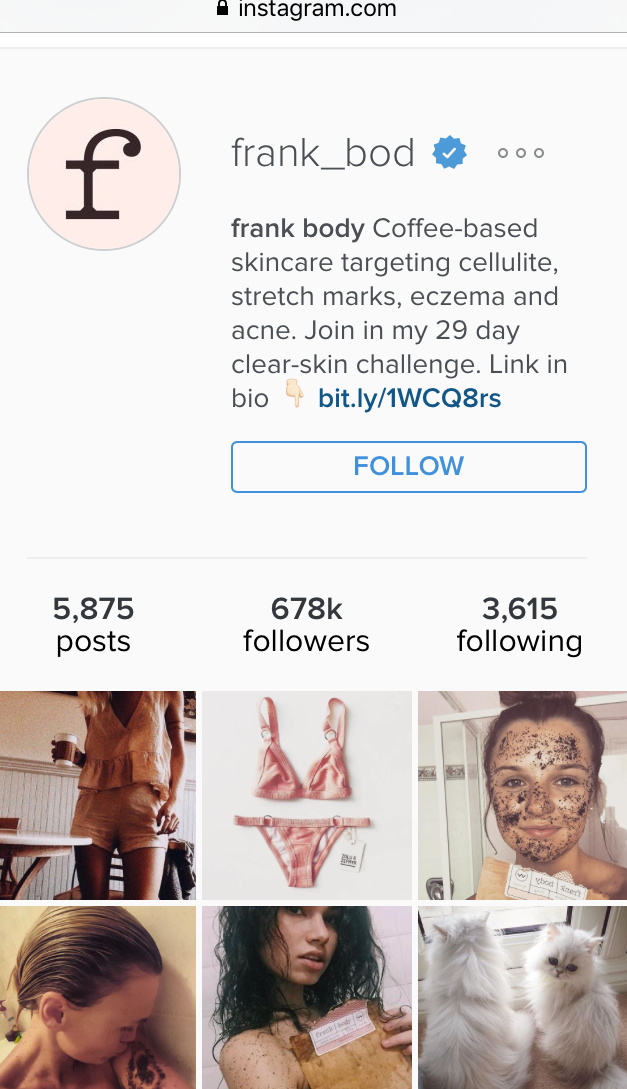 Frank_bod is killing it in the Instagram space, as of this writing they have more than 670,000 followers, and their average post gets between 6,000 to 10,000 likes.
Frank Bod sells coffee products that help keep your skin beautiful no matter how old you are or how harsh the environment you find yourself.
Their brand was actually built on the back of Instagram, and they've been able to thrive by encouraging user-generated content.
Looking at their page, you'll notice that most of the images are from people who use their products, but they've managed to create a consistent feel.
This is because they carefully curate user-generated content while adding in some of their own.
Thinkgrowprosper has managed to build a page that has more than 1.5 million followers by posting engaging motivational quotes and advice.
They've been able to monetize their page through shoutouts that others pay for to get exposure. They also sell their own training courses in line with the theme of the page.
They do this by occasionally publishing a call to action that leads their followers to click on the link in their bio and onto their mailing list.
This strategy works because everything is congruent. They motivate you on their page and advertise products that also inspire you to get more out of life.
There are no surprises for their followers and signing up for a course or two from an account they trust is a no-brainer.
Nastygal is a clothing company that is absolutely killing it on Instagram. They have more than 2 million followers and thrive by posting high-quality images of their followers wearing their clothing, celebrities, and repurposed photo shoots.
They include their call to action in the comment section of their posts because they allow the pictures to do the talking.
Conclusion
When you take the time to work out the nuances of Instagram marketing for your business, you can have a wonderful experience while driving more revenue than you thought possible.
The hardest part of the process is building your initial follower base. Once you get to a few thousand followers, you'll be in a position to arrange partnerships with brands that compliment your own.
Use targeted hashtags, post often, use consistent imagery, and include an engaging call to action in every caption. Follow these simple steps, and you'll see an amazing ROI from your Instagram marketing initiatives.
Remember, every picture is worth a thousand words. With Instagram, you're telling your brand story one image at a time.
Let me know what you're doing on Instagram to drive engagement with your brand. Or tell me your questions about starting your own Instagram marketing. Leave a comment below!