If This Then That Recipes: A Starter Guide For Bloggers
Kerry Creaswood
Geometry was a tough course for me. It was all those "proofs" and trying to remember the proofs that came before that could then be used for the next one. One of the recurring phrases was "If this, then that." For example, IF two parallel lines are intersected by another line, THEN the opposite angles are equal."
Now, there's something I've used so many times since.
But all sarcasm aside, I now use a different kind of "If this, then that," or IFTTT. But it's not geometry.
It's something bloggers (and anyone who uses the internet) can all use. And unlike geometry, it's easier to understand and use.
So, just what is IFTTT?
It's a web tool, but not for enhancing your online content. It's a tool bloggers can use to perform important tasks, such as automatically publishing their posts elsewhere, posting teasers to their blogs on other channels, or bringing content from other channels into their blogs.
The Basic Concept
In IFTTT, users sign up and create "recipes" that will cause one app or utility to trigger another app or utility to take some action.
"IFTTT can help with some of those tedious tasks you handle manually. Learn more: "

Tweet Me
Think of all of the possibilities that come with automating tasks between your devices, your social media platforms, and your email! Those tedious tasks you do manually right now just might be eligible for automation through IFTTT.
For example, IFTTT can back up subscriber contact information from your email service provider to a Google spreadsheet. You can also use if this then that recipes to introduce interested audience members to all of your social media platforms. For example, if someone follows you on Twitter, an IFTTT recipe could send out invitations to subscribe to your blog and follow you on Instagram and Facebook as well.
Getting Started
Signing Up
On the IFTTT site, you will be asked to sign up with your email and to create a password.
Dashboard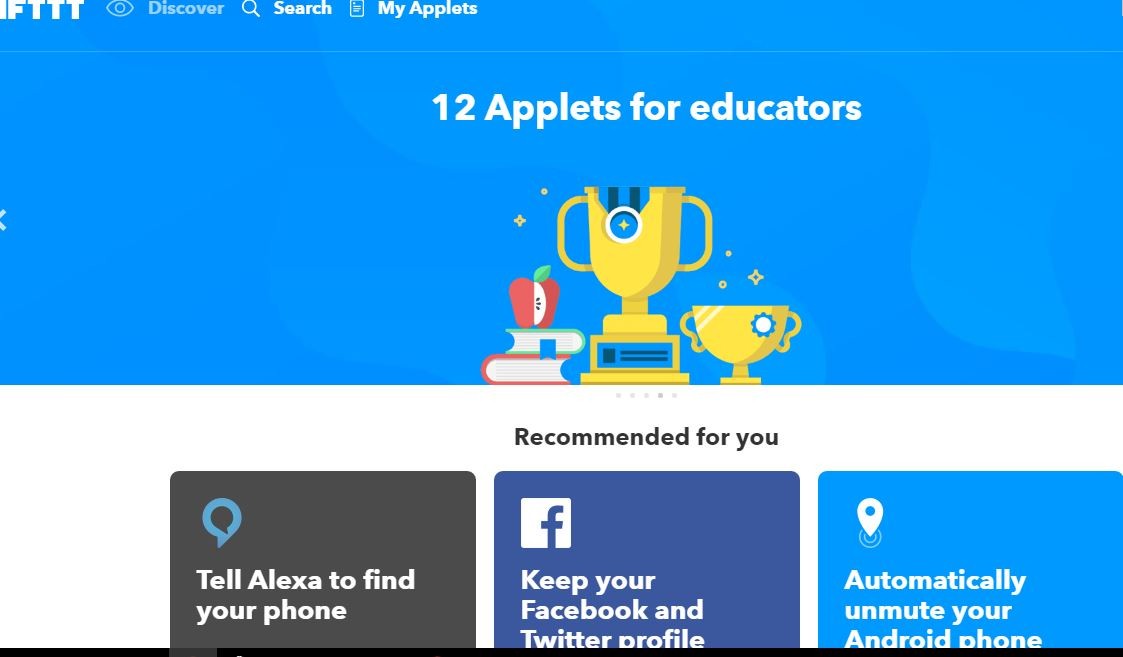 You'll be taken to your personal dashboard and you can begin to make your recipes or you can browse those that have already been created by other users. Once you add a recipe, that "if…then" action will happen automatically until you either delete, turn off temporarily, or change it.
Creating Recipes
The dashboard is pretty self-explanatory. You click "create a recipe." Then, you select your "maker" channel (let's say Instagram) and then your triggering action (maybe Twitter).
A maker channel or trigger channel is the place where an initial action takes place. This could be a social media platform like Facebook, a connected device like Alexa, your email, a web service, etc. You designate an action on your maker channel as a trigger.
For example, you could define receiving an email with a specific subject line as a trigger. This lets IFTTT know that it's supposed to take some predefined action.
You can also add "ingredients." Ingredients are the detailed instructions that make IFTTT recipes work well. For example, if you don't want the caption to be sent over to Twitter, you can direct that it not be, and you can then add something permanent that will always appear on the Twitter version. Don't worry. You can select which devices and accounts you want to connect on If This Then That.
Currently, IFTTT supports 363 channels and a huge number of existing recipes that have already been created. You can browse through the existing recipes that are all categorized and do everything from turn home appliances on and off to get notifications about the next day's weather.
If This Then That Recipes for Bloggers
You will find a huge number of pre-created recipes that will automatically send your blog posts to other channels, including 12 social networks. IFTTT currently supports Blogger, Medium, WordPress, Tumblr, and Weebly for bloggers, and if you use any of these platforms, all you need do is connect them to IFTTT.
Then you simply begin to connect your brand's social platforms. Once that is done, you can set up recipes for your posts to automatically be sent to your selected social media channels, to your storage channels, or to your email lists. You are thus leveraging more platforms with a minimum amount of work and no cost.
Once you are comfortable with the basics, you can begin to use the ingredients to tweak which parts of a post will show up on the "then" channels.
"9 examples of what bloggers can do through IFTTT:"

Tweet Me
Here are some examples of what bloggers can do through IFTTT:
If you update your picture on any social media platform, then automatically have it updated on all others.

If you publish a blog post in WordPress, then have it saved in Evernote or Dropbox.

If you publish a blog post, then have it automatically published on your Facebook or LinkedIn page, or both.

If you publish a new blog post, then send promotional tweets.

If you post on Twitter, then send a copy of your tweets to your WordPress newsfeed.

If you publish a blog post, then send your post to your email list.

If your brand, name, or a post is mentioned, then get notified anytime through a method you choose.

If you send a Mailchimp campaign or have a Survey Monkey survey, then get periodic reports on your campaign or survey.

Get notified by email of new gifs and memes.
The possibilities are almost limitless. And if you browse through the current recipes, you will get ideas for many more ways to use IFTTT to promote your blog.
Auto-Blogging Through WordPress
If you are like most bloggers, you want to maintain a blog that has great content that you have created. And you like to keep a schedule of posts, so that your readers/followers know that they can find something new on a fairly regular basis. This is a big challenge, especially when you're pressed for time. You do not want to just throw any kind of content out there–it has to be engaging. You can make use of IFTTT to help fill in the gaps.
You can make use of IFTTT to help fill in the gaps.
If you share images, gifs, memes, videos, or audio online, you can "auto-blog" through IFTTT. You can automatically post content and media you have shared, even from other sources (if you give credit), on your WordPress blog. And if you find something cool, you can put it in your recipe for WordPress and save it for a future time.
Here are some recipe examples you can use:
If you post a lot of images on other channels, set up recipes for Instagram to blog and/or Flickr to blog.

If you post videos, set up recipes from Vimeo and YouTube to your blog. If you use an RSS video service, set that up as well.

Even audio can be set up as recipes. IFTTT supports SoundCloud, Last.fm, or an RSS-supported service. This would be especially beneficial for musicians or Indy publishers who want to promote music on their blogs.
Word of Caution: You will want to use autoblogging sparingly and only when you need to fill in a gap in your posting. Using it too much will bore your readers who will begin to feel that you have nothing of value to share.
Try This IFTTT Recipe
If you are eager to get started, here's a simple but handy IFTTT recipe to try out. Let's say you want to get a text message every time the phrase "local restaurant" is mentioned in The New York Times (this is just an example; you can customize it to your specific industry).
Here's how you would do it:
1. Log into IFTTT, go into my applets, and click on the New Applet button.

2. Click on the plus sign.

3. Select your maker channel. In this case, we'll choose feed.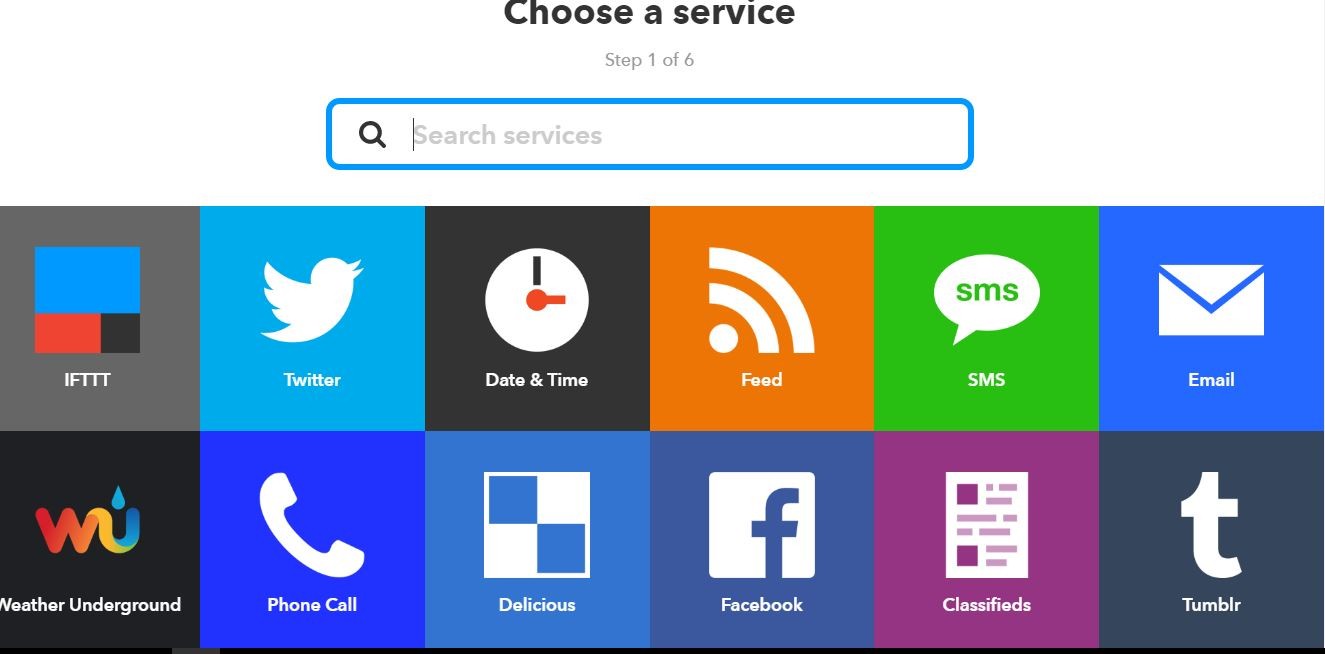 4. Pick the trigger event. Select "New feed item matches."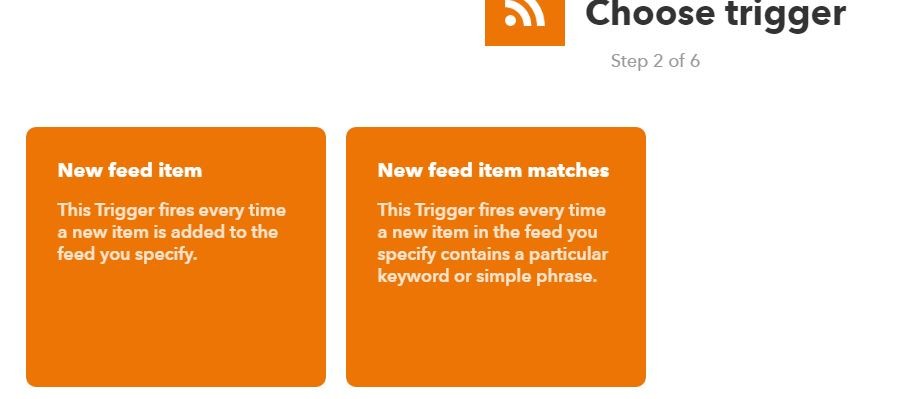 5. Create your trigger fields that are the ingredients that add the detail to your recipe.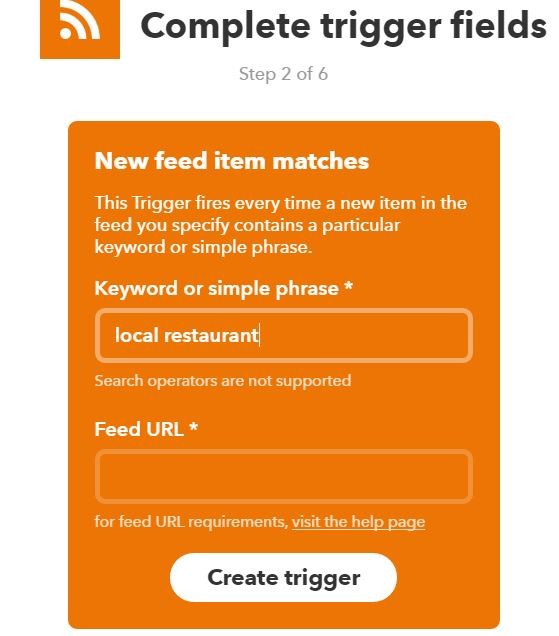 Here, we've chosen items coming into your feed with the keyword phrase "local restaurant" and the New York Times feed URL.
Then click on Create Trigger.
6. Now is the time to deal with the "then that" part of the equation. Click on the blue plus sign.

This is where we select the receiving channel, which in this case, is the SMS system on your smartphone. (FYI, you will be prompted for your phone number and be sent a pin for verification.)
7. Choose an action for IFTTT to take, which is to sending you an SMS message.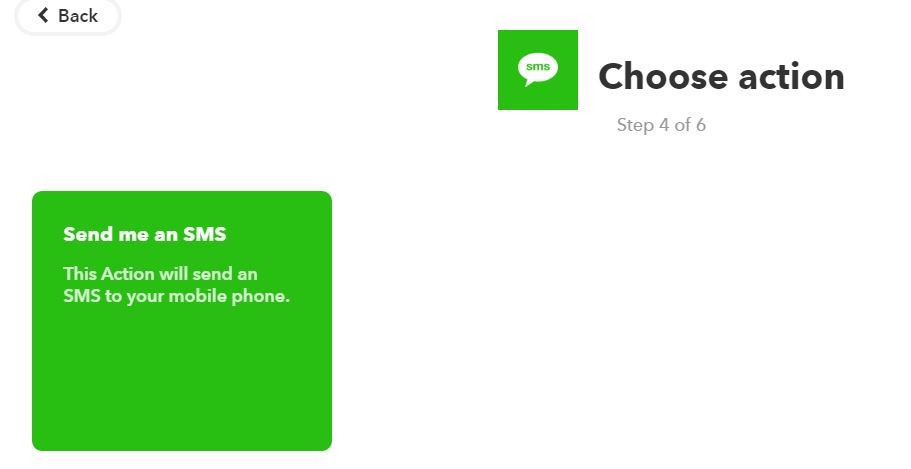 8. Review and finish.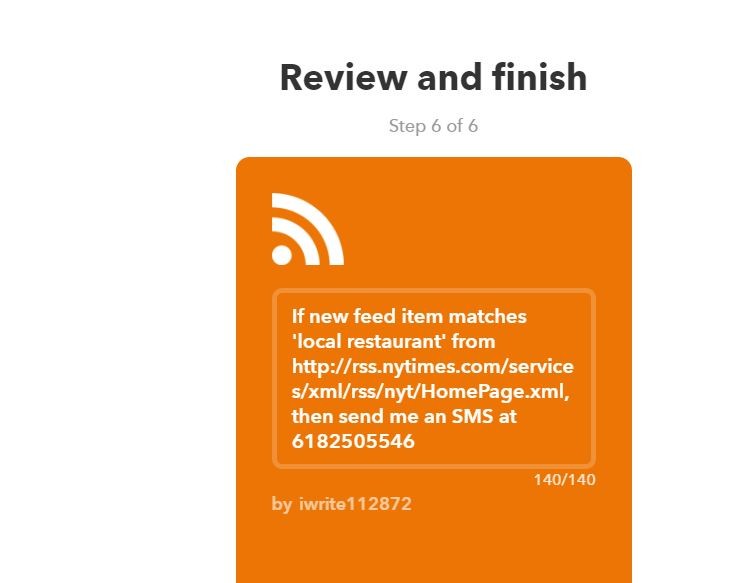 Congratulations! You have created a recipe that causes you to get text messages anytime a newsfeed item contains the phrase "local restaurant."
Pretty cool, right? Now imagine replacing the NYT RSS URL with one from a local publication. Replace the keywords with ones that are relevant to your blog. You could even create recipes for multiple publications and organizations!
What a great way to receive notification of trending topics from major publications that you can turn into relevant blog posts.
IFTTT is a continually evolving tool. It is adding more channels regularly; it has developed "Do Apps" for streamlining recipes for both Android and iOS devices. If you received an Amazon Echo over the holidays, check out what IFTTT can do to connect Alexa with your other devices.
Have you stumbled upon any blogger-worthy IFTTT recipes? If you've been using IFTTT tool for a while, what are your hopes for future enhancements?
How to Make Money Blogging
Get the definitive guide on turning your blog into an income stream.