Story Arcs and Split Testing: How I Raised My Email Open Rates by 272% (And You Can Too)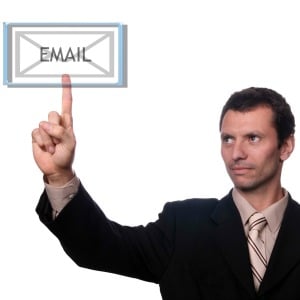 "You know the emails you send out from A-list Blogging? Well, I see them in my inbox, but I hardly ever read them, because I hate the style you use. It's all so ra-ra-ra!"
I sighed.
Birgit is German and doesn't cushion her blows. Not even for her best friend.
But what she said next made me pump my fist!
I'll tell you about it in a moment, but let me quickly give you the back-story first.
I Sucked at Writing Emails
I've heard a lot of advice on how to 'keep an email-list warm' over the years. I knew I had to deliver value to my subscribers. But I just couldn't do it.
In fact, I only sent out emails during launches – which was a really dumb move.
The reason I sucked at writing emails was because I was nervous about giving away too much information. After all, I wanted people to buy our courses and didn't want to give it all away for free.
And then, one day, I finally *got* it.
My email open rates immediately jumped from 18.6 to 50.5 percent – which is a boost of 272%. And my click rate (that's the count of how many people click on links in an email), went through the roof from 1.8 to 5.8 percent – which is an increase of 322%!
Read on to find out exactly what I changed, and how you can boost your stats too.
The Mind-shift That Changed (Nearly) Everything
A few weeks ago, I stumbled over the following quote by Andre Chaperon in a training called Autoresponder Madness – and something clicked big-time in my mind.
Here is what Andre said:
Your attitude should be that you look at everybody who you want to do business with, and decide you're not going to wait for money to change hands before you start contributing, guiding, counseling, advising and protecting them.
After feeling the quote my guts, I was determined to change my attitude towards my prospective customers.
I stopped focusing on how get them to buy stuff, or 'how to keep them warm' so that they would buy stuff later on.
My attitude went from, "What's in it for me?" to "What's in it for them?"
I started to create some new email responder sequences and made sure they were packed with real, actionable information.
The huge jump in my email open rates confirmed that I was going in the right direction.
However, it wasn't only the mind-shift that improved my stats – it was also a new way of conceiving and writing my emails. In fact, I found a magic ingredient.
The Magic Ingredient of Autoresponder Emails
Let me ask you a question.
How do you absorb information better – by wading through facts and figures, or by reading a story that illustrates  the information?
I have to say facts and figures leave me cold, but I love and remember stories.
And that's my magic ingredient: using story arcs.
A story arc is the concept of episodic storytelling that has found its way into the arena of marketing.
You can think of each story as having a beginning, middle, and an end.
Let's take a look at how TV shows manage episodic stories. They sure know how to glue viewers to a series and make them look forward to the next installment.
Did you ever watch the TV show Missing? Here's what the series is about:
When Becca Winstone's son goes missing under suspicious circumstances, this former CIA agent  will do anything it takes to find him.
Like all series, this show has a major story arc that is only resolved at the end of the series. In this show, that arc is: "Does Becca manage to find her son?"
And within the major arc there are minor story arcs that play out each week, like "Has Michael been kidnapped?", or, "Is Becca being followed and in danger?", and so on.
At the end of each episode, the minor story arc closes, and another story arc opens so that viewers are keen to watch the next episode to see how the story unfolds.
Why Story Arcs Work
This strategy works because the human brain can't stand incompleteness. It wants to experience closure.
This is called the Zeigarnik Effect.
(If you're bored at work and want to see an entertaining and zany example of a banner ad that exploits the Zeigarnik Effect, check out this Pringles ad. Can you stop clicking it?)
As Lynn C. Miller says in her book, Find Your Story, Write Your Memoir: "Successful story arcs plant expectations in the reader and then satisfy them, creating one of the core pleasures of narrative."
This is exactly the strategy I'm using for my  emails.
Story Arcs in Email Marketing
Here is an example of how I start a major story arc. (People get this series of emails when they opt-in for our report, 201 A-List Tips to Rock Your Blog.)
The subject line asks: 'Is Blogging dead?'
A few days ago I got a distraught email from Emma W. 
She was planning to start a blog, but then she read somewhere that blogging was dead. 
"Is it true?" she asked. "Is blogging really dead? Am I too late?"
So the major story arc of the email series is the story of Emma and her journey as a blogger.
Right at the end of the first email, I preview the next 'installment':
At the end of Emma's email, she asked me, "Do I have what it takes?"
Maybe that's something you worry about too?
I'll talk about how to know if you've got what it takes in my next email.
If you want to use story arcs in your autoresponder emails, open the first one with the major story arc, and then open a minor arc just before closing.
In the following emails, hark back to the major story arc now and then and touch on the next minor arc at the end of each email.
With practice, you can create the most beautiful story arcs.
Story Arcs are Only Half the Battle
Writing major and minor story arcs is a truly effective way to pull your readers in, and make your emails memorable.
But there's just one problem: what if nobody reads them?
What if your readers miss out on your beautiful stories because they don't even open your emails?
Let's take a look at email open rates and how to boost them.
The Great Online Void and How to Deal With It

Even if you write the most wonderful story arc in the world, you sometimes feel you're sending emails to the void.
You write and write – but only a small percentage of subscribers actually read your carefully crafted emails.
It can be depressing, I know.
The good news is, it's easy to boost your email open rates. But you need to record your stats in order to keep track.
First things first: before you can improve your open rates, and get more people to read your beautiful emails, you have to know where you're starting from. What are your email open rates are right now, and how can you evaluate them?
What is an Average Email Open Rate?

According to the email service provider GetResponse, the average opening rate is 18.58%.
Take a look at your open rates and see how they compare.
If your open rates fall below the average, there are some possible causes you need to consider:
Your email list is aging. Maybe some people have been on it for a long time and they made changes in their life, or are focused on other interests.
You are not adding enough fresh leads to your list.
You have a big list of over 10,000 emails. (The bigger the list, the lower the open rates.)
Your subject lines are boring.
Your content isn't useful.
How to Use – And Improve – These Stats (Without Getting Depressed)
Now that you know where you're starting from, let's get to work on making sure that more people are opening  your emails, so that they can experience your wonderful story arcs.  I suggest devoting the next two months to a campaign designed to lift your open rates.
To make this campaign work, you need to determine a baseline measure.
Take your latest three open rates, add them up and then divide by 3. That's your baseline measure.
As preparation for the campaign, create a spreadsheet with publication dates, open rates and your subject lines. Then, record the stats for each email a few days after it has gone out.
If an email in your autoresponder series goes below your baseline rate, check the subject line and content – as well as the variables I list below – to see how you could improve it.
If an email goes above your baseline, do a little celebratory dance because your campaign is moving in the right direction!
In a perfect world, all of your emails in this 2-month campaign would be above your baseline. But chances are good that they won't be, and that's actually a good thing – it means there's room for improvement!
One of the easiest ways to improve your baseline email open rates is to test different elements of your emails. This process is called split-testing, and most autoresponder software companies like AWeber, Mailchimp, or Ontraport offer split-testing options. But here's a tip: when you're split-testing, make sure you change only one variable at a time.
Here are some variables you can experiment with:
Subject line: Use subject lines that trigger curiosity or promise a benefit.
Story arcs: Design arcs that hook readers and make them look forward to your next installment.
Use of first name: Check whether using the subscriber's  first name has an impact on your opening rates, or not.
Send-out day:  Research suggests that the best day for sending out emails is Tuesday. Weekends have the lowest open rates.
Time of send-out:  According to Getresponse, sending emails during readers' top engagement times of 8:00 – 10:00 am and 3:00 – 4:00 pm can increase average open rates and the click-through rates (CTR) by 6%.
If you change just one variable at a time, you can glean clear indications of how each of these variables contribute to your opening rate.
The Most Important Outcome (Hint: It Isn't All Numbers)

Statistics can tell us whether embracing a new style of writing emails makes people read them. But they don't tell us whether it's changed the experience of our readers.
Remember the phone call from Birgit I told you about earlier?
After she told me how much she hated the emails I usually send, she said:
'But today I got an email from you, and it was totally different. I read every word and I really enjoyed it! I can't figure out what you've changed, but the difference is amazing. What did you change?'
'It's something to do with spirituality.'
'Really? With spirituality?'
'It's about embracing benevolence, instead of greed.'
'Ah, yes,' Birgit said, 'that's what shone through!'
It wasn't the only feedback I got that day. I also received an email from Mirta D.:
Thanks for sharing your thoughts and experiences through those interesting and easy to read emails. They are one of those I mark with a star on my Gmail, to make sure I read them as soon as I can.
In the end, the whole mystery of writing emails that people want to read is quite simple, really.
If you enjoy communicating with your 'tribe' and share generously, your readers will look forward to your emails.
What has your experience been with writing emails? Have you used the story arc technique? Please share your experiences in the comments below!
What are your thoughts, tips, questions or stories about writing emails to your list? Please share in the comments.