Don't Be An Expert – Do This Instead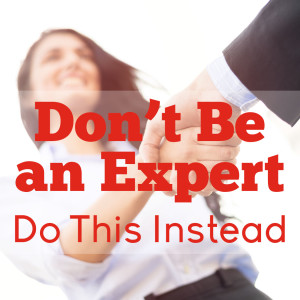 "Be an expert."
How many times have you received this advice, and how many times have you advised people to do this?
Come on, admit it: you have, haven't you?
I have received this professional advice from pretty much every expert, ninja, guru, and maven I know.
When I am invited to speak somewhere, people want to know my expertise. When I tell them I am not an expert, their jaws drop. Their expressions remind me of my businessman father's when I told him I want to study literature and be an artist.
They are shocked; they want to help me. They feel more sorry for me when they find out I am a certified filmmaker from New York University and a master's degree holder from Columbia University.
"Really?" some ask in disbelief.
I don't blame them.
We are so entrenched in this be-an-expert business that we fail to realize that what we think of as our USP (unique selling proposition) is the common denominator between us and our competitors.

In Today's Age, Everybody is an Expert
Charles Pierce in his book Idiot America: How Stupidity Became a Virtue in the Land of the Free, writes:
"…if everyone is an expert, then nobody is, and the worst thing you can be in a society where everybody is an expert is, well, an actual expert."
Who is an expert, really?
Someone with the highest grade of knowledge or skill of a subject – mostly acquired through experience and education.
Because the online world is so competitive and intense, the "expert" status is seen as a mark of credibility and a source of recognition.
The Problem is That Anybody Can Become an Expert
In his book The Four Hour Chef, author Tim Ferriss breaks down the entire process of becoming an expert at anything in a very short period of time.
What you know, anybody can learn. Who you are, anybody can become – if expertise is your only selling point.
Besides, let me break some news to you: people go after "perceptions of confidence—not true expertise," writes Wray Herbert in a Psychological Science article based on an experiment and a subsequent study by Daniel Oppenheimer and other scientists at UCLA.
All they care about is whether or not you appear to be competent.
So really, it's your image that matters: how and what people think about you based on the impact of your message.
What Is Your Message?
It is your ideology: the crux behind your inspiration to create or start what you have. Simply put, it is what you stand for, not what you are skilled at or have "expertise" in.
For instance, here are the messages I associate with the following people:
As you may already know, all the above-mentioned names are respected leaders in their fields. They have hundreds of thousands of followers.
Why?
Not just because they are experts, but because each one of them has a big idea that inspires action to achieve something. Their message is their identity, and they have the confidence to stand by it.
People Follow Voices, Not Experts
If you don't stand for anything, nobody stands with you.
Vani Hari of FoodBabe.com is a food activist who wants to change the food industry. As part of her work, she regularly takes on companies like Starbucks, Subway, Kraft, Chipotle, and many others. Of course, her work attracts her share of haters, but she is unapologetic about what she does.
Similarly, we at The Glocul Group earn wrath because of our stance that creativity is a hobby, if not commercialized. We say it everywhere and take on clients who are looking to make money from their creative skills and works. Others, we regretfully decline.
The point here is to be clear about what you believe in, and embrace it. Don't court scandal for the sake of it, but also don't hold back just because it seems scary.
How to Discover What You Stand For
Start by writing down the answer to this question:
What do you most care about in your personal and professional life?
Don't edit yourself at this point. Keep writing. When done, let it sit for a few days.
Come back to it and expand on it. The more revolutionary the idea, the better it is. But, don't confuse revolutionary with scandalous.
Once you are ready with something, rehearse it in front of the mirror. Use action verbs and active voice.
Practice, and keep tweaking it until you want to pump your fists and exclaim, "Yes!"
The right one will make you feel great. You have to like it first before others resonate with it.
Once you're comfortable and happy with it, start spreading it.
Be the Spokesperson, But Don't be a Marketing Robot
Instead:
1) Connect with your audience's emotions.
People are not just interested in knowing who you are and what you do; they also want to feel what you feel. Neurological research has proven that humans have the ability to feel what others are feeling. Instead of "identifying" their pain points, try to be "in-tune" with them. Emotional perception is equally, if not more, important than data interpretation.
2) Make them feel good about themselves.
People are social creatures, and they feel good about you and your work when you make them feel good about themselves. The simplest way to do so is by asking them two questions: one about a specific aspect of their life where they are doing well and the other about their overall happiness. This strategy was recommended by a psychologist, Daniel Kahneman, on the basis of a study he performed. Eric Barker recounts this study in his post on how to make someone feel fantastic or awful about their entire life.
3) Connect with caution.
No matter how tempted you are to be seen everywhere and be friends with all the top names in your industry, you need to know who complements what you stand for. When you decide on who you want to guest post for or partner with, please make sure that it is in keeping with your ideology. Contradictions confuse.
Your goal should be to become and be seen as someone who is indispensable and a difference maker.  Someone who your customers are inspired by, can relate to, and are in awe of.
Over to You
Determine what's unique about you. Don't think along the lines of your next pitch or project; think legacy. That ONE thing you would like to pass on to others. What is that?
Share in the comments' section below!