How to Create and Sell Digital Downloads (Guide for 2023)
Jeanette Martin
Updated by Willy Wood
You've heard people talking about digital downloads and you're thinking adding a few digital products to your business's offerings might be a good move. But you aren't sure just how to go about it.
First, there are the ins and outs of actually creating your digital download. What format would be best? And where should you host it or sell it?
Well, if those are some of the questions that have been running around in your head, you're in luck, because this article will answer exactly those questions.
We'll take you through a simple, three-step process for creating your digital downloads in such a way that you'll be sure they will sell.
Then we'll talk about the monetization step and talk about your options for selling your digital products once you're created them.
Finally, we'll cover 15 digital download platforms you'll want to check out. Because after all, the pricing varies a lot, as do the features.
Some of the platforms we share are apps, some are plugins, and others are platforms. Some integrate with a WordPress site and others work within a Shopify store.
So you'll want to review them and make an informed choice for your business.
But before we get into the juicy details, let's get clear on what a digital download looks like.
What is a Digital Download?
A digital download is a product in a digital format that can be offered for free or sold online. It's a computer file that takes many forms, including a document, video, or software.
Compared to selling a physical product, it's a dream come true. The customer just needs to click and it arrives on their screen. And as the seller, you can forget about storage costs, inventory levels, and shipping fees.
Let's take a look at some common types of digital downloads offered for free or sold online:
eBooks — eBooks are a popular digital download. They're relatively easy to produce and sell. Some businesses offer short eBooks for free as a lead magnet in exchange for an email address.
PDFs — PDFs are a good bet when you want to share information that your customers value. When you produce quality content, you grow your authority in your niche. PDFs can be as simple as a document or checklist or as complex as a white paper.
Music and podcasts — Musicians sell samples, loops, or full tracks of their music to showcase their talent and receive royalties. A podcast, where you interview influencers, can also get you on the map for your target audience.
Training videos — Training videos or tutorials can whet the appetite of your prospects for a more in-depth course.
Software and Apps — Whether it's a WordPress plugin or a design application, software and apps for mobile and desktop are popular and lucrative downloads.
Stock photography — Photographers sell permission to use their work on stock photography sites like Shutterstock and Flickr.
Digital art, fonts, and graphics — Digital artists use graphics editors to create fonts, icons, and logos, and then sell their creations as downloads.
Document templates — Businesses download templates for forms, letters, emails, or invoices to save time designing their own.
Website themes and design templates — A website theme or template gives a unique look and feel to a website, and saves a business from the hassle of hiring a web designer.
Online courses — Online courses teach everything from cooking to car maintenance. From a simple video series to a full-fledged degree program, the options are endless.
Video games — Games coded for mobile devices can be downloaded from sites like Steam and GOG.  
How to Create Digital Downloads
When most people think about creating something to sell or give away as a digital download, the first thing they think about is the "creating" part. That's a major mistake. Countless well-intentioned creatives have put in many hours, weeks, or maybe even months, creating a digital product, only to find out that there's not a market ready to buy their creation.
That's why creating the digital download is actually the final step in the overall creation process.
Let's take a look at a three step process you can use to create a digital download that will actually result in a product people will want.
Step One: Check the Demand
Start with the big picture and check the demand for the product you have in mind. The easiest way to do this is to see if people are already searching for something similar online.
You can enter a keyword into Google Trends to check how many people are searching for related products.
Let's say you're thinking about creating an online course about using ChatGPT and other generative AI tools for doing digital marketing and you'd like to market this course to entrepreneurs and small business owners.
First, type in "online course" and select "Worldwide" for your data set (since you can sell digital downloads online and anyone in the world with an internet connection could find your site and become your customer).
Next, select "90 Days" for the time period of your search to make sure you have enough data to make an informed decision. Then hit "Enter" and scroll down to see the "Related Topics" and "Related Queries" sections.
When you do, you'll see that you have, indeed, chosen a winning topic, as "Digital Marketing" is listed as the #6 topic and is considered a "Breakout" topic. In addition, "ChatGPT" is listed as the #1 related query and is also considered a "Breakout" search term.
Step Two: Check the Competition
You might think that, since your chosen topic is being searched for by so many people, you don't have to worry about competition. Not so. Just because there's a lot of demand doesn't mean that there's not also a great deal of supply. If there are already a lot of big players in the market satisfying the demand, you might have a hard time breaking into the market.
So, to check the competition, you need to do a little more research. You can do this in whatever way makes the most sense for the topic and type of digital download you're looking to create.
For example, if you were thinking of creating a printable guidebook for a specific arts and crafts niche, your best choice to research might be Etsy. Or you might want to check to see what people are selling on Pinterest, Twitter, or Instagram.
But for a topic like online marketing and AI, an old-fashioned Google search might be the best approach.
At the time of this writing, if you enter "online courses digital marketing using ChatGPT," you find a significant amount of competition, including courses available on platforms such as Udemy and Skillshare. However, if you tighten your search a bit more to "online courses digital marketing for small business owners using ChatGPT," the competition lessens quite a bit. There are still a couple of courses available on page one of the search results, but not nearly as much competition as there was for the broader term.
But you still aren't done. Next, you should check out your top few competitors to see what they have to offer and how they've been received by the audience. Actually sign up for the courses that are your main competition and at the very least, browse the materials. You might even want to go through these courses as a student to get the full experience. Be on the lookout for what they do well, what they do poorly, and what gaps exist that your course might fill.
And be sure to check out the reviews for these courses. Pay special attention to the really bad reviews (to see what people found lacking) and the glowing reviews (to see what elements really resonated with the audience so you know what aspects of these courses you might want to replicate).
Once you've done your due diligence competitor research, you're finally ready to make a "go/no go" decision. Does the idea for your digital download have enough promise to move forward with it or not? If yes, move on to step three. If not, well, at least you've saved yourself some time and effort. Go back to "Go," choose another topic, and run through these steps again.
Step Three: Create Your Download
If you come through steps one and two with a solid idea for a download that people will want, you finally get to the fun part: actually creating your product.
How you go about doing so depends, of course, on what you're wanting to create. More than likely, you already have the tools you need to do the job. If not, however, here's a short list of tools that might come in handy:
For Visuals–If your download is photography or visual art, you might take a look at Canva, Figma, BeFunky, or Krita.
For Audio Files–Check out Audacity or Audio Mass.
For Ebooks–Try Kaliber, Reedsy, or Ceros.
For Educational Resources–Look into Blackboard or Outschool.
Some of these tools charge a subscription fee, while others are free. Find the one that has the functionality you need and get your creative juices flowing.
How to Sell Digital Downloads
When it comes to selling your shiny, new digital download, there are basically two main options:
Selling your product on your own website or
Selling your product on an existing marketplace.
Let's take a look at the pros and cons of each.
Selling on Your Own Website
This option takes more work to get set up in the first place, but if you already have good traffic to your site or you have the means to drive traffic to it, there are a lot of advantages to going this route.
Pros
You have the ability to build your own online brand and visual identity. You can customize your shop to look any way you want.
You can interact directly with your customers through a chatbot.
You can build an in-house email list of prospects and customers.
You have no direct competition. Once someone lands on your site, they only see your products.
You won't have to pay any marketplace fees or commissions. You get to keep all the revenue.
Cons
The main drawback of selling on your own site is that you'll have to work to get visitors to your site in the first place through good use of SEO tactics or through advertising on Google, Facebook, etc.
Selling on an Online Marketplace
If you don't fancy doing all the upfront work to set up your online store on your own website or doing a lot of marketing or advertising to drive traffic to it once it's up, you can get started quickly by joining an online marketplace.
Here are the pros and cons of going this route:
Pros
It's quick and easy to get up and running because you don't have to build any website infrastructure.
You'll have the opportunity to tap into a huge pool of existing traffic. In theory, this means that you should be able to attract some portion of this traffic to your offerings.
Cons
You'll lose the ability to do your own branding, as the marketplace will standardize this aspect.
You'll be facing stiff competition, as there will be thousands of other sellers competing for the same pool of prospects.
The marketplace will charge you a subscription fee for having a space on it.
In addition, you'll have to give the marketplace a cut of all of your sales through transaction fees.
You'll lose the ability to speak directly with your customers, as the marketplace handles all customer interactions.
You'll also lose the ability to build your in-house list, as the marketplace won't share this information with you.
In the end, no one except you can decide what's best for your business. Take all of these pros and cons into account and do what's best for you.
15 Best Platforms and Apps for Selling Digital Downloads
Now that you've seen how to create and sell digital downloads, let's take a look at some of the best platforms for selling them.
These platforms, plugins, and apps are in no particular order, other than batching those that need a WordPress or Shopify site to run them.
Platform 1: SamCart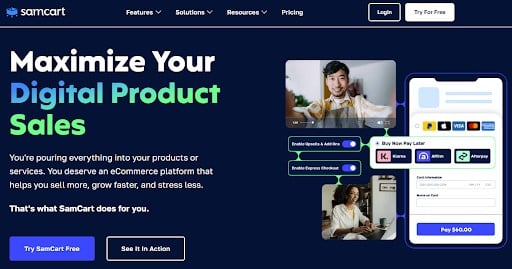 SamCart is a user-friendly platform to start selling downloads quickly. Just plug in your product to a design template, and you're ready to sell ebooks, coaching, consulting, and online courses.
SamCart has more than 750 integrations for email, marketing automation, memberships, and payment providers. It's a popular choice with a host of features.
Features:
Unlimited products and pages.
Unlimited courses and memberships.
Drag and drop page builder.
One page to display and sell your products.
Sell in any language and currency.
Coupons and discounts.
Pixel tracking.
Sales reporting dashboard.
One-touch purchases with Apple Pay and Google Pay.
Pay-what-you-want (PWYW) option.
One-click upsells and A/B testing.
No additional fees.
Free 7-day trial.
Pricing: Starts at $79/month. $319/month for the highest plan.
Platform 2: Gumroad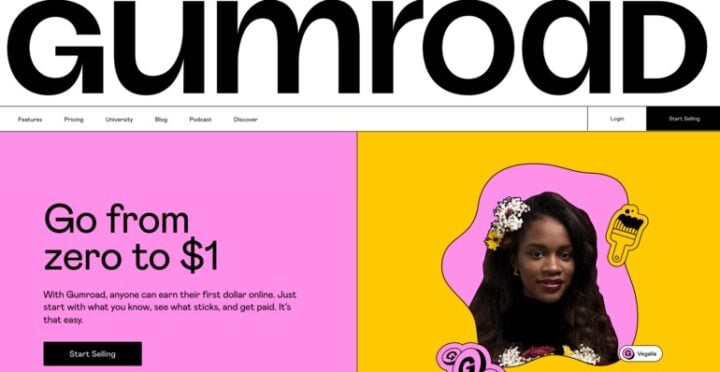 With Gumroad, you can set up your store on their site or embed it on your own to sell a wide range of digital downloads plus physical products.
There is a % fee on each transaction, but fortunately, it drops as your sales grow.
And you don't need to purchase a high-tier plan to access all the features. They're all there for you from the get-go.
Features:
No limit on sales of courses and memberships.
Sell in multiple formats (eg. PDF or ePub).
Affiliate program.
Product analytics.
Discount codes.
PWYW option.
Rent films.
Generate license keys.
Protection from piracy and fraud.
Pricing: Free to start, then plans starting at a 10% flat fee plus a small extra fee for each PayPal and credit card transaction.
Platform 3: SendOwl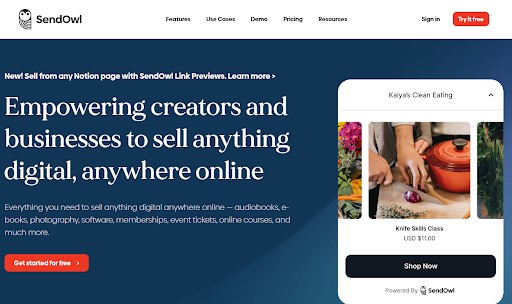 SendOwl is a one-stop platform with a full suite of marketing, selling, analytics, and management tools. You can sell digital files plus services, subscriptions, memberships, and physical products.
You can sell from your existing website, social media, marketplaces, and ecommerce platforms.
Features:
Shopping cart.
Gifting, discounts, and 1-click upsells.
Customize checkout and emails.
Affiliate program.
Flexible payment methods, including PWYW option.
Protection of intellectual property.
Accept Apple Pay, Stripe, Bitcoin, and Paypal.
No transaction fees (other than payment gateway fees).
30-day free trial.
Pricing: Lowest plan is 3 months free, then $9/month and a 5% management fee for 10 GB storage. Highest priced plan, $39/month and $.17 per transaction fee for 200GB storage.
Platform 4: Podia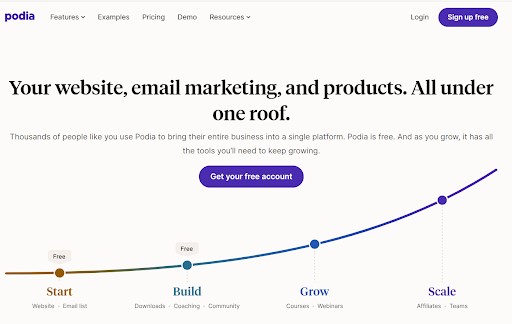 Podia is an all-in-one platform for courses, coaching, digital products, and webinars. It's a good option to consider if you plan on branching out beyond digital downloads.
A bonus with Podia is that you can build your community on the same site as you sell digital products.
Features:
Unlimited courses, memberships, and digital downloads.
Customized home page, sales pages, and product pages.
Unlimited video hosting.
Coupons.
Upsells.
Email capture from free lead magnets.
Product bundles.
Unlimited email subscribers.
Built-in customer messaging tool.
Free migrations.
No transaction fees.
Live 7 days a week support.
Live weekly demos.
Pricing: They offer a free plan, with 8% transaction fees. The highest priced plan is $75 a month with no transaction fees, unlimited downloads, and the ability to run affiliate programs.
Platform 5: Zyro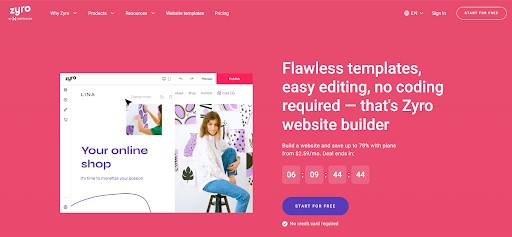 Zyro is a full-suite website builder and ecommerce site. It has all the tools needed to sell digital downloads.
With Zyro, you can sell your digital products on your own site and also on Amazon, Facebook, and Instagram.
Features:
Drag and drop editor.
Fully customizable templates.
Live support 24/7.
Fast loading site.
Free web hosting for a year.
Marketing integrations (Google Analytics, pixel tracking).
AI marketing tools.
No transaction fees.
Multiple payment options.
30-day money back guarantee.
Pricing:  $2.59/month for the functionality to create a website, blog, or portfolio. $3.59/month for ecommerce capability and the ability to sell up to 500 products.
Platform 6: Sellfy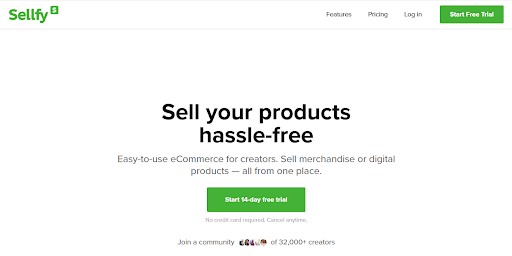 Sellfy gives you options to sell any of the popular digital download files, plus print on demand, physical products, and subscriptions.
Sellfy is popular with artists, filmmakers, and photographers. It allows you to set up a hosted site, or sell from your own site, blog, social media, or any ecommerce platform.
Features:
Unlimited products and bandwidth.
Buy Now button for your site.
Shopping cart.
Supports large digital files up to 10GB per product.
High security and piracy protection.
Upsells, discounts, and coupons.
PWYW option.
Built-in email marketing.
Analytics.
Mobile-optimized.
Supports PayPal and Stripe.
No transaction fees.
Pricing: Starts at $19/month, and the highest plan is $99/month. 
Platform 7: Easy Digital Downloads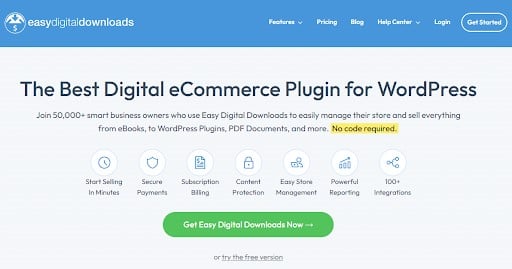 Easy Digital Downloads is a full ecommerce platform. It specializes in selling digital downloads on WordPress sites.
It's designed for selling eBooks, PDFs, subscriptions, and WordPress plugins.
Depending on your plan, you can integrate hundreds of extensions. They take care of marketing, analytics, accounting, email, payments, free downloads, and licensing.
Features:
Unlimited file downloads.
Shopping cart.
User and guest checkout.
Customer account pages.
Discount codes.
Supports Stripe, Apple Pay, PayPal, Authorize.net, and Google Pay.
Customer reviews.
Affiliate program.
Multi-vendor marketplace.
Fraud monitor.
Upsells and cross-sells.
Track a customer's lifetime activity.
Track commissions.
Pricing: Starts at $99.50/year, or $199.50/year for the plan with payment gateways and more advanced payment options. You can also pay $299.50 per year for 2 sites or $499.50 per year for 3 sites.    
Platform 8: WooCommerce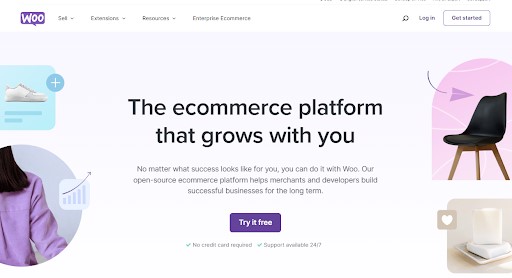 The WooCommerce plugin can be added to any WordPress site to sell digital downloads.
And the WooCommerce App means you can run your business from your phone on the go.
Features:
Sell single items, bundles, or subscriptions.
Display products as Best Sellers, Top Rated, On-sale, etc.
Multiple extensions and plugins to enhance functionality.
Expand into selling physical products if you wish.
Reporting with Google Analytics.
No transaction fees.
Integrates with all payment gateways, including Amazon Pay, Apple Pay, and Google Pay.
30 day money back guarantee.
Pricing: Free. But if you want to use WooCommerce Payments, they charge transaction fees for credit and debit cards. These fees vary based on a number of factors, so you have to do a little research to find what they will be for your situation.   
Platform 9: MemberPress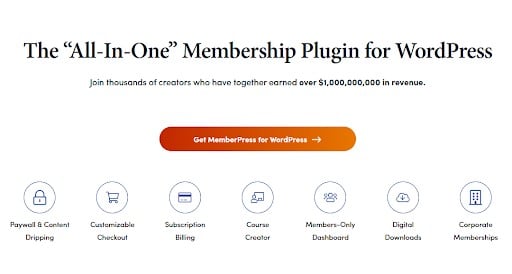 MemberPress is another WordPress plugin that easily integrates into your WordPress site. It allows you to build a membership site and sell digital downloads.
Built into MemberPress is a full LMS (Learning Management System) plugin. This means it's also a great choice if you plan on creating and selling courses because it gives you everything you need.
Features:
Unlimited members and courses.
Easy setup.
Control who sees your content.
One-time payments and subscriptions.
Manage and track membership subscriptions.
Free integration with payment gateways and email marketing programs.
Coupons.
Easy Affiliate plugin integration.
Built-in reporting.
Secure content protection.
No transaction fees.
Pricing: Starts at $179.50 per year. Highest plan is $399.50 per year.
Platform 10: WordPress Download Manager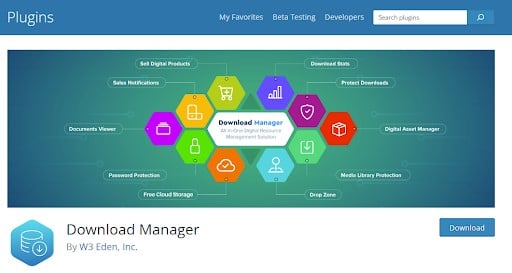 WordPress Download Manager is another WordPress plugin, and is designed to manage and track digital downloads from within your WordPress site.
But for a full ecommerce solution, you'll need the range of features of the free add-on, Premium Package WordPress Digital Store Solution. With the add-on, you can take payments with PayPal, offer PWYW pricing, and invite other sellers to offer products from your marketplace.
Features:
Drag and drop file upload.
Sell items for a price or with a license.
Media library file protection.
Google Drive, OneDrive, and Dropbox storage support.
Control of access to downloads.
Password and CAPTCHA protection.
Option to block IP addresses.
Pricing: Free. There is also a limited free Premium Package WordPress Digital Store Solution plan, but the plans with decent functionality start at $99 a year for a single site. The highest price plan is $499 a year, but it gives you up to 48 sites. 
Platform 11: Downloadable Digital Assets

Downloadable Digital Assets is a digital download app, built by Massive Monkey for Shopify.
It's a popular choice for Shopify store owners who want to sell eBooks, software, audio, and other digital downloads.
Features:
Unlimited products.
High-speed downloads.
Add limitations to downloads.
Sell personalized digital files.
Secure download links.
Fraud protection.
Reporting.
No commission fees.
Send emails from your domain address.
Track customer emails' open and bounce rate.
7 day free trial.
Pricing: There is a limited free plan. Paid plan starts at $9 a month with 1GB storage and 100GB bandwidth. Highest plan is $39 a month with 1TB storage.
Platform 12: Single Music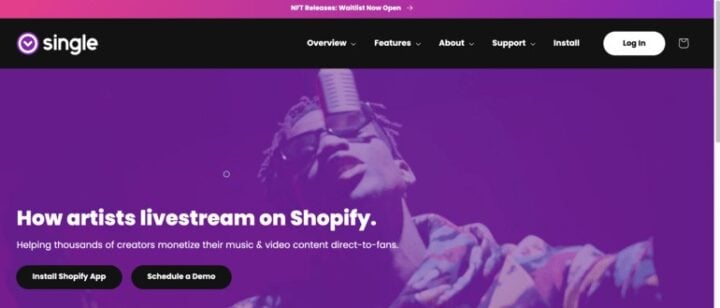 Single Music is another Shopify app, and is specially designed for music and video creators to sell their work online.
You can schedule pre-release tracks, or bundle a digital download or ticket with other merchandise
(T-shirts, vinyl, etc).
Features:
Only Shopify app to chart music sales around the globe.
Display featured products.
Upsells.
Artist-only branding.
No fees on merchandise.
Rent archival footage.
Fans' accounts stay on your website.
Sell live-streaming tickets.
Promote events on social media and Spotify.
Block account sharing to ensure you get paid for your music.
Identify superfans for better marketing and tour planning.
Pricing: Cheapest plan is $19 a month for 10 releases. Most expensive plan is $99 a month for unlimited releases. 
Platform 13: SkyPilot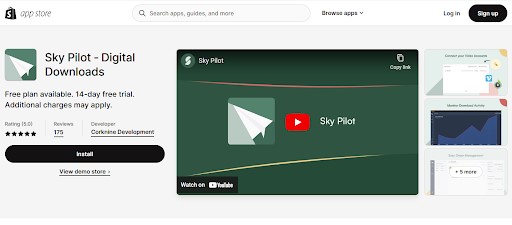 SkyPilot is an app for selling digital files and streaming videos on a Shopify store.
After checking out, customers are directed to a page within the Shopify store to download their files.
Features:
Unlimited files and videos per item in store.
Vimeo integration.
Organize files into folders and playlists.
Automatic access to files after purchase.
Limit downloads per file.
Set expiry download access.
Easily bundle files/videos with a physical product.
14 day free trial.
Pricing: There is a limited free plan available. Paid plans start at $9 a month for 10GB storage. Highest plan is $49 a month for 50GB storage.
Platform 14: Digital Product Delivery (DPD)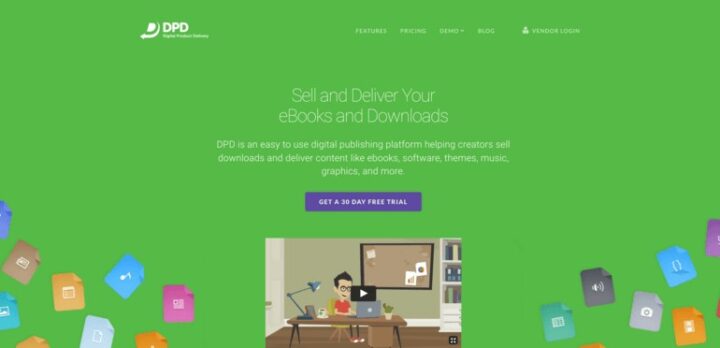 On Digital Product Delivery's platform you can sell eBooks, music, themes, templates, graphics, and software.
It's as simple as pasting an add-to-cart button on your site, social media, or blog. Then customers make their purchase through an integrated payment gateway and their download begins.
The responsive site works on all desktops, mobile, and tablets.
Features:
Unlimited product sales.
Unlimited bandwidth.
Shopping cart.
Subscriber area.
Drip content.
Integrates with 500+ sales, marketing, email, and analytics tools.
No transaction fees.
Popular payment processors supported, including PayPal, Stripe, and Authorize.net.
30 day free trial.
Pricing: Lowest price is $10 a month for 20 products and up to 1GB space. Highest plan is $30 a month for 120 products and 6GB space. 
Platform 16: FetchApp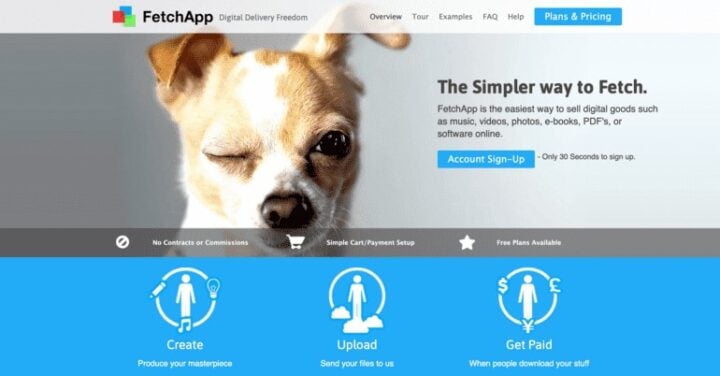 FetchApp is a simple platform solely designed for selling and delivering digital downloads such as video, music, eBooks, PDFs, and software.
It can be set up on your website, blog, social network, or on an ecommerce site.
Features:
Simple setup.
Unlimited products, orders, and downloads.
Scaled pricing according to storage needs.
FetchApp sends a secure download link to the customer.
Secure hosting of files.
Accept payments through Shopify, WooCommerce, and Paypal.
Free plan gives 5MB storage and a limit of 25 orders per day.
No contracts or commissions.
Pricing: Free. Paid plans start at $5 per month for 50MB storage and unmetered bandwidth. Highest plan is $500 per month for 150 GB storage. Unlike most platforms, there are many plan options between the lowest-priced plan and the highest-priced plan, so you can choose the plan that fits your budget and needs perfectly.
Which Digital Download Platform is Right for You?
Now that you know how to create and sell your digital downloads and now that you've seen a range of the top digital download platforms, you're all set to make selling digital downloads a major part of your online business.
You know who offers the features you'll need to sell your products.
And you've got an idea of the pricing tier that'll work for you now.
The good news is that most of the platforms offer a free trial, so you can test them out right away.
All that's needed is to take the first step, upload some products, and start to get your digital downloads out into the world!