Why Creating Strong Customer Relationships is Critical to Blogging Success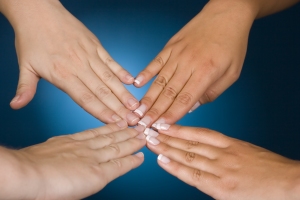 We live in a Golden Age of Publishing.
Creating a blog is easier than ever. But, once the blog is up and running, then come the problems.
Many new bloggers do a ton of busy work at first, but fail to build the one thing that sustains a blog long-term: mutual understanding with readers! Readers are really the customers of a blog – and having solid relationships with them is crucial!
What's this?
It's like a bond, where your reader feels understood and loves returning to your blog. Without a mutual understanding, readers won't feel engaged enough to comment, subscribe, and share your work. The result is a depressing state where it's just you writing posts for no one!
Felt this way before? We all have.
Keep reading. I'll show you how to make sure you and your readers are on the same page, quite literally.
Creating a Friendship with Your Reader
A strong relationship between blogger and customer makes for a great friendship.
I know personally I'd rather read, subscribe to, and someday buy from someone who I feel is my friend over some stranger, even if the stranger has a way bigger website!
The good thing is this stuff isn't hard, that is, if you start working on it NOW. Let's identify everything we need to know about and focus on to create this amazing feeling on a simple blog or website.
Things You Should Know Already
Here are a few aspects of building a mutual understanding you should already be aware of:
Traffic: If you blog about gardening, your initial traffic will be friends of yours who care about gardening and eventually people who search gardening phrases in Google like "grow a tulip". Hopefully your articles will deliver on that.
Sources: Sticking with the gardening theme, if most of your visitors come from Facebook you'd be wise to share more rich images and real stories on well, Facebook. If your garden blogs thrives from Google organic traffic, you'll be wise to work on SEO (how SEO works), build backlinks and use the Keyword Tool to find popular gardening phrases being Googled right now.
Needs: People have busy schedules just like you and use blogs to satisfy the need for quick information. With direct response copy you can ask for feedback on what they want more of!
Target audience: These are people who love your messages. If you blog about gardens, your target audience might be middle-aged men and women who recently become homeowners. Understanding this group will be essential to creating the marketing messages on your blog.
Things You May Not Know Yet
Now let's touch on some really important components many of us forget about.
Connecting: Putting yourself on the line
Now it's time to really put yourself on the line. Again with gardening, you've surely had failures. Maybe you planted perennials in the Spring and failed majorly, or had beautiful roses that got devoured by deer. Your failures and lessons learned need to be heard!
Why? Because there are thousands of websites out there on "how to create a great garden."
It's your voice, your series of experiences (with a touch of humor, of course) that will keep readers coming back to eventually build the massive following you want.
Be creative, be candid.
Mission: Your global statement
Creating a mission statement is fun, but if you're totally lost on how to build a brand then it's time to sit down and start working this out.
If you don't know your purpose aka mission statement, others certainly won't either. Flower-wise, your mission could be as simple as "grow better gardens" or more in depth like "crowd-source online opinions on gardening to build an award-winning garden in 100 days or less".
Showing off your mission statement is a great way to start a customer relationship; it leads to much better responses and conversion rates at your blog.
Funnels: Driving traffic to specific messages and hot points
You blog has hot points, like pages that get more Google organic traffic for example. To create an awesome mutual understanding, load these pages with welcome messages and craft miniature
landing pages that get people excited.
It'd be stupid not to, because you'll fail to convert random traffic to actual leads.
Let's say your post on "Merrigolds in the Winter" get's way more hits than other posts. On this post there's a picture there people love, and that post has great SEO for some reason so Google loves it too.
You can use a single post like this to send readers to other less obvious places, like a sales page where you sell you eBook, or a landing page.
You could even put opt-in forms in this post! Hey, it's your blog, be bold.
Niche narrow: Being really specific
This part of blogging is what often separates the big dogs from the pack after a few months. It's the ability to "go niche narrow" and penetrate a niche.
Let's take a look with our gardening example:
"How to grow a garden" is a timeless topic people need answers on, but "How to grow roses in 10 days in the fall" is going to inevitably attract more people because it shows them how to do something specific and attractive.
Even if someone doesn't want to garden in the fall, the sheer fact that YOU are providing niche narrow advice on a really specific and actionable task shows a reader that you must know your business! You are probably a good source for advice, worth returning to and subscribing to!
So it's a great best-practice to do this.
To get started with this err theory, go look at your three most recent blog posts. Could they be more niche narrow? Would making them more niche narrow just amount to changing the titles or headers a bit? Maybe you need to tweak the content a bit too…
But it's worth it!
Learn how to master the art of going niche narrow and there's virtually no limit to your niche-domination.
The Next Step is Empowering People
Once you've built a solid mutual understanding – you know your audience and they understand your goals – it's time to get them working for you.
That means keeping them on your blog, sharing content, and growing the operation. Of course, this totally isn't easy.
My eBook "Bye-Bye Bounce Rate" has a lot of strategies on this stuff, and it's free for a limited time.
It doesn't cover anything TOO ridiculous, but gives you actionable steps to engage your audience and put them to work, even in ways that don't feel like work at all!
After all, you can't do it all on your own as a blogger. Thinking you can is total nonsense.
How I Did This at Dear Blogger: The Blogging Answers Community
That little shameless plug for my eBook seems like a good segway to talking a bit more about myself, which is something even now I'm not very good at!
Let me explain now how I built a mutual understanding, quickly, with a lot of readers:
1) Start with the Welcome Message
The first post I ever published was a post called Welcome to Dear Blogger. The point of the post was to make the reader feel at home, and it was stage one in our mutual understanding.
What I did on this post was I differentiated myself from other potentially similar blogs, and then explained my reasons for starting and my goals (mission statement).
Then I give folks a chance to opt-in.
To date, the Aweber form on my welcome post remains one of the top 3 converters.
2) Create a Really Defined Style
Style in your blog posts is crucial, especially at first. Giving your readers a different experience will make them want to come back for more, or at least consider it, and you don't have much time to accomplish this.
Your novelty wears off.
So I started off formatting my posts as actual answers to real questions I had gotten from my first readers. This inspired folks to ask more and more questions, and solidified the whole idea of Dear Blogger being a blogging answers community. Voila!
3) Write a Niche-Narrow eBook
Perhaps the largest attraction of my blog on launch day was the eBook I had written on reducing bounce rates. I marketed the heck out of this PDF in guest posts, and created a landing page for it that I think I edited 1400 times before it was done.
The eBook gave people a real incentive to join my email list and basically stay in touch. It also showed I was already an established expert in my field. Both are pretty crucial components to any blog launch.
4) Tighten Social Media Presence
The mutual understanding you're seeking to build your customer realtionships doesn't develop overnight. It's a bit weak at first and that's just reality.
I scoured my social media accounts and anywhere I existedI made sure things looked spotless.
If your reader is really digging your work, then finds your odd, off-topic Twitter they might wonder who you really are. Is this blog or worse this person a total joke?
So, make sure your mission statement and other rich copy can be found EVERYWHERE. Leave no stone unturned.
5) Treat Every Reader Like Your First
The final step here: It's really important to give each reader a feeling of belonging and to let them interact with you.
If you actually believe in your work, and in helping folks, this isn't all that hard.
Especially early on in my blogging, I knew I wanted to become a source for blogging answers so I really sat down (in an online sense) with each reader and fleshed out their blogging problems.
It was difficult, it was fun.
The result wasn't just a lot of problems solved. It was a tight knit community of like-minded bloggers who were much more likely to refer me to the next guy, and the next.
Soon, the small community became a young empire.
Conclusion: Start today, preferably
While the above might seem like an overload it's really not all that much.
Start going, today, in no particular order, and feel free to refer to Dear Blogger for further guidance on building a mutual understanding.
Just read the comments section of any post 🙂
I'll leave you and back to my blog now, but not without an assortment of awesome quotes on blogging, community building, and the power of helping people (both in an online and an in-person sense)…
"Before you begin to write that sales, ask yourself how you want the readers to feel  after they read it." – Georgina Laidlaw, former Content Manage ProBlogger.net
"Each thing you do, personally and for your business, should be building a relationship. I build relationships with my readers by being authentic and trying my best to help, and build relationships with friends & family in the same way. Being trustworthy as much as humanly possible is a great way to build relationships, so these two go hand-in-hand." – Leo Babauta, founder ZenHabits.net
"My aim in all of my online projects is to help people be who they want to be and live the life they live." – Glen Allsop, founder of ViperChill.com
"I know I have an inspiring story and I am here to inspire you too, however I want to do it the right way. I speak only from my experience and please don't feel like you owe me anything because of it. This is my way of paying forward the amazing things that have happened to me." – Pat Flynn, founder SmartPassiveIncome.com
Hopefully these quotes filled with insanely good copy will help you write your own mission statements that building connections with readers!