Is the Fear of Failure Keeping You From Starting Your Business?
Ron Schaffer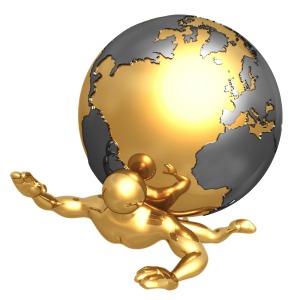 Your job is sucking the life out of you. It's Sunday evening and you have a knot in your stomach dreading the thought of facing another day at work.
Despite the stress, you know that you can't walk away because you have bills to pay and a family to support. You feel trapped. You search the want ads desperately hoping to find a solution. But those searches leave you feeling more depressed because there is nothing out there that won't be more of the same.
You start to think that maybe starting your own business is the solution; however, the statistics are scary. And the fact that you don't even know where to start doesn't help.
Does this sound familiar?
I don't know about you, but for years, those thoughts used to keep me up at night.
Is the fact that most businesses fail keeping you from taking that leap?
It's a scary fact, isn't it? Every day, there are start-ups that don't make it, and freelancers who never quite seem to make a go of it.
Now, I can't guarantee that the business you start will be a success. But, I can give you the one ingredient that will give you the best chance for business success.
No, it's not an unlimited pile of money (not that you had that anyway.)

The Most Vital Ingredient for Business Success
The most vital ingredient for business success is passion.
It's that burning desire inside you that – regardless of obstacles – will not allow you to fail. Passion helps you push past the fear of failure and truly give your new business your best effort.
Now I can hear you thinking: If passion is so important, why is it often left out of even the most detailed business plans?
Why Start a Business in the First Place
Let's think about why you start a business in the first place. Sure, you want to make money, but it's what the money can do for you that is your driving force.
You want to be your own boss; create a better life for your family; be in control of your own destiny; have financial independence. In short, you want to be happy.
With me so far?
So if the ideal is to be happy, it's natural to set out with the end result in mind. You figure that making more money will give you the things that make you happy: a better life for your family, control of your destiny, etc. And you know that working for someone else is not cutting it. So your solution is to start their your business. Makes sense, right?
Your Biggest Mistake
Here is where the problem begins. Most people look outside themselves to find that business success. They start chasing the opportunity to earn money. Maybe they look for a need to be filled, or a better way of doing something. Or, they chase after an offer they saw on the internet guaranteeing them riches.
But in order to get what these people want and be happy, their business has to be successful. Doesn't it?
Unfortunately,
" when you look at all the businesses that were started and failed, you're looking at a lot of unhappy people."

Tweet Me
(Been there twice!)
The Answer Lies in Looking At Business Success Differently
I am convinced that the answer lies in looking at starting a business differently. These people I am describing (as well as myself in the past) were externally driven; they were chasing something they wanted because they thought that's what they needed to be happy.
In other words, they were swimming upstream against the current of life. This makes it so much more difficult to get somewhere. And even if they could get somewhere, they would be exhausted when they arrive.
This is what happens anytime you are chasing goals that are not aligned with your passion. You pay a very heavy price. It can negatively affect you in so many areas of your life.
However, when you are following your passion, you can get so much farther, so much faster and with so much more ease, because you are going with the current and with the flow of life. It took me a long time and many painful mistakes to learn this. But when I did, it made all the difference in the world.
When you are doing something that you are passionate about, you are energized. It gives you the energy to overcome obstacles, fears and doubts. Quitting never becomes an option because there is nothing you would rather do. You find a way. Period. You need that passion to get through the tough times and to overcome the challenges that it takes to build a successful business.
People are happiest when they are doing what they love every day. And here is the best part: when you are doing something that you absolutely love, abundance comes much more naturally and often without the struggle. Don't misunderstand me: there is still work to do. It's just not the same as a struggle. It's the difference between "forcing yourself to do something" and "wanting to do something." The first drains you of energy. The second energizes you.
Why Do So Few People Follow Their Passion to Start a Business?
So why do so few people attempt to build a business by following their passion? I have found that the answer is two-fold.
First, if you ask most people (and I have), they will tell you that they don't feel that passionate about anything. Maybe their passion is buried so deeply that they don't recognize it.
Or second, if they do feel passionate about something, they lack the belief that they can build a business around it.
In my opinion lack of belief is the greatest obstacle to achieving success in life. (If you have read my other articles you will know that I define true success as living a life of joy, purpose and abundance.)
As a result, people don't believe they can make the changes they want to. So they either don't try, or give up way to soon. Like Shakespeare said, "Our doubts are traitors and make us lose the good we oft might win by fearing to attempt."
So what is the solution? How do we overcome a lack of belief that we can make a living by doing what we love?
What's the Solution?
First, you have to be clear about what you are passionate about. That will help you become clear on your goals and where you are going. And if your goals are not in line with your passions, you may be making a mistake.
Remember what Howard Thurman said, "Don't ask yourself what the world needs. Ask yourself what makes you come alive. Because what the world needs are people who have come alive." If you are following your passion, it will be easier to develop belief and confidence in what you are doing.
The second thing you can do is identify the smallest step that you believe you can do, and then do it. You don't have to take giant leaps or big risks. You may not believe that someday you can quit your job and start a business, but you certainly believe that you can learn to put together a business plan. So start there. Or consider doing something part time until you get some momentum going.
And then, once you have taken that first step, you start looking for the next step that you believe you can accomplish. And you take that step. As you get closer and closer to your goals, your belief will grow along with your confidence in what you can accomplish.
It's important to remember that just because you can't see a clear path to your goal doesn't mean a path doesn't exist, it just means that you can't see it yet. As long as you are following your passion and taking those small steps, eventually the path to business success will become clear.
Also, find yourself some like-minded people so you can support each other on your quest. Form a mastermind group made up of others who like to dream big. And consider they followed their passion and they never gave up.
Starting a Passion-Based Business
Starting a successful business today that is fueled by your passion is so much easier then when I started my first business. (I didn't say easy; I said easier.) Technology and the internet allow you to reach a worldwide audience with your message, service or product, and at a fraction of the cost of traditional marketing methods. It makes it so much easier to test out a market or even develop your passion-based business part time, as a supplement to your full time job. But you have to know how to maximize the amazing tools and strategies that are available and make them work for you.
There is nothing more rewarding then doing work you are passionate about and getting paid for it. This possibility is available to everyone. It really is. Remember, if you are working for someone else, you are helping them accomplish their dream. Although there is nothing wrong with this, wouldn't you rather be working on your own dream? I know you have one! 😉
Getting the Help You Need
Today, there many outstanding companies that can help you with those aspects of your business success. One of my favorite sites is this very blog, by Danny Iny and his crew. I have incorporated a lot of what I have learned from him in my own business. I attended his 90 minute webinar called "Bridging Your Passion, Purpose and Prosperity." I can honestly say it was the most useful webinar I have ever attended. I recommend this to anyone serious about starting a passion-based business.
If you are still not sure where to start with your passion, maybe I can help. I have a free guide available for you called Finding Your Passion and Purpose – and How It Changes Everything.
What would you attempt to do if you knew you could not fail? Whatever your answer is, start heading in that direction – no matter how small the steps. That is your path to true business success, a success that leads to a life of joy, purpose and abundance.