Beating Procrastination: How Killing Time Kicked This Mother's Ass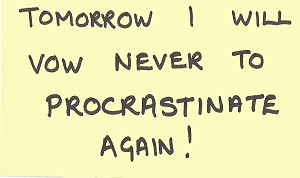 Most of us are very good at putting things off. We find all sorts of excuses, some valid, but others ridiculously weak.
Sometimes we put things off because we're afraid of rejection, uncertain of a particular procedure, or just nervous of trying something new.
Could be, you simply can't find the time to do everything you want to.
I know of businesses, both online and offline, who collect email addresses like fairground trophies for each sale that they make. What they do with this list after the sale is… nothing… nada… zilch!
Don't they realise that the best customer you will ever have, is an existing customer?
Although these businesses have the information on how to make their subscriber list work for them, they frequently procrastinate about starting a new marketing campaign. Or they use excuses as to why now isn't an appropriate time to do anything.
Whatever the next step is in taking your business forward, sitting there thinking about it, will never get things moving.
I used to do just that. But not anymore! I've just had a bolt from the blue wake-up call which could possibly help others with beating procrastination as well…
The fine line between guidance and control
I have just put the 'phone down after a conversation with my rather over excited son, Nathan. And I am so ashamed of myself. How could I be so hypocritical? Where did my double standards come from?
I wouldn't call myself a pushy parent. Supportive – yes, but pushy no. In fact, perhaps if I had been more pushy Nathan would have completed his university degree years ago rather than as the mature student he is now.
You see, Nathan always wanted to study automotive design. He's been fanatical about cars even before he could talk properly. I remember him pointing out the differences between two cars of the same model from his stroller, simply by the differences in the wheel trims.
Two years ago, he went back to university to study. He probably got sick of being advised that if he left it much longer, it would be too late to start. I'm very good at dishing out advice, particularly to my kids, but hey! That's what parents do!
Anyway, he did it. And I am so proud of what he's achieving. One more year to go and he's working really hard.
Do as I say and not as I do
For his final year, he must choose his own design brief, which can be sourced from a competition, a previous curriculum design brief or one from a manufacturer. He is already planning his work for his return in September.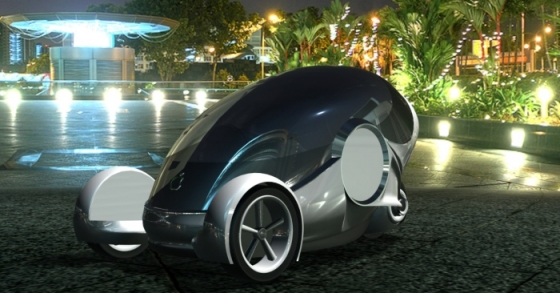 He attended a design festival a few weeks ago and met and chatted to several influential people, one in the automotive industry, who gave Nathan his email address so that he could arrange to visit the factory.   Yet again, I waded in with the advice.  "Make sure you contact him to ask about that factory visit"; "He's a busy man, get in touch while he still remembers you"; "Don't miss your opportunity"; "You have to leave your comfort zone to progress".  All of the usual parental advice.
Don't I sound horrible? I'm not that bad honestly. I just remember all of the chances I've passed up. 😉
Now, I wish that I hadn't been waiting for others to go along with me, or had more guts to go it alone from time to time.  I just don't want Nathan to have the same regrets.
Killing time
Nathan has a Summer job in his university town, but came home to visit this weekend and I dropped him off at the train station this morning. He's just phoned me from London. With an hour to kill while he waited for his train connection, he'd decided to take a walk to find somewhere for a coffee.
Finding himself outside the design offices of a major car manufacturer, he "called in", dragging suitcase and all other weekend baggage along for the ride too. Expecting to be shown the door, or at the very most, to leave his contact details, my very excited son has just phoned me to tell me about his unexpected but brief meeting with one of the designers. The designer spent ten minutes or so with him, giving Nathan the opportunity to request a design brief that he could use in his final year. The designer recalled his own student years, empathised, offered tips and in all, was so positive and helpful.
The kick up the ass
I am humbled. My son not only listened to my advice, he acted upon it. (The fact that he listened is a miracle in itself!)
The big kick was when he said "If you want people to pay attention to what you're doing, you've get to get yourself known."
So what was I procrastinating about?
Well, I kept telling myself that I would get around to contacting other blogs to ask whether they would consider accepting an article that I've written?
And have I done it yet? Ermm… no.
I'm always the first to encourage and support others. But I've personally done nothing about moving my own ass a step closer to my own goal.   How is anyone going to know that I'd like to guest post on their blog if I don't ask? O.K, my article might not be accepted straight away, but the first step is always the biggest.
My lesson is learned. And my advice to you is please learn from it too.
Time to get your message out there
So, going back to that lovely list of email addresses that's languishing around, doing nothing. Isn't it time to start making it work for you?
Do you email customers to thank them for their purchase? While they're in that buying frame of mind, this is the perfect opportunity to suggest a complimentary product to the one they've just bought. Just think about it, it's what the supermarkets do by placing all of those tempting goodies near the checkout.
You could review one product per week, particularly for new stock. If you have several departments and employ staff, you could ask a member from each department to submit a short article about an item that they sell.
For example, a store selling natural and organic products (online or offline) could review the benefits of organic sun lotion one week and maybe review bamboo towels the next. They could even ask customers to complete an online survey and then publish the results as one of their weekly updates.
Your customers may not realise that you have such a diversity of goods to offer and by keeping in touch, you'll be at the forefront of their minds when they do need to shop again.
Your call to action
Naturally every page should have a link back to the page where readers can buy the product your reviewing. Adding a list of products that your customer might like is also another good way of encouraging sales. Just take a look at what Amazon do by suggesting things you might also like. Make it easy for your customers to buy from you.
Ask and ye shall receive
From time to time you can send your list details of a promotion. If you make it time sensitive, making customers think that they'll miss out on a good deal if they don't act quickly works very well too. Don't promote too often though. People don't like to be sold to persistently.
And finally…
Just to update you, a short while after speaking to my very excited son, I have written (and sent) my query email with an idea I have for a blog post about getting out of your comfort zone to a blog I've been following for a while now.
Who knows, hopefully, you're not reading this on my own blog page.