Looking at Vintage Advertising – Are you Ready for a Blast from the Past?
Megan Dougherty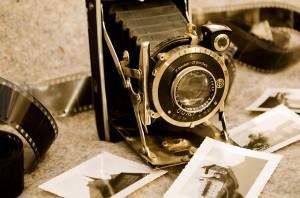 I've always had an interest in history.
When I was a child, I would sit and listen for hours to my grandpa tell me stories of his youth, the war, our family and town, and generally – the way things used to be. I would pour over the old family photo albums, and all of my favorite books were set in the past.
I like old things too; china, jewellery, furniture, clothing – things that have a history.
My grandparents moved out of the old family home last year, and we are talking about the home my grandmother was born in, so cleaning it out was a heck of a challenge, but what treasure we found!
My favorites, after the Dougherty family memorabilia, were a stack of old country newspapers from the twenties. They were remarkably well preserved, and held a feast of fascinating things.
Now, you may be wondering what any of this has to do with you, now, in 2013, and you are right to wonder, but I do have a point. I promise. 😉
These old papers, written sixty years before I was born or thought of, had much to teach me about the way life used to be, and yes, the way business and marketing used to be. So it got me thinking: where did some of the principles and ideas we take for granted now, come from? When did they begin, how have they changed and crucially, have we forgotten anything important?
So I rallied the troops, and over the course of this month, Robyn, Amanda, Steph, Nick and I are going to be exploring history to find lessons and strategies that are as relevant today as they were decades, or even centuries ago.
Today, I'm going to give you the rundown on what we're covering this month – and make the strongest argument I can that despite technological advances that would have baffled and bewildered the marketer of a hundred years ago – not much is really as different as it may seem…
Hurtling From the Past Into the Future
On Tuesday the 4th, Amanda is going to explore how tobacco companies (with their beautiful and horrible old cigarette ads!) can teach us how to efficiently and effectively pivot within the marketplace, and respond with great agility to changing trends.
On Monday June 10th, I'll be talking about how online communities may just have found their roots in the social columns from days of yore – and how to combat one big glaring difference between then and now.
That Wednesday, you'll be hearing from Robyn who is going to prove, beyond all shadow of a doubt that there is one perpetually, and unarguably superior way to demonstrate value and convince your customers that you know your business.
On Friday the 14th, Steph traces the history of what we're calling On the Edge Marketing – the kind of extreme marketing you can ONLY attempt if you are among the bravest and most self-assured of individuals. This is not advice for the faint of heart.
Finally, the following Tuesday, Amanda will be wrapping this up with a look at what you used to be able to buy from the comfort of your sofa – long tail marketing in full effect before the internet made it commonplace. There are some interesting similarities, and a few noticeable differences as well.
I'm pretty excited about this series, and I hope that you are too!
But before we get to any of those – I want to present a little activity for your enjoyment.
Free Offer! This Will Make You the Envy of Your Friends!
I've got three examples of vintage advertising here, and I would like you to examine them, and let me know in the comments what you think the takeaway lesson about them could be
It could be an interesting old-school way to look at a modern problem.
It could be a principle that is as effective now as it was then.
It could be something so crazy to us, that it proves how times have changed – and how they might again.
There won't be any right or wrong answers – this is just to get your brain working, and ready for the most relevant history lessons you may ever receive. 😉
Example 1: All the Kids are Doing It
This is a 1920's ad for Bobbie pins – a pretty revolutionary invention in their day.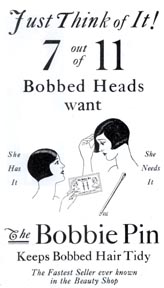 What do you think? What can we learn from this – would an ad like this work today?
Example 2: Glamor Sells It
Coca-Cola has been top-of-the heap in terms of advertising pretty much from the day they opened their doors. Here is one of their ads from the early 1900's.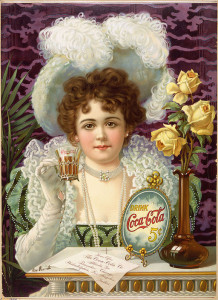 What marketing principles do you think were at play here?
Example 3: Things were crazy in the 70's!
My mom assures me that anyone who remembers the seventies wasn't actually there – but there is photographic evidence that people dressed to impress. Here is a men's pants ad from that forgotten era.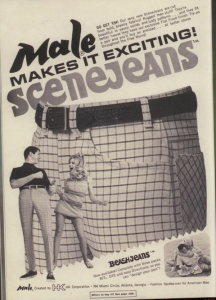 What about this ad makes it interesting? Could one like this be run today? Why or Why not?
Okay – I'm really excited to hear what you have to say about this vintage advertising, so I'll leave you to it. Let me know what you take away from the different marketing styles, statements and intents.