Online Business Tools: Ignore StumbleUpon and Ignore 25 Million Potential Clients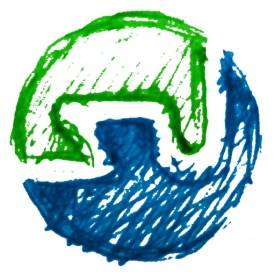 You've heard of it. You know about it. You even know you should be using this online business tool
And yet, you're not!
You feel like you are missing out on another huge source of traffic and recognition for your business.
But you just can't seem to figure out how to use StumbleUpon.
You hear about brand new websites getting 1000's of visitors overnight.
So you decide to give it another try.
And what happens…
You get one big spike that lasts about a day and a half. And then, nothing.
Down to zero. It makes no sense at all. You have 25 million users dangling right in front of you and you have no idea how to win them over and make them beg for more.
No One Uses StumbleUpon Anymore?
Wrong!
Yes, StumbleUpon is definitely notorious for drive-by traffic.
Bounce rates go through the roof so you immediately think it's all worthless traffic.
And a few months ago I would have totally agreed with you.
Until I realized that blaming StumbleUpon for readers not staying on your site is like blaming your gym for not getting you in shape.
Everything you need to get the results you want is right there in front of you. It is up to you to get inside and learn how to use it properly.
Speed Dating For Business
Are you using the same type of content for all of your marketing?
This is a BIG mistake.
Every section of your market is unique, so approach them with a unique message specifically crafted for them.
Picture this:
You are at a social gathering and you notice a lovely lady across the room.
Lucky for you a mutual friend is actually on their way over to you for an introduction.
You go with a classic, "So, what do you do for a living?"
It works. You make small talk and she hangs around.
Now try this exercise:
You are at a speed dating event.
You have exactly 60 seconds to convince this lady that you're interesting enough to take your phone number before the bell rings and you are off to the next one.
Two different situations require two different approaches.
In the first instance, you already have common ground – previous relationship, email list, recommended your site by a friend, etc.
You do not have to work as hard for those visitors.
The speed dater is your Stumbler.
You have about 5 seconds to convince them to take action or you lose that reader forever.
You want to make everything the visitor initially sees your most appealing, engaging and attractive piece of the post.
Have an amazing headline. This is what they will likely read first.
Make sure they do not have to scroll to get what value the page will bring them.
Basically, everything you can notice in 5 seconds must be engaging and totally relevant. If it is not, remove it.
Give Them What They Want
Just like with kids, you know you can't go wrong with hamburgers, hot dogs and juice boxes -only a few types of posts work time and time again on StumbleUpon…
List Posts
Not your standard list posts either. MASSIVE list posts.
I'm not talking about top 3 ways to build a blog or 5 best Thanksgiving desserts.
I'm talking about posts like 50 Social Sites That Every Business Needs a Presence On.
Not surprising, StumbleUpon ranks out at number 4 (with 22k visitors).

These types of posts do extremely well because they become resources for the reader to refer back to repeatedly. So you will likely get repeat visits as well as more shares and likes.
Image Posts
People love great images. Pictures that inspire. Pictures that have quotes. Even one that is shocking.
The goal is to have something that taps into an emotion the moment they see it.
If the image sits well with them, they will hit the thumbs up, thus, causing more visitors instantly.
See 30 Dr. Seuss Quotes That Can Change Your Life, with 1.6 million views.
Combination
How about a post that uses both. One that ties into your emotions with a killer headline. Sucks you down the page with an in-your-face opening that almost dares the reader to keep scrolling. Then adds some of the most engaging images you have ever seen.
If you want the best example of the all-around post, take notes on 19 Pictures which scream no excuses, with 445,000 views.
Interactive Posts
This is a fantastic post for many reasons. If your visitor is completely targeted (which I show you how to do later in the post), they will spend a considerable amount of time engaging with your post.
That is why the HBS Elevator Pitch Builder has been doing so well, with 196,000 stumbles.
Getting Inside the Mind of the Reader
Want to learn how to create a successful StumbleUpon-worthy post each and every time?
What follows is a simple process you can use to guarantee a huge amount of traffic that sticks.
First, think about what you want the reader to do with your post. Is the post just for entertainment? Do you want them to sign up for your email list? Do you want them to tweet the post? Facebook like? Subscribe to your blog?
Just keep this in mind once you start to create the post.
Next, go over to StumbleUpon right now. Make sure you are logged in.
I should not have to tell you that if you do not already have an account, you need to create one. I will not go into full details of the importance of your profile and how you can use followers and the community to boost every page you post in the future. This is all explained on this post over at ViperChill.
Next, scroll down to find the category you are considering posting in. You could also click the "Discover" tab on the middle far right of the page then input the interest in the box provided.
When you get the success message, click the now hyperlinked category.
Look at the posts in that category with high page views (preferably in the thousands) and duplicate the style of the post to drastically improve your chances at a successful campaign.
The Upper Hand. (Advanced Users)
Want to jumpstart your results?
They have an amazing feedback score that will let you know exactly how well your post is doing.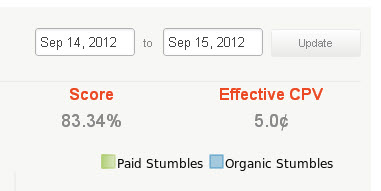 StumbleUpon has one of the best paid advertising programs you could ever get.I regularly run a test campaign on my pages before I start my outside promotion to test the levels of engagement.
I paid for 100 visits and it cost me a whopping $5 which resulted in a total of about 500 visits in about a 24-hour period.
How do you know whether a score is high or low, you ask? In general, you can consider a campaign to be performing decently if it is more liked than disliked (i.e., over 50%). But we encourage you to aim higher! After all, you want more people to like your content than not. A campaign that is at 65% or above is performing well, and anything over 80% is performing very strongly. On the other end of the spectrum, consider pausing campaigns that drop below 40%. Read the full scoop on your score here.
I was able to have an engagement of 83%
You can view the test post at: 23 Pictures That Say – Stop Complaining and Start Creating.
I always shoot for 80 or above. If you are ranking lower than that, I would pause the campaign and tweak the page. This can be effective in testing how well you page is engaging the viewers.
Another advantage StumbleUpon Paid Discovery has over any other advertising network is how you can get views of your page for 5 cents a page view. No sliding scale where sometimes its 4 cents and the next one is 15 cents like most networks.
You also don't have to worry about getting clicks on your ad. Five cents gets them directly in your site and on your page, so 95% of the work is already done.
A successful business is one that masters the art of cultivating a unique and engaging message specific to the audience it presents to.
Millions of Stumblers are Waiting for YOUR Message
You now know how effective StumbleUpon can be.
You comprehend the importance of understanding your audience.
You alone must take control of putting your message in front of them in a relatable way.
Because you believe in what you do.
Because it's worth it.
Because you are an action taker. When you envision an opportunity to reach the masses with your message – You Take It.
The vision that inspired you in the beginning.
The vision that can change lives.
The vision that can create thousands of happy customers eager to spread the word about how you fulfilled their dreams.
Twenty-five million people are waiting.
Waiting for you to change their lives.
Waiting for the chance to share your vision.
Waiting to StumbleUpon something amazing.
Waiting for you to lead them into the life they've always dreamed of but never thought possible … Until now!
They're waiting for you.
They're ready to take up the challenge to make a difference.
But they cannot do that without your help.
So go to where the people are.
Open your StumbleUpon account right now or breathe new life into your stale one.
Speak their language and you open a new door of endless potential.
Ignore them and you deny 25 million people the opportunity to share your vision.
It's an easy choice. Use this online business tool and Stumble on!