How Racing My Cats Got Me Thinking About Online Marketing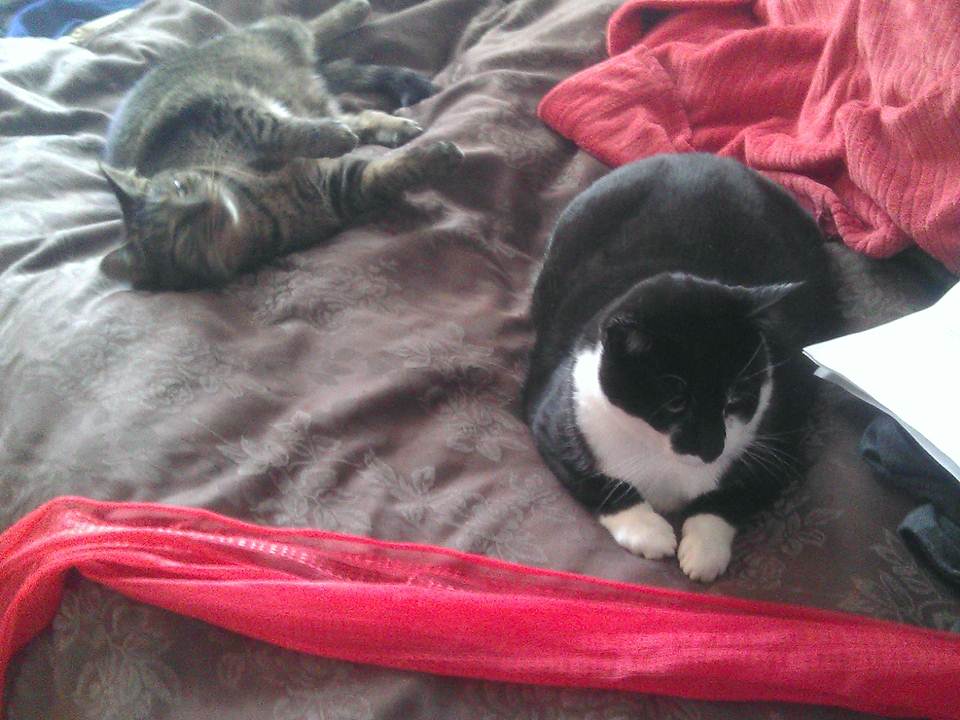 As you probably already know, Danny, Robyn, Amanda and I have spent the last week relaxing, recharging and planning for the coming months away up in the great white north outside of Montreal.
It was a heck of a week, and I think I can speak for all of us when I say: we're glad to be back.
It wasn't all fun and naps, of course – we spent a lot of time talking about the wonderful experience we had launching the Audience Business Masterclass, running the Awesome Engagement Strategies Contest AND some of the exciting plans we have for the future.
I'm in the happy position today, of being able to tell you a little bit about something we're planning.
But first – I'd like to tell you about one of my favorite Montreal events.
In November of 2012 and of 2011, I, intentionally and with enthusiasm aforethought, made a rampant fool of myself. I ran around the city (sometimes in costume!) making videos, snapping photos and writing bizarre little pastiches. My spouse ate a jar of mayonnaise. For real.
I was participating, with a double handful of friends, in the absolutely epic Impossible Montreal. What else but the thrill of competition could make otherwise sensible adults dress up like pirates and ride the metro for hours? To re-enact internet memes? To invent web-slingers? And yes – try to race cats.
I can tell you – it worked – we did – or at least attempted all of those things and more; meeting people, getting creative and generally having a really, really good time. (In case you were wondering my team won in 2011 and came in third in 2012.)
So what does all of this have to do with you?
Well, I noticed a few things during the course of the weekend. I noticed that I was working hard. I noticed I was meeting and getting to know really interesting people. I noticed that I was stepping well outside of my comfort zones. I noticed that I was learning new skills, (I don't know how useful making a bridge out of recyclables will be in my future – but that's not the point) and I noticed that if I didn't have a background in marketing and education – I wouldn't have noticed any of that because it was fun.
Ever since November of 2011 I've been pondering a little idea. What else can be made into a fun and challenging game – that has benefits beyond the joy of tomfoolery? What else can you teach while playing? Can people from around the world play and learn and work together? How can I share a little of the joy and excitement and challenge and satisfaction with the Mirasee community?
I finally can.
I am pleased and proud to announce the first ever Great Online Marketing Scavenger Hunt.
The Great Online Marketing Scavenger Hunt
This will be a five week event with over 100 challenges to complete for points, skills and glory. We'll be taking you through the paces of networking and guest posting, mastering the social web, multi-media, writing, researching and maybe even stepping away from the computer and into the real world once in a while.
If you start and stick it through, by the end of the hunt – even if you don't win a prize – you will have expanded your reach online, made new connections, deepened existing relationships learned new skills and generally levelled up your business. This, I promise you.
And yes – there might be a little tomfoolery, too. 😉
Registration is open as of today, it won't cost you a penny, and the official list, rules and prizes are going to be made available on Friday, February 22nd.
All you need to enter is a computer, a couple of hours a week and an intense desire to be legendary.
If this sounds fun to you – if you like the idea of getting to know amazingly talented people, of becoming familiar with new technology, if you want to sharpen your writing skills, get more traffic and have a hell of a good time doing it – then all you have to do is enter your name and email address below – and await further instructions.
I warn you – this is not for the faint of heart, I'll be putting you through your paces in a whole bunch of different marketing activities – and while I and the rest of the team will be here to help – it IS going to be hard work.
If you're ready to get started – you know what to do.
(The Scavenger Hunt is over – but you can check out the results right here!)