The Great Online Marketing Scavenger Hunt: Extended for Another 6 Weeks!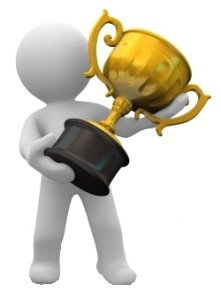 The last five weeks have been so much fun, I just can't imagine stopping.
So we've decided to double the length of the hunt and release a brand new list of challenges – bigger and better than ever. We're going to be taking things a few steps further, and will be upping the ante on the prizes in a BIG way.
All winners will now be offered an all-expenses paid trip to Montreal for a month to join the Mirasee for daily breakfast meetings. (Breakfast not included.)
Of course, this means that there's going to be a little more work and cost on our part, so we have to add a few extra mandatory challenges to the list.
Don't worry – it's nothing big:
Everyone currently playing is now contractually obliged to continue, and to pay a registration fee of $127.85.

All players must legally change their names to Biz Nuss.

Switch all of the text on your website to Comic Sans.

Make us a cake. Mail it to the FPM Office. (NB: Danny doesn't like chocolate…)
Not too big a deal, right?
Read on for the rest of the new challenges…
April Fools!
Or as we say here in Montreal – Poisson D'Avril! (I don't know why we call it the Fish of April…)
What's actually going to happen today is a re-cap of some of the good things and the bad things that happened during the hunt, look at some of my favorite challenge entries, review the prizes and…
Announce the Winners!
So let's get started with what worked, and what didn't work.
The Things That Went Wrong
When you try something new, odds are a couple of things will go wrong.
This is especially true when you make assumptions.
Making assumptions is a dangerous game, indeed. (Even when you're dealing with gamification!)
We made a couple of assumption about the Great Online Scavenger Hunt that turned out totally wrong.
Assumption #1: We'd have a lot more time to prepare!
Then the launch happened. You know that story, so suffice it to say that the time I thought I'd have to pre-schedule tweets, emails and bonus challenges evaporated like fog on a sunny day.
This wouldn't have been a real issue, however, if it wasn't for
Assumption #2: We'd have a lot fewer registrants!
To be fair, this one is all on me. Danny assumed we'd have the kind of numbers that we did: 900 registrants and about 100 active players.
I imagined that one or two hundred people would register, and thirty or forty would actually play.
I planned for that.
I organized systems and a schedule to deal with that.
So when we passed 200 registrants on the day we announced the contest, I was a little floored.
When we had 600 three days later I was starting to freak out.
By the time the hunt started with 900 people signed up for it… well, it wasn't pretty.
Which leads me to:
Assumption #3: I thought I'd have more time to be in-the-trenches involved.
My original intent was to spend some time each day on the Tumblr and on Twitter, engaging and shaking things up, generally, and do far more email updates then actually went out.
This just didn't happen – there wasn't the bandwidth for it.
But it turned out to, really, be pretty okay.
You know why?
The Things That Went Right
Because the Scavenger Hunters themselves are collectively motivated, engaged, helpful and understanding.
From the amazing support of each other in the Scavenger Hunt Facebook Group, the wonderful help and information sharing in the Questions GoogleDoc, and the tireless work of scorekeeping that happened in the Official Google Doc, I was utterly blown away.
Also, over the course of the hunt, we generated hundreds of comments, dozens of Tweets, cool participation on ours and our sponsors' sites.
A lot of people stepped far out of their comfort zones, tried things they'd never done before, and met tons of cool new people….
And did some AWESOME stuff, like:
And this is the merest sampling of all the cool stuff that went down. Scavenger Hunters – please, feel free to post your personal favourites in the comments!
Despite all of the difficulties, I'm really pleased with how things went.
Before I review the prizes, thank the sponsors and announce the winners, there's one answer to one question I'd like to give.
General # 5: What does the following have to do with Equine Posteriors?  Magnesium/Gorffennaf/MCMLXXXIII/
Who Made it Happen?
A gigantic thank you goes out to Tea Silvestre from Prosperity's Kitchen and Nicole Fende, the Numbers Whisperer, our fantastic and generous Gold Sponsors, who have gone out of their way to provide both amazing prizes and entertaining challenges for you.
Thanks also, to Lindsey Rainwater who has gone far beyond the call of Silver Sponsor in her help and support of the Scavenger Hunters.
What are the Prizes Again?
First Place
1 Web Copy Coaching Package from Tea Silvestre ($500 value)

3 1-on-1 Consulting Sessions with The Numbers Whisperer ($600 value)

3 Borrow-my-Brain Sessions with Danny Iny ($1041 value)

3 Blog Post Reviews with Megan Dougherty ($150 value)

1 Podcast set-up and content consultation with Lindsey Rainwater ($190 value)

1 Blog Strategy Review ($397 Value)

1 Copy of How to Be a Finance Rockstar , signed by the author ($20 Value)

Dinner with the Mirasee Team (You've got to get to Montreal – but dinner is on us!)
Second Place
2 Borrow-my-Brain Sessions with Danny Iny ($694 value)

2 Blog Post Reviews with Megan Dougherty ($100 value)

1 Ticket to Rock Your Profits: Roadie to RockStar, a twelve week training program from the Numbers Whisperer($525 Value)

1 Podcast set-up and content consultation with Lindsey Rainwater ($190 value)

 1 Blog Strategy Review ($397 Value)

1 Copy of How to Be a Finance Rockstar, signed by the author. ($20 value)
Third Place
$250 cash

1 Borrow-my-Brain Session with Danny Iny ($347 Value)

1 Blog Post Review with Megan Dougherty ($50 Value)

Access to all training materials from Lindsey Rainwater ($120 Value)

1 Blog Strategy Review ($397 Value)

1 Copy of How to Be a Finance Rockstar, signed by the author.  ($20 value)
The Killer Beginner Prize
This is a special award for the player who accumulated the most points, completes the most challenges and shows the best effort – even though they don't have a website up and running yet. We know it's going to be harder for you to complete some of the challenges, and we respect that you're going for this anyway. Thanks to Tea from Prosperity's Kitchen, we have for you a complete Basic WordPress Site Set-up/Install ($750 value): includes home page + 4 other pages + basic starter plugins + 1 hour customized training.
The Winners
Okay – I've made you all wait long enough for this!
The Killer Beginner prize goes to: Rebekah Jones.
Third Place goes to: Gem Avery.
Second Place goes to: Credible Copywriter.
And the Grand Prize Winner of the First ever Mirasee Great Online Scavenger Hunt is…
So what do you think, ladies and gentlemen? Was it worth it? Should we do it again?