Return Visitors: 5 Keys to Keep Them Coming Back for More
Whenever somebody approaches me for advice on making their marketing strategy more effective, they usually ask me three questions:
How do I get more traffic?
How do I get more traffic?
Oh, and, how do I get more traffic?
I think I may be able to spot a trend here.
We're all so concerned about that One Metric that Surpasses All Other Metrics: more traffic.
After all, it seems like a simple equation.
More traffic = more visitors.
More visitors = more conversion.
More conversions = more money.
So more traffic = more money.
And if that's the case, then it seems like prioritizing increased traffic as your #1 goal should be a no-brainer, right?
Wrong!
With all the worry about attracting more traffic, we often forget what's just as important: keeping the traffic you have.
And that, folks, is no easy task.
The Importance of Return Visitors
Before we get into the how of return traffic, let's take a look at the why.
Why is returning traffic so important?
To answer that question, I want you to think back to the last time you bought something online—maybe it was an eBook that teaches how to build a bigger audience, or access to a private mastermind group.
Chances are, you didn't purchase the product the first time you visited the site.
In fact, you may not have even known about the product the first time you visited the site.
Instead, you probably just browsed a few blog posts, maybe reviewed the about page, and just had a general look-see.
Eventually, you decided that you liked what you saw.
And so you came back for more… And more…
And even more.
Then, you found out about the product. You took your time learning about what the product could offer you.
You waited until you felt 100% certain that, based on your experiences with the site, you could fully trust the product to deliver the value that you sought.
Finally, you took out your wallet, punched in your credit card details, and bought it.
Amirite?
In a nutshell, the reason why returning traffic is so important is that return visitors are the ones who actually engage with your site. Not the first-time visitors who take one look at your site, skedaddle, and never come back a second time.
And this isn't just me talking, either. KISSmetrics found that on e-commerce sites, return visitors generally spend more than two times longer on your site and browse nearly double the pages in a single session than do first-time visitors.
The message is clear: stop over-prioritizing "more traffic."
Switch focus to keeping and engaging the traffic you have until you can make it convert.
Let me now explain 5 powerful strategies that you can start implementing in your marketing campaign today to recycle traffic.
Key #1: Make Sure Visitors
Like

Love What They See

This strategy may just be the most important one on this list.

The best way to instantly engage your first-time visitors is to have a design so good their eyes are automatically drawn to it.

They just can't pull away.

There are a few general principles to good blog design, which we'll go through quickly.

Pro tip: if you want an appealing design, DON'T do a single one of these 42 things.
Principle #1: Narrow Content Widths
The first principle is to maintain short content widths, especially on your blog.
Just take a look at this blog. The lines you're reading right now take up less than 70% of the width of the entire page (in the desktop view).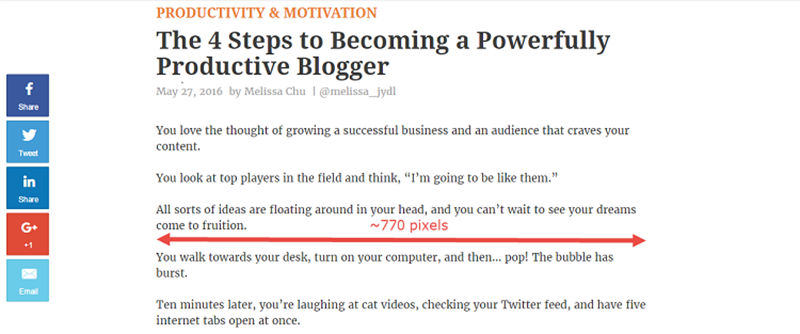 Derek Halpern from Social Triggers actually recommends even narrower content columns, between 400-600 pixels. Take a look at the sort of content width he uses.

Blog engagement hack: set content widths between 480-600 pixels for increased reader engagement.
Click To Tweet
Principle #2: Large Typography
If your readers have to squint or zoom in to actually read your text, then you're doing something wrong.
Large typography is the way to go. Again, just take a look at Mirasee's content—there's clearly no zooming-in, squinting, or screen-pinching required.
Some experts also recommend using sans serif typography on the web instead of serif, but the jury is still very much out on that one. Try both to see what works for your website
Principle #3: Frequent, Well-Formatted Images
You've probably already heard the old adage "a picture is worth a 1000 words." But did you also know that the human brain processes pictures 60,000x times faster than text?
Whoa.
Clearly, if you're not already using visual media frequently, then you're missing out on an additional way to woo your readers.
But poorly formatted images don't help either. If you do choose to use visuals, then make sure it's a clear, relevant image (no blur), and set the image to either take up the entire content width, or 40% of it.
One example of a website that formats its featured images really well is actually one of my favorite blogs, Tom Ewer's Leaving Work Behind.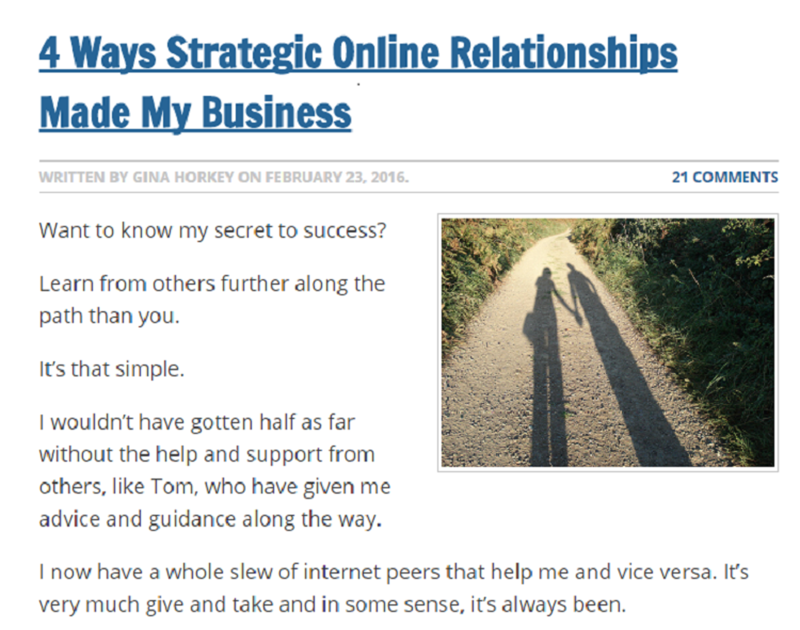 Key #2: Establish Expertise
Another strategy to ensure that your visitors come back a second time is to clearly establish your business's expertise in its industry.
Visitors come to your website primarily for one reason: they want to be educated. They need to know something, and in their eyes, your website should be the one to provide that knowledge.
That's why it's so crucial that your content comes across as authoritative.
You should be the expert, teaching the reader.
You are sharing your wisdom and knowledge in the subject, and that should be evident to your readers right from the get-go.
Now, there is one caveat: if you want to come off as an expert to your readers, then obviously you need to be an expert.
Duh.
So if you don't know what you're talking about, then stop talking about it.
Trust me: your readers will be able to see through the fakery.
Your content should be focused on subject matter that you can discuss from a knowledgeable, experienced standpoint.
In this Problogger article, Tito Philips outlines 5 elements of authoritative content: insight, simplicity, depth, breadth, and relevance. Make sure each one of those elements makes a concrete impression on the you publish.
One easy way to help establish expertise is to forsake wishy-washy theoretical discussions for practical, actionable, straight-from-the-trenches data.
Use statistics and case studies to back up everything you say (did you notice those stats from HubSpot and KISSmetrics further up the article)?
One example of authoritative content is this Mirasee post by Melissa on how to become a more productive blogger.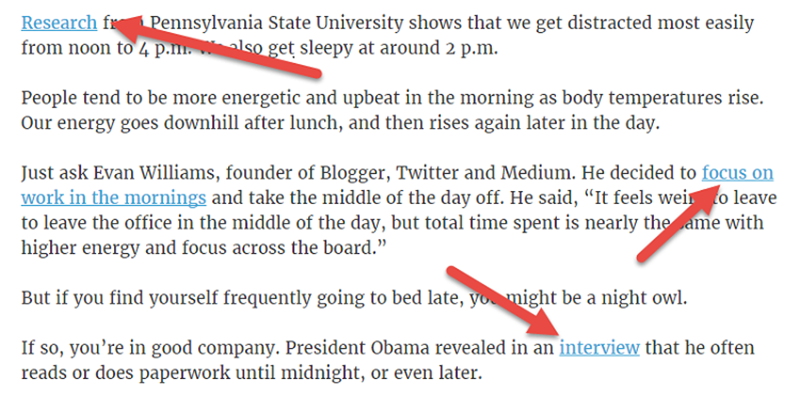 She references research from a respected university, a real-life experience of a business celebrity, and even information from a presidential interview to get a single point across.
That is how you convey authority and build expertise.
Key #3: Put a Face to the Name
Another important way to engage your audience and ensure they come back a second time is to make sure that they know who you are.
In other words, put a face to the name.
Professors from Simon Fraser, McMaster, and College of Charleston universities conducted a study to see how human images with facial characteristics impacts viewers perception of a website.
The study revealed versus website design that incorporate no human images, design with personal pictures were perceived as:
More appealing
More warm/friendly
Having a definite social presence
If you don't have an image of yourself, then you're missing out on a major way to differentiate your personal brand, engage readers, and come across to your audience as more than just another faceless Internet entity.
Let's look at a few examples of people who put a face to the name.
First up is Pat Flynn from Smart Passive Income. The SPI brand, which includes a blog and a podcast, is widely recognized all over the Internet.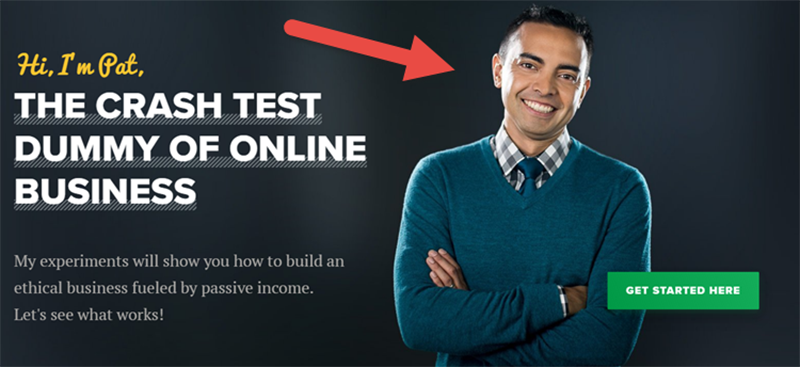 And right on the front page is a K-sized picture of Pat himself. What's more, Pat also regularly includes pictures of himself along with his entire family and occasionally a few friends in his income reports.
Clearly, Pat has gone to significant efforts to make sure that his personality shines through the website.
Another example is Noah Kagan from OkDork. Noah's has founded several successful businesses, and his email list numbers 700,000+.
Like Pat, Noah uses a large image of himself on the home page to engage visitors right from the get-go.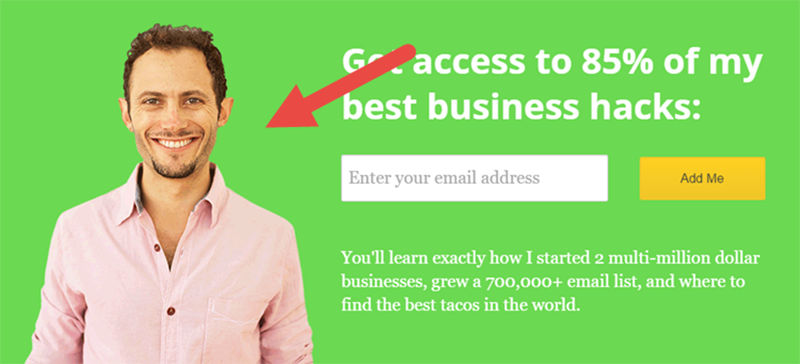 Noah's personality also comes across to readers in other ways as well. His informal writing style and constant reinforcement of his love for tacos help readers connect with him on a personal level.
Key #4: Display Social Proof
This principle is closely tied in with the establishing expertise key. In both instances, the driving idea is that readers feel engaged when they perceive you to be both credible and trustworthy.
As we discussed, conveying authority and expertise in your writing is one way to establish that credibility. Social proof is another.
You're probably already familiar with the term, but I'll quickly define it anyway just in case.
Wikipedia defines social proof as "a psychological phenomenon where people assume the actions of others in an attempt to reflect correct behavior for a given situation."
In simple English, social proof is when you influence readers into a certain path of action by showing them that other people have already taken that path.
Within a website/blog engagement context, social proof is essentially highlighting all of the places you've been, the recognized people/brands you're chummy with, and the number of people who are active on your website/blog.
To see social proof in action, let's go back to Noah Kagan's OkDork. Right below the opt-in box, Noah describes how he already has 700,000+ people on his email list.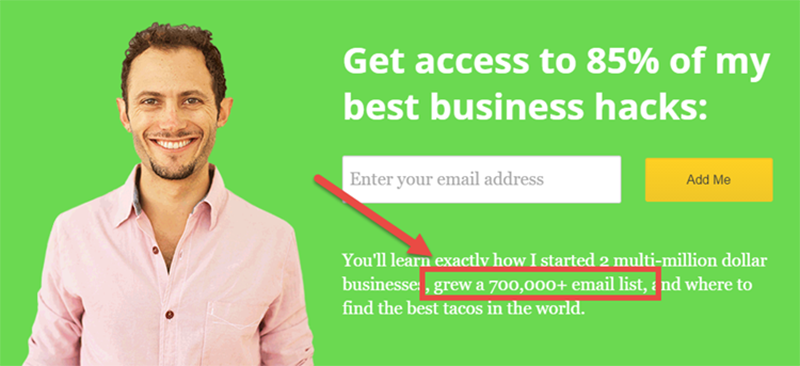 This conveys to first-time visitors that there are tons and tons of people who have already taken the action to subscribe to his list.
Consequently, they become more likely to subscribe to his list and therefore return a second and third time to his website.
Another way to build social proof is to use testimonials, as Brian Dean does on Backlinko's front page.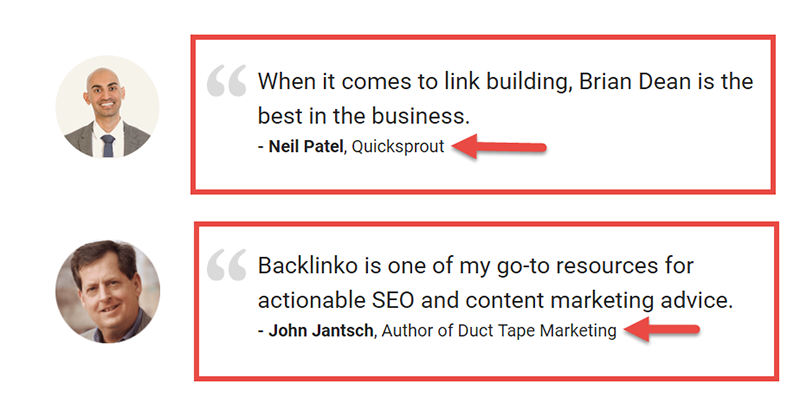 Brian incorporates positive testimonials from two highly recognized names in online marketing—Neil Patel of QuickSprout and John Jantsch of Duct Tape Marketing—to build his credibility.
Key #5: Highlight a Call to Action
The final key to recycling your traffic is highlighting a call to action.
On blogs, calls to action typically ask the reader to do something for the blog, like:
Sharing the post
Commenting on the post
Subscribing for future updates
The theory behind why this kind of CTA works to build engagement and a repeat audience known as the Ben Franklin effect.
The Ben Franklin effect is a psychological phenomenon states that once people have performed a favor for you, they are more likely to perform another favor than if they had received a favor from you.
This seems counterintuitive: after all, shouldn't people be more likely to do something for you after you've done something for them. You know, tit for tat?
Well, as it turns out, our intuition is wrong.
The reasoning behind this effect is that once someone does a favor for you, he/she automatically decides that the reason they performed the favor is because they liked you.
Consequently, there's more of an emotional connect. That effect also carries over into blogging.
Once your readers have engaged with your website in some way by performing some small favor for you (e.g. sharing to social media or commenting), there's an emotional connect, and they become more likely to return to your website.
Mirasee often uses "click to tweet" CTAs to get readers to engage by sharing posts.
The Huffington Post asks readers to subscribe to its newsletter at the end of every post.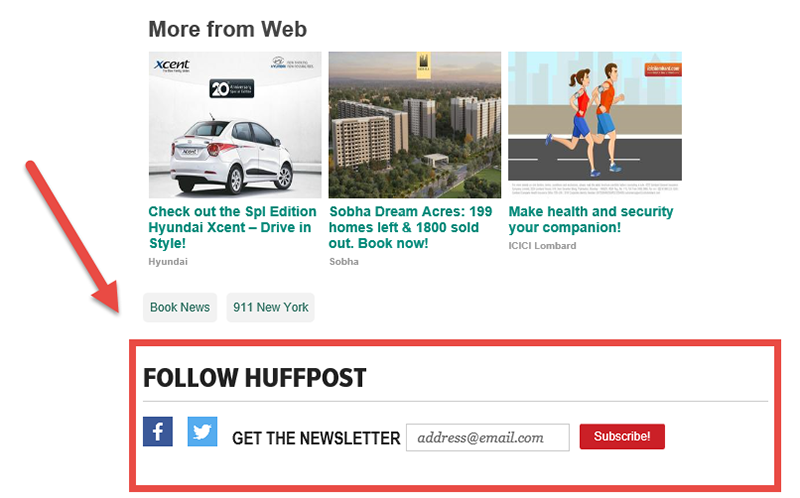 The beauty of this principle is that it's just so simple to put into place.
Adding a CTA at the end of your post to share is as easy as writing an additional 1-2 sentences.
Adding a CTA to subscribe is as simple as formatting an opt-in box.
Summing Up
When you boil it down, building an audience to your blog really isn't complicated at all. In fact, it's a rather straightforward application of the five principles we just discussed:
Attractive design that appeals to viewers.
Authoritative content that positions you as the expert.
Personal images and personable content that put a face to the name.
Social proof that reassures readers of your credibility.
Calls to action that get readers to do something for you.
If you're ready to start building a real audience that will come back to your blog a second, third, and fourth time, then start implementing these strategies to recycle your traffic.
Let us know what you think! Have you tried any of the tips? Do you have your own secrets to return visitors? Let us know in the comments below!
Create Your Loyal Audience (from Scratch!)
Get the guidance and insights from 30 of the world's most successful audience- and community-builders to turn your internet business into a true audience business.