Relationship Marketing Strategies OTHER than Guest Posting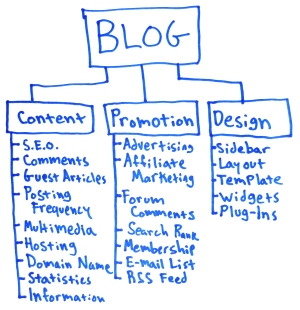 Now, if you've spent any amount of time reading Mirasee, you'll know that we take guest posting pretty seriously.
So seriously that Danny built a name for himself (and, well, this entire business) by becoming an expert in it.
We talk about it a lot, provide a lot of information about how it works and even have a whole program that many of you have taken; dedicated to helping you experience some of the success that we've seen from it.
Guest posting is important. It works. And you should do it.
But it's just one of many relationship marketing strategies you can use to network online.
There are other ways – other valuable and useful ways that you can use to reach out and build relationships with your customers, your community and get more traffic to boot…
If you're participating in the Great Online  Scavenger Hunt, you'll know that a big chunk of the challenges have to do with reaching out and connecting with people: networking and guest posting. ((The Scavenger Hunt is over – but you can check out the results right here!)
In the challenge list we have a few different sorts of networking activities; about pages, reviews, and reaching out to your communities to name a few. I'd like to talk about each of these broader categories for a few moments, and give you a few pointers on how to do more, to see better results.
Informative About Pages
This might seem a little counter-intuitive – what does a static page on your blog or website have to do with networking and relationship building?
We had an awesome guest post last summer about the value of a good about page, and how influential it can be in someone's decision to work with you.
I think Erica Lane was entirely correct in her statements about how you can use your About Page as a powerful marketing tool, and it's very often going to be the link you send to someone when you're making a referral, or vice versa.
You don't have control over when your about page link gets shared, but you have complete control over what is on it and what kind of impression it makes. You might as well make it a good one.
About Pages come in lots of shapes and sizes, but the best give you a real sense of who someone is and what they're trying to do – they have personality.
A video introduction gives people an immediate and thorough sense of who you are – they can put a face to the "voice" they'll come to know and appreciate.
Pictures – of you and relevant images from your life serve a similar function – they provide context for you beyond "service provider."
Testimonials let a new visitor know that other people appreciate what you do – it warms them up to the idea of doing the same.
Consider your About Page a sort of virtual handshake – you want it to be a good one that leaves a lasting favorable impression.
Do you have an awesome About Page? Give us a link to it in the comments!
Hey players – if you want to win 10 bonus points, then leave a comment on this post about  what you could change on your about page based on Erica's post.  (Post a screenshot to your Tumblr and email us the link. Yep – it will also count as a comment on Mirasee!) ((The Scavenger Hunt is over – but you can check out the results right here!))
Networking Through Reviews and Referrals
When you've created something that matters to you – whether it's a book or a business or an amazing blog post or, heck, a really amazing dinner – there is no feeling like someone honestly appreciating it.
Unless it's someone honestly appreciating it publically for other people to see, too.
There's something special about an un-sought positive review or referral: it's not only a helping hand to your business, but a validation that what you're doing matters to someone.
Public reviews serve an important function in new customer and traffic acquisition as well. People trust that reviews and referrals are honest and give a good representation of what an experience with a certain product or service will be like, and if there are a lot of them, it's a good indication of a solid offer.
It's an exponential process:  the more reviews you get, the more people will be willing to take a chance on you – hopefully leading to a relationship where that new customer will soon be leaving positive reviews and sending referrals over.
Even neutral and negative reviews are important:  they give you a chance to "see through your customer's eyes," which can be invaluable as you hone and optimize your products and services.
It's wonderful to receive a good review or referral, especially at the beginning of a business journey – so make someone's day and review their book, send them a customer, or describe an experience you had on Amazon, Yelp, LinkedIn or any of the other places where reviews get together and hang out.
It takes a few minutes of your time, and could really brighten another business owner's day.
Asking the Community for Help
Did you know that we humans are more inclined to like someone if they've asked us for something?
Yep – it's true!
In fact, if you ever have to deal with someone who doesn't like you – one way to start to change their opinion is to ask them for a very small favour.
This happens because holding two opposing ideas in your mind makes you uncomfortable; your brain doesn't like it. If you dislike someone but do them a small favour – like holding a coffee cup, or passing the stapler – your brain goes: "Woah – wait a second – if I don't like this person, I wouldn't do something for them! They must not be so bad…" And a relationship can build from there.
Now, I'm not saying you should start asking your enemies to pet-sit for you while you're on vacation, but I am saying that when you ask someone for help, you're giving another person an opportunity to feel useful and valued, and you're sowing the seeds of a strong relationship built on liking and a genuine desire to see each other get ahead.
That's a wonderful thing!
I've noticed this happening more and more on Mirasee and the different spaces we're occupying. The Audience Business Masterclass Student and Alumni Group is full to bursting with people falling over each other to offer advice, solve problems and generally be handy. The Scavenger Hunt Group questions document is constantly buzzing with people giving their opinions and suggestions on how best to play the game. This strategy is relationship marketing at it's best. 🙂
Even the comments threads on some of our blog posts are overwhelmingly geared towards people helping each other succeed.
It's phenomenal.
Personally, I sometimes find it difficult to ask for help with things – even when I really need it. I have a suspicion that this is a common affliction, so I'd like to encourage you to reach out and ask people in your professional and personal networks to help with "just a little something."
And if someone reaches out to you, keep in mind that saying "yes" to a small thing now could have huge payoffs down the road.
At the end of the day – you want to be using a variety of different techniques to build relationships and drive traffic back to your site. Different techniques will work better or worse for you depending on you, your market and your business – but you should try as many different relationship marketing strategies as you can to see what fits, what works for you, and most importantly – what your audience and peers want from you!
Notes on the Great Online Marketing Scavenger Hunt
(The Scavenger Hunt is over – but you can check out the results right here!)
The Hunt has only been open for a weekend, and we're already inundated with people submitting challenges, reaching out to each other and to elsewhere on the blogosphere. It's pretty exciting, and for the players reading this post – I'd like to invite you to write a blog post about how networking and relationships has helped or will help your business. Post it to your blog and put the link on your Tumblr, OR post it directly to your Tumblr. Email the Tumblr link of the post with the subject line: MY POST ABOUT NETWORKING for 20 points. Tweet it with the hashtag #FPMSCAVHUNT for an extra 5 points!
Who's making the contest possible?
Contributing to the contest as sponsors, we've got Tea Silvestre from the ever popular Prosperity's Kitchen,  Nicole Fende, the Numbers Whisperer, and Lindsey Rainwater, a marketers and podcaster. Check out the prizes to see what you can win from them!
And our gamesmasters are working hard to make sure everyone's points get tallied and excellence is fully rewarded:
Megan Dougherty of Mirasee
Amanda Durepos of Mirasee
Robyn Crump of Mirasee
Thanks sponsors, GamesMasters and especially competitors!
If you're not playing yet – but would like to get in on the fun – register right here!