Are You Making This Critical Mistake With Your Profile and Blog Images?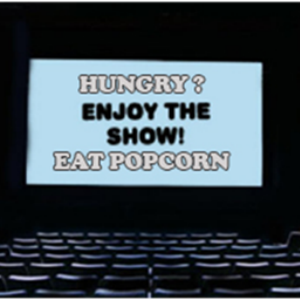 It's funny how, once you become aware of something, it stands out everywhere.
For those of you who are old enough to remember going to the movies, they would flash subliminal messages to get patrons to buy more popcorn.
The message flashed so fast that no one noticed on a conscious level.
Subconsciously it worked so well, the practice was outlawed.
We humans take in a lot of information without the benefit of being conscious about it.
While reading posts on Mirasee, I kept seeing subliminal visual messages of the wrong kind. I just couldn't stand it any longer, so I wrote to Danny about a grievous error he was making.
Low and behold, an invitation to write guest post about this error – which many bloggers and marketers make – appeared in my inbox.
I see this subliminal messaging error all over the internet, all the time. One quick fix can skyrocket your engagement.
The Power of Subliminal Visual Messages
At Marketing Experiments by Meclabs, they did an ABC split test where they showed three different babies crawling along at the top of a web page for a company selling diapers.
The first baby looked straight at you, the second one looked away from the diaper box, and the third looked at the diaper box.
In ABC split testing, the third choice (baby looking at the diaper box) was the overwhelming winner in conversion. The least performing baby looked away from the diaper box.
This heat map of where a viewer's eyes will focus their attention reflects the same results.

This subliminal visual message is very powerful for selling a product. It's equally as powerful if you're trying to get someone to click a search result or read your awesome blog post.
A quick Google search shows two good examples.
In the first example below, Courtney has a warm smile. At the same time, she appears to be giving us the cold shoulder. The message comes across loud and clear: Courtney is turning her back on her own search results.

In this next example, Julie also has a warm smile. By facing the text, she is inviting us to read her page on the search results.

What emotional reaction do you have to these images above? Which one would you naturally gravitate to?
I would argue looking at the subject, as Julie is doing, would be the more powerful message and invoke a more powerful response.
The Image That Drove Me Nuts (And Forced Me to Contact Danny)
When adding an image – whether it's a gravatar, profile image, or an image to reinforce the message of your blog post – consider the emotional impact the image is telling. It may be the right image, but the direction of the image plays a pivotal role.
When I emailed Danny to point out the results of the baby split-testing experiment, he replied that he was familiar with the study. But, he had not made the connection to his own blog posts. Therefore, I get permission to pick on him.
Here is a screenshot of Mirasee's December 2013 Best of the Web post:

Danny has a warm smile, but unfortunatly the subliminal message says something quite different: is he ashamed of his work?
The second subliminal message is that someone is winning by running away from his content. Not exactly his intentions, I would bet.
What Happens When We Flip the Images?

Now Danny has two very powerful subliminal messages working for him.
First, Danny's charming smile is inviting us to read his awesome post. In fact, his post is so awesome that he's reading along with us!
Second, the 3D man wins the race by getting to read the blog post first, and so can you!
Simply flipping the images not only frames the post properly, it also sends a powerful positive message without saying one single word.
Sending a Positive Subliminal Message
Everything we do, online or offline, web or print, should abide by this simple principle: pay attention to the subliminal messages your images are sending.
That is, if you're interested in having the reader take an action – read your content, click a button, go to your landing page from the search engines, etc. – make sure that your images are subliminally communicating a positive message.
I can't guarantee the percentage of lift you'll get in conversions. But I can say that it will provide an increase in the action you want your audience to take.
How to Flip Your Images Left or Right
You may get the desired effect by simply using align-left or align-right on your blog editing panel to make the change.
If you need to flip the image, Photoshop works well. Or, use free software like Gimp. Just drag your image in to Gimp, click on "image" on the top toolbar, select "transform" from the drop-down menu, and then select "flip horizontally."
As long as you don't have any text on the image, you'll be good to go.
Have You Made This Mistake?
Look again at your gravatar, your Facebook profile image, your web content or blog post. Have you made this simple mistake? If you have, fix it.
Your Turn
When you saw Danny look away from his content in the first example, what emotional response did you feel? How about when the 3D man was winning by running away from Danny's content?
I'd love to hear about your response. Post your comment or question below. Be sociable and share.