Your Definition of Making It Is Always Evolving (Danny Iny)
Danny Iny is a serial entrepreneur who runs a business called Mirasee, which serves visionary businesses and entrepreneurs who have something of value to share with their audience. He's also the executive producer of all Mirasee FM Original podcasts.
"Making it is not a permanent state," says Danny. Instead, on your path to making it you're going to stumble and fall, over and over again, until you learn how to not stumble. "It's all a kind of curriculum, a learning opportunity that's really, really important and really powerful," he continues. And it's important to understand that your happiness and fulfillment aren't necessarily tied to your bank account balance. In this episode, Danny shares the story of how he started his entrepreneurial journey as a young boy, and how his view on business success and making it has evolved since becoming a father.
"For me, what matters is the contribution, feeling like I'm making a difference to someone. And growth for myself."

Danny Iny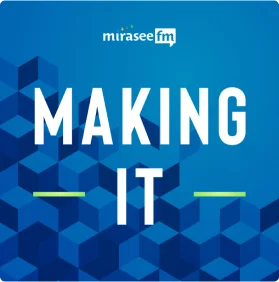 Making It
If you're an online entrepreneur, Making It was made for you. In each episode, real-world entrepreneurs tell their stories in their own words. They define what "making it" means in the busy space of online business. And they reveal what they've learned in their journey toward making it… lessons you can use in your own business.