Unlock Your Best Music Performance (ft. Mark Morley-Fletcher)
In this episode, hosts Danny Iny and Abe Crystal interview Mark about his course "Unlock Your Performance." Mark's course combines elements of evergreen and boot camp to create a seamless hybrid with 1,000 students and counting.In this episode we discuss:
The background and the frustration of not being able to play as well in performance as in practice.
The biggest challenge in making the course successful.
The content of the course and its unique hybrid structure.
Creating a forum and community that provides a safe place to share and perform.
Danny's and Abe's debrief after the interview.
"Because the biggest challenge, I think, for a lot of course creators, is people will often find ways not to do things. It's really easy to kind of get excited about going through the material and then not do the hard stuff of putting it into practice."

Mark Morley-Fletcher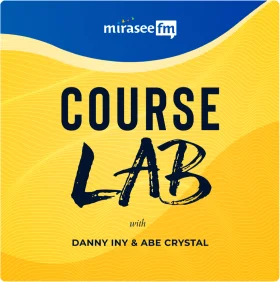 Course Lab
Ever wondered how online courses could be even better? What would that next level look like? Those are the questions driving online course experts Danny Iny (founder of Mirasee) and Abe Crystal (co-founder of Ruzuku) in Course Lab. In each episode, they bring on an innovative course creator and deconstruct what makes their course (and course business) work for them and their students.