The Science of Change (John Austin)
Dr. John Austin is the founder of Reaching Results, a company designed to help business leaders improve safety and leadership. For over 25 years, John has applied his extensive knowledge of behavioral science in the creation of his courses to increase engagement and promote real behavior change, which results in a significant and measurable decrease in workplace injuries.
John's course structure uses a combination of clear expectations, choices and a healthy blend of positive and negative reinforcement. In this episode of Course Lab, Danny, Abe and John discuss how course creators can implement these same components and why they are effective.
In this episode we discuss:
Getting clients to apply techniques and take action.
The impact on engagement rates of offering choices.
How to implement consequences in a positive way.
Using client feedback to make adjustments in your course.
Determining the factors that lead to your ultimate desired outcome.
Danny and Abe's debrief.
"It's really easy to set clear expectations; I think it's much harder to provide consequences."

"When you give people a choice, it increases engagement by 20%, so I built choice in all over the place."

John Austin
Guest Bio:

Dr. John  Austin is an internationally recognized coach to business leaders on safety and human performance. He was a professor of psychology for 15 years at Western Michigan University, where he trained masters and doctoral students, many of whom are professors themselves now.
Dr. Austin and his teams have coached university students and leaders in hundreds of companies in a dozen countries to deliver over 10,000 safety, operations, and quality improvement projects that have generated millions of dollars in improvements.
Dr. Austin has consulted with organizations for 25 years to improve productivity and safety in a wide range of industries. Based on his desire to help as many people at work as possible, he founded Reaching Results in 2008. Reaching Results is a company designed to help people improve safety, leadership, & management.
Resources or websites mentioned in this episode:
Mirasee
John's website
John's LinkedIn
Credits:
Guest: John Austin
Hosts: Danny Iny & Abe Crystal
Producer: Cynthia Lamb
Executive producer: Danny Iny
Assembled by: Geoff Govertsen
Audio Post Supervisor: Evan Miles, Christopher Martin
Audio Post Production: Post Office Sound
Music soundscape: Chad Michael Snavely
If you don't want to miss future episodes of Course Lab, please subscribe to Apple podcasts or Spotify or wherever you're listening right now. And if you liked the show, please leave us a starred review. It's the best way to help us get these ideas to more people.
Music and SFX credits:
Track Title: Bossa BB
Artist Name(s): Marie
Writer Name: Chelsea McGough
Publisher Name: A SOUNDSTRIPE PRODUCTION
Track Title: Grace
Artist Name(s): Shimmer
Writer Name: Matthew Wigton
Publisher Name: BOSS SOUNDSTRIPE PRODUCTIONS
Track Title: Carousel Lights
Artist Name(s): Chelsea McGough
Writer Name: Chelsea McGough
Writer Name: Matthew Wigton
Publisher Name: A SOUNDSTRIPE PRODUCTION
Publisher Name: BOSS SOUNDSTRIPE PRODUCTIONS
Track Title: Coo Coos
Artist Name(s): Dresden, The Flamingo
Writer Name: Matthew Wigton
Publisher Name: A SOUNDSTRIPE PRODUCTION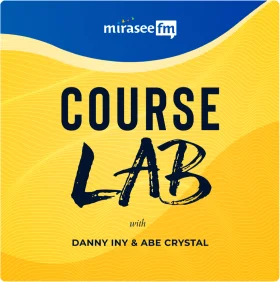 Course Lab
Ever wondered how online courses could be even better? What would that next level look like? Those are the questions driving online course experts Danny Iny (founder of Mirasee) and Abe Crystal (co-founder of Ruzuku) in Course Lab. In each episode, they bring on an innovative course creator and deconstruct what makes their course (and course business) work for them and their students.