"The Golden Key" for Entrepreneurs
Story Coach Lisa Bloom is the go-to expert on business story-telling. For decades she's helped entrepreneurs master this important but overlooked skill. In Once Upon a Business, she's turning her attention from the craft of storytelling to the stories themselves — the densely evocative folk and fairy tales that we're all exposed to.
In each episode of Once Upon a Business, Lisa reads a fairy, folk or traditional tale and then extracts rich business lessons that are applicable for entrepreneurs of all stripes. As she puts it, a tiny tale of nine sentences can encompass worlds.
So, come now. Gather around the fire. Lisa's about to begin….
"And so very often in that place that we clear in entrepreneurship, we clear that space for something new, we find this tiny golden nugget, this tiny, beautiful idea that has potential.

"And then if we can find a way to put it somewhere to do something with it, we can open up this possibility. It's just such a wonderful metaphor for the process we go through as entrepreneurs, to build something brand new."

Lisa Bloom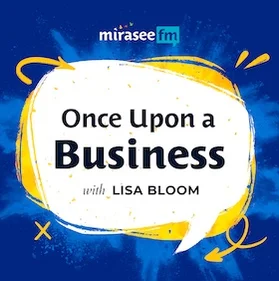 Once Upon A Business
Want to tap into the power of story to grow your business? Once Upon a Business is the podcast for entrepreneurs who believe business material doesn't have to be boring. In each episode, Lisa Bloom (founder of Story Coach) shares an evocative fairy or folk tale... the kind we've all heard since childhood. She then unpacks the story to help listeners find inspiration and creative ways to think about business.