The Exponential Power of a Group (Jackie Roberge)
In this episode of Course Lab, Danny and Abe discuss Jackie's course and explore how she successfully leverages interactive group coaching in order to help clients develop concrete and impactful purpose statements. Jackie explains how she discovered that group coaching is far more empowering than individual coaching and how she utilizes laser-focused sessions and guided visualization to help clients tap into their vision, passion, and purpose.
In this episode we discuss:
How to ensure that the roadmap for her course "Purpose, Values & Vision" will be successful at the end.
Why challenging limiting beliefs in the first session is an important step in the course.
How she found out that group coaching was MORE impactful than one-on-one coaching, and in what way.
How letting the students write down their purpose statements and go through guided visualizations help them tap more strongly into their vision, passion, and purpose.
Danny and Abe's debrief after the interview
"The feeling capacity of people is really the way to get and to stay on the purpose path. Thinking is overrated. Sensing is much more powerful." 

Jackie Roberge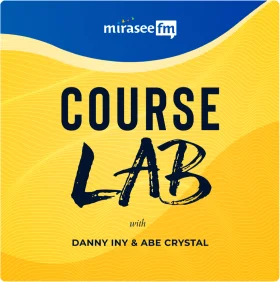 Course Lab
Ever wondered how online courses could be even better? What would that next level look like? Those are the questions driving online course experts Danny Iny (founder of Mirasee) and Abe Crystal (co-founder of Ruzuku) in Course Lab. In each episode, they bring on an innovative course creator and deconstruct what makes their course (and course business) work for them and their students.