The Exponential Power of a Group (Jackie Roberge)
Conventional wisdom might say that Jackie's experiential course material must be taught at an in-person retreat, but Jackie has developed a method that enables her to bring that material to a group online. This method forms the basis of her six-week online course "Purpose, Values & Vision," in which Jackie helps clients to channel the passion, energy, and drive that comes from living a purpose-driven life.
In this episode of Course Lab, Danny and Abe discuss Jackie's course and explore how she successfully leverages interactive group coaching in order to help clients develop concrete and impactful purpose statements. Jackie explains how she discovered that group coaching is far more empowering than individual coaching and how she utilizes laser-focused sessions and guided visualization to help clients tap into their vision, passion, and purpose.
In this episode we discuss:
How to ensure that the roadmap for her course "Purpose, Values & Vision" will be successful at the end.
Why challenging limiting beliefs in the first session is an important step in the course.
How she found out that group coaching was MORE impactful than one-on-one coaching, and in what way.
How letting the students write down their purpose statements and go through guided visualizations help them tap more strongly into their vision, passion, and purpose.
Danny and Abe's debrief after the interview
"The feeling capacity of people is really the way to get and to stay on the purpose path. Thinking is overrated. Sensing is much more powerful."

Jackie Roberge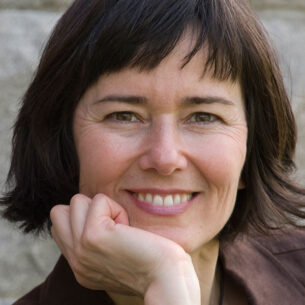 Guest Bio: Jackie Roberge is a Leadership Coach and Facilitator at Business & Beyond. She is dedicated to helping clients experience the passion, energy, and drive that comes from living a purpose-driven life. Driven leaders work with her to move beyond corporate ambition and profits and get clear on their big, purposeful contributions.
Jackie used to work in the corporate world and found herself wondering… is this all there is? Marketing and strategic planning were not her end game. She wanted to contribute more, make a bigger impact, and feel more passion and fulfillment. So she pursued TM (Transcendental Meditation) and started meditating twice a day, which had an immediate impact on her health, stress level, and emotions.
She later took a coaching program and discovered that her purpose involves helping others get clear on their purpose. Through her coaching, she noticed that most people don't consciously reflect on the impact or contribution they want to make AND how to find the time and energy to focus on it. Leaders often get swept away by corporate objectives and agendas and they can lose sight of their own north star.
Using the analogy of strategic planning in her leadership coaching, Jackie helps leaders develop a PERSONAL strategic or whole life plan in order to help them step fully into their most authentic and impactful roles in their work and personal lives.
Life vision – what you want your personal and professional life to be in 5 to 10 years
Key values – that guide your decisions & align your priorities
Purpose – the meaningful contribution you are here to make
Goals and purposeful habits (like Key success factors) – to help you step fully into your most authentic and impactful roles at work, at home, and in your communities.
Resources or websites mentioned in this episode:
Credits:
Guest – Jackie Roberge
Hosts – Danny Iny & Abe Crystal
Producer – Cynthia Lamb
Executive producer – Danny Iny
Writer – Michi Lantz and Cynthia Lamb
Assembled by – Geoff Govertsen
Audio Post Supervisor: Evan Miles, Christopher Martin
Audio Post Production by Post Office Sound
Music soundscape: Chad Michael Snavely
If you don't want to miss future episodes of Course Lab, please subscribe to Apple podcasts, Spotify or wherever you're listening right now. And if you liked the show, please leave us a starred review. It's the best way to help us get these ideas to more people.
If you have a question for Course Lab, put the show title in the subject line and send it to podcasts@mirasee.com
Music and SFX credits: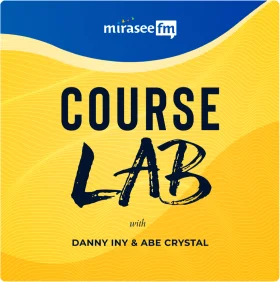 Course Lab
Ever wondered how online courses could be even better? What would that next level look like? Those are the questions driving online course experts Danny Iny (founder of Mirasee) and Abe Crystal (co-founder of Ruzuku) in Course Lab. In each episode, they bring on an innovative course creator and deconstruct what makes their course (and course business) work for them and their students.