Success Going Solo (Kevin Donlin)
Enamored with Thomas Edison from an early age, Kevin Donlin dreamed his future would center around working solo and for himself. For Kevin, this is the definition of making it — and he's doing just that, as a copywriter and marketing advisor.
Welcome to Making It! This weekly show explores the lives and stories of entrepreneurs as they share their unique perspectives on their success and the path to making it.
Kevin Donlin is the founder of Client Cloning Systems and has helped nearly 1,300 entrepreneurs and business owners land their ideal clients.
"I think the dumb simple secret of my success is I've just never quit."Kevin Donlin
Kevin Donlin has been involved in marketing since 1994, when he sold one of the first ebooks online, payable by check and you had to mail it to a post office box. That was e-commerce in the beginning! From 1995 to 1998, he was Webmaster for FedEx.com, where he worked with the pioneers of online marketing.
Since 1998, he's been a copywriter and marketing advisor for clients in North America, delivering sales gains of more than $1 million on multiple occasions with direct mail and online marketing. He's been interviewed by ABC-TV, Fox News, NBC News, CBS Radio in Los Angeles and New York, The Wall Street Journal, New York Times, Fortune magazine, Entrepreneur magazine, and too many others to list here.
He's the author or co-author of five books on marketing, and he's always up for sharing some of his latest tips and tactics to grow your business.
Resources or websites mentioned in this episode:
Mirasee
Kevin's website: ClientCloningSystems.com
Credits:
Co-producers: Danny Bermant and Geoff Govertsen
Supervising Producer: Cynthia Lamb
Executive Producer: Danny Iny
Audio Post Supervisors: Evan Miles and Christopher Martin
Audio Post Production: Post Office Sound
Music Soundscape: Chad Michael Snavely
Making our hosts sound great: Home Brew Audio
Music credits:
Track Title: The Sunniest Kids
Artist Name: Rhythm Scott
Writer Name: Scott Roush
Publisher Name: A SOUNDSTRIPE PRODUCTION

Track Title: Love and Circumstance
Artist Name: Shimmer
Writer Name: Matthew Wigton
Publisher Name: A SOUNDSTRIPE PRODUCTION
Track Title: Ever After
Artist Name: Markus Huber
Writer Name: Markus Huber
Publisher Name: A SOUNDSTRIPE PRODUCTION
Track Title: Hoping
Artist Name: Markus Huber
Writer Name: Markus Huber
Publisher Name: A SOUNDSTRIPE PRODUCTION
Special effects credits:
24990513_birds-chirping_by_promission used with permission of the author and under license by AudioJungle/Envato Market.
To catch the great episodes coming up on Making It, please follow us on Mirasee FM's YouTube channelor your favorite podcast player. And if you enjoyed the show, please leave us a comment or a starred review. It's the best way to help us get these ideas to more people.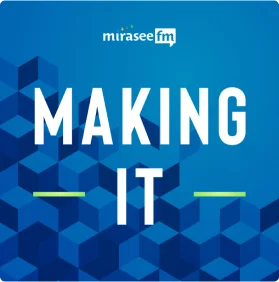 Making It
If you're an online entrepreneur, Making It was made for you. In each episode, real-world entrepreneurs tell their stories in their own words. They define what "making it" means in the busy space of online business. And they reveal what they've learned in their journey toward making it… lessons you can use in your own business.