Somatic Course Design (Anne Bishop & Chantill Lopez)
In this episode, a dynamic duo offers a unique approach to course creation normally reserved for in-person classes. Anne Bishop and Chantill Lopez bring a fresh new perspective for helping students succeed using practices of mind-body connection.
Anne Bishop and Chantill Lopez are the creators of The Embodied Course Creation Program. They help embodied movement teachers design courses that can be completed entirely online.
In this episode we discuss:
Getting past mindset barriers to open up new opportunities in course creation.
What are embodied practices?
Stepping into embodied practices in online courses.
Designing variability into your course to give students a range of learning opportunities.
Using body-based and somatic techniques to move students forward.
How to use pre-course preparations to increase engagement and completion rates.
Understanding embodied cognition to create a more complete experience.
The power of partnering to create a more dynamic and lucrative course.
"One of the most powerful components of embodiment, is that it's not necessarily that you're moving, but that you're sensing."Anne Bishop
"And the truth is, specifically for a movement practitioner, if you are constantly putting your hands on somebody, they are reliant on your feedback to make choices and decisions that hold your students hostage to your expertise."Chantill Lopez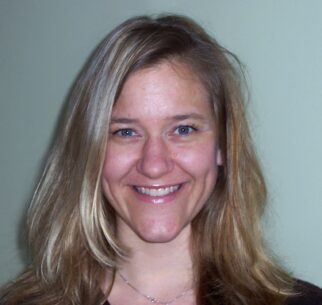 Anne's love of teaching began in grade school when she supported other students in math and ballet class. She has over 20 + years of educating Pilates and movement leaders working with a range of clients from Olympic Athletes for the 2008 Beijing Olympics to connecting brain science to movement practice for professionals working in rehabilitation. As a forward thinker, Anne weaves the principles of education, embodiment, and entrepreneurship to support others in building businesses and lifestyles that design for more time and financial freedom.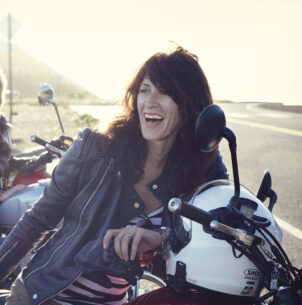 Chantill is a 20-year movement educator, international presenter, and mentor. She is the founder of the education company, Skillful Teaching, the creator of the Thinking Pilates Podcast and author of two books on teaching, Moving Beyond Technique, and soon to be released Teaching (Movement) Matters (2020).
Chantill's work currently focuses on teaching and learning from the whole-person and whole-body perspective, drawing from brain-based learning frameworks, motivation and communication science, somatic and humanistic psychology, and other cutting edge models such as the Polyvagal Theory and those promoting full-body tissue integration, fascial-oriented training, and nervous system regulation. She's recently created and launched a new teaching framework called Integrative Movement Facilitation.
Chantill is a master trainer for one of the largest Pilates education companies in the world, Balanced Body Inc, a featured presenter for Fusion Pilates EDU, and the creator of one of Pilates Metrics' original movement libraries.
Her BIG PASSION is supporting movement teachers of all kinds in taking their work to the next level both personally and professionally through two flagship projects: the Skillful Teaching Mentorship Program and the Science + Psychology of Teaching Master's Program
Resources or websites mentioned in this episode:
Mirasee
Anne & Chantill's Facebook
Anne's Facebook
Chantill's LinkedIn
Credits:
Guests: Anne Bishop & Chantill Lopez
Hosts: Danny Iny & Abe Crystal
Producer: Cynthia Lamb
Executive producer: Danny Iny
Assembled by: Geoff Govertsen
Audio Post Supervisor: Evan Miles, Christopher Martin
Audio Post Production: Post Office Sound
Music soundscape: Chad Michael Snavely
Making our hosts sound great: Home Brew Audio
If you don't want to miss future episodes of Course Lab, please subscribe to Apple podcasts or Spotify or wherever you're listening right now. And if you liked the show, please leave us a starred review. It's the best way to help us get these ideas to more people.
Music and SFX credits:
Track Title: Bossa BB
Artist Name(s): Marie
Writer Name: Chelsea McGough
Publisher Name: A SOUNDSTRIPE PRODUCTION
Track Title: Grace
Artist Name(s): Shimmer
Writer Name: Matthew Wigton
Publisher Name: BOSS SOUNDSTRIPE PRODUCTIONS
Track Title: Carousel Lights
Artist Name(s): Chelsea McGough
Writer Name: Chelsea McGough
Writer Name: Matthew Wigton
Publisher Name: A SOUNDSTRIPE PRODUCTION
Publisher Name: BOSS SOUNDSTRIPE PRODUCTIONS
Track Title: Coo Coos
Artist Name(s): Dresden, The Flamingo
Writer Name: Matthew Wigton
Publisher Name: A SOUNDSTRIPE PRODUCTION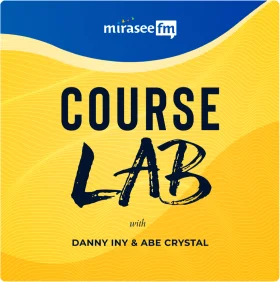 Course Lab
Ever wondered how online courses could be even better? What would that next level look like? Those are the questions driving online course experts Danny Iny (founder of Mirasee) and Abe Crystal (co-founder of Ruzuku) in Course Lab. In each episode, they bring on an innovative course creator and deconstruct what makes their course (and course business) work for them and their students.