ShouldaWouldaCoulda – How to Motivate Your Coaching Clients to Take Action (Micène Fontaine)
In this episode of Just Between Coaches, senior coach and host Melinda Cohan invites her coaching colleague, Micène Fontaine, an entrepreneur at Designarts.org, and a former ACES coach at Mirasee, to address this common coaching challenge. During this session, they'll discuss how coaches can help their clients tackle the very common habit of should-ing.
In this episode we discuss:
Why do we "should" all over ourselves?
Whose story are you telling when you "should" yourself?
How does it help to take the BMW (bitch, whine, moan) around the block?
Does the habit of should-ing differ depending on demographics?
"It's a very cathartic way of letting go of those stories that are not ours."

Micène Fontaine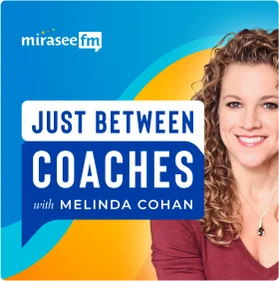 Just Between Coaches
This show is like Oprah's couch, where conversations cut straight to the heart of the topic, but... it's only for coaches! Melinda Cohan of the Coaches Console explores the tough questions coaches face on a regular basis. With a new guest host each episode, Melinda provides tactical advice and strategies to address issues like "How do I deal with price resistance?" and "Should I fire my client?"