Publicity (Larissa Banting)
Accredited publicist Larissa Banting discusses how to find, get and leverage free publicity in media channels to help you rapidly develop your authority, increase your visibility with an audience full of your ideal clients, and grow your income.
Larissa Banting is an accredited publicist who helps entrepreneurs, authors and small business owners learn how to profit from free media features. She's also had the experience of "blowing up" through PR while running a destination wedding business.
Hosts Linda Claire Puig and Ari Iny explore with Larissa how to garner publicity through media both small and large—and how to target the right publications and podcasts to grow your visibility with an audience full of your ideal clients.
In this episode, we discuss:
A simple approach to finding, getting, and leveraging free publicity in big media channels, to rapidly develop your authority and grow your income
How Larissa took her destination wedding business from "completely unknown" to being listed in a "Top 30 Destination Wedding Planners in the World" list (hint: it's all about publicity)
Why the smaller, easier-to-get publicity spots actually give you access to the most passionate people—and where to find these opportunities
And much more!
"Don't discount the power of smaller podcasts and blogs and media outlets. That's where the people who are really interested in what you're doing are hanging out."Larissa Banting
After a career as a professional dancer, Larissa Banting turned her creativity to marketing and public relations. One of only a handful of professionals to be accredited by the Canadian Public Relations Society, her past clients include The City of St. Albert, Bombay Sapphire Gin, the Northern Alberta International Children's Festival, Nelvana, CBC and CTV networks. After moving to Costa Rica to be with her husband, she opened one of the first destination wedding planning firms in Central America and within four years had been named Top 30 Destination Wedding Planners in the World. Banting is the author of the best-selling Costa Rica—The Bradt Guide. She is also a ManyChat Agency Partner, was the creative head of a luxury men's underwear company and is the CMO of the woman's shapewear company, Lovable Curves.
Resources or websites mentioned in this episode:
Mirasee
6-Figure Newsletters
Larissa's website
Larissa's free gift
Credits:
Hosts: Linda Claire Puig & Ari Iny
Producer: Linda Claire Puig
Managing Producer: Cynthia Lamb 
Executive producer: Danny Iny
Audio Post Supervisor: Evan Miles, Christopher Martin
Audio Post Production: Post Office Sound
Music soundscape: Chad Michael Snavely
Making our hosts sound great: Home Brew Audio
If you don't want to miss future episodes of Blowing Up, please subscribe to Apple podcasts or Spotify or wherever you're listening right now. And if you liked the show, please leave us a starred review. It's the best way to help us get these ideas to more people.
Music and SFX credits: 
Track Title: Sunny Side Up
Artist Name(s): Neon Beach
Writer Name: Aaron Sprinkle
Publisher Name: A SOUNDSTRIPE PRODUCTION
Track Title: Presence
Artist Name(s): Mikey Geiger
Writer Name: Michael Thomas Geiger
Publisher Name: BOSS SOUNDSTRIPE PRODUCTIONS
Track Title: Coo Coos
Artist Name(s): Dresden, The Flamingo
Writer Name: Matthew Wigton
Publisher Name: A SOUNDSTRIPE PRODUCTION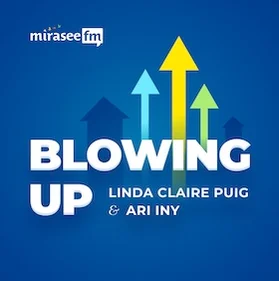 Blowing Up
"What's their secret?" If you've ever looked at a highly successful entrepreneur and asked that question, Blowing Up is your chance to get the answer! In each episode of the podcast, Linda Claire Puig and Ari Iny ask a top entrepreneur to share the details behind the one strategy that exploded their income and impact the most. You'll discover proven and tested ways to make more sales, grow your audience, connect with partners, expand into new areas, and more!