Presenting For Better or For Work (Michael & Amy Port)
Co-producer Geoff Govertsen introduces For Better or For Work, a new podcast in the Mirasee FM podcast network. In this episode, guest couple Michael and Amy Port listen and respond to Danny Iny and Bhoomi Pathak discussing the separation of roles for a couple in business together.
Mirasee owners Danny Iny and Bhoomi Pathak tackle the unique challenges as well as benefits of working with a spouse or significant other. Each episode features a guest couple who also share their experiences, perspectives and hard-earned wisdom. In this second episode in For Better or For Work, Michael and Amy Port address the business/personal aspect of who does what and when.
"We do just have a ridiculous amount of fun together."Amy Port
"We had been working together for years before we became a couple, so we already had some of those work roles, responsibilities, even rhythms and routines in place."Michael Port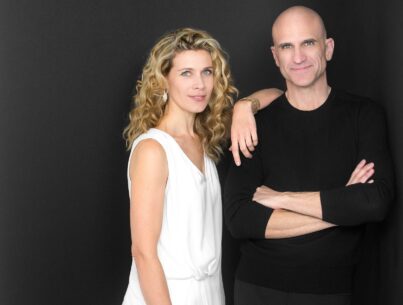 Michael Port has written nine books which have been featured on the bestseller lists of the NY Times, Wall Street Journal, USA Today and Publisher's Weekly and have been selected by Amazon and 800-CEO-READ as "best books of the year."
He was once a professional actor, having received his MFA from NYU's Graduate Acting Program, guest starring on shows like Sex & The City and Law & Order, and in films like The Pelican Brief and Down to Earth. These days, Michael can be seen on MSNBC, CNBC, and PBS as an on air expert in communication and business development and as the host of the most popular podcast on public speaking and performance, Steal the Show with Michael Port.
Amy Port is the Co-Founder and President of Heroic Public Speaking; her work extends from the execution of corporate training packages, to development of CEO keynotes, private masterclasses and coaching.
After earning her MFA in Acting from The Yale School of Drama, Amy spent years acting professionally in theaters such as Seattle Repertory, Oregon Shakespeare and Yale Rep, and working consistently in commercials. She now applies the skills of performance that only well-trained actors know to the coaching of 'non-actors' looking to crush their sales presentations, to make their voices heard in TED Talk style presentations, and to take the big stage keynoting major conferences.
Resources or websites mentioned in this episode:
Mirasee
Michael and Amy Port's website: HeroicPublicSpeaking.com
Heroic Public Speaking LinkedIn
Michael Port's LinkedIn
Amy Port's LinkedIn
Michael's books
Michael & Amy's TEDx Talk
Credits:
Guest: Michael and Amy Port
Host: Danny Iny and Bhoomi Pathak
Producer: Cynthia Lamb
Executive producer: Danny Iny
Scripted and assembled by: Geoff Govertsen and Michi Lantz
Audio Post Supervisor: Evan Miles, Christopher Martin
Audio Post Production: Post Office Sound
Music soundscape: Chad Michael Snavely
Making our hosts sound great: Home Brew Audio
If you don't want to miss future episodes of For Better or For Work, please subscribe to Apple podcasts or Spotify or wherever you're listening right now. And if you liked the show, please leave us a starred review. It's the best way to help us get these ideas to more people.
Music and SFX credits:
Track Title: A New Adventure
Artist Name(s): Reveille
Publisher Name: BOSS SOUNDSTRIPE PRODUCTIONS
Track Title: Lift It Up and Feel Good
Artist Name(s): Rhythm Scott
Publisher Name: BOSS SOUNDSTRIPE PRODUCTIONS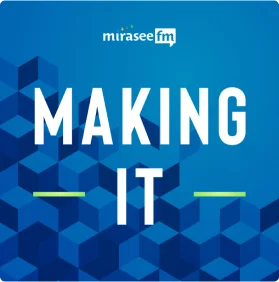 Making It
If you're an online entrepreneur, Making It was made for you. In each episode, real-world entrepreneurs tell their stories in their own words. They define what "making it" means in the busy space of online business. And they reveal what they've learned in their journey toward making it… lessons you can use in your own business.