Natural Weight Loss to Achieve Sustainable Results (ft. Jill Cruz)
In this episode, Course Lab hosts Danny Iny and Abe Crystal take a closer look at her course "Work With Your Nature Weight Loss." The six-month program/course teaches women how to lose weight in a sustainable and enjoyable way without feeling deprived – and keep it off for the long term. They also discuss Jill's approach to creating a popular course that stands out from all the others in your niche, and share her efficient strategies for success.
In this episode we discuss:
Her background and her own unhealthy eating disorder.
The success of the first pilot and the iterations
The content of the course, how she structures it, and how she made it cost-efficient.
The combination of the diet app and Loom videos for feedback
Danny's and Abe's debrief after the interview
"I want to sell them into the course, but only if it's the right course for them. If it's the right program for them."

Jill Cruz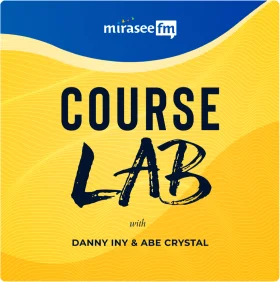 Course Lab
Ever wondered how online courses could be even better? What would that next level look like? Those are the questions driving online course experts Danny Iny (founder of Mirasee) and Abe Crystal (co-founder of Ruzuku) in Course Lab. In each episode, they bring on an innovative course creator and deconstruct what makes their course (and course business) work for them and their students.