Making It Is a Way of Living (Molly Mahoney)
Episode summary: This week, we sit down with Molly Mahoney, a long-time actress who runs a business called The Prepared Performer. In her business, Molly helps experts and entrepreneurs to grow and monetize their visibility using live video, organic traffic, social media, and automation that drives more human connections.
For Molly, making it isn't about the money but is more "a way of living than a result." In this episode, she shares her stories of waiting in line for early morning Broadway auditions, fully made-up and ready to go at 4 AM. She takes us through the "Starving Artist" phase (not her own, but the ones she helped others through), all the way to her trending at-home-cruise photoshoots, as well as sharing the many lessons she's learned on her journey to becoming an entrepreneur.
"It's really about diving in and figuring out who you are, and then putting that out into the world."

Molly Mahoney
Resources or websites mentioned in this episode:
Credits:
Guest – Molly Mahoney
Associate producer – Danny Bermant
Producer – Cynthia Lamb
Executive producer – Danny Iny
Assembled by – Geoff Govertsen
Audio Post Supervisor: Evan Miles, Christopher Martin
Audio Post Production by Post Office Sound
Music soundscape: Chad Michael Snavely
Call-to-action: If you don't want to miss future episodes of Making It, please subscribe to Apple podcasts or Spotify or wherever you're listening right now. And if you liked the show, please leave us a starred review. It's the best way to help us get these ideas to more people.
If you have a question for Making It, put the show title in the subject line and send it to podcasts@mirasee.com.
Music and SFX credits:
Track Title: Pizzenuto
Artist Name(s): Avocado Junkie
Writer Name: S.L.J. Kalmeijer
Publisher Name: A SOUNDSTRIPE PRODUCTION
Track Title: Sweet Loving Waltz
Artist Name(s): Sounds Like Sander
Writer Name: S.L.J. Kalmeijer
Publisher Name: A SOUNDSTRIPE PRODUCTION
Track Title: The Sunniest Kids
Artist Name(s): Rhythm Scott
Writer Name: Scott Roush
Publisher Name: A SOUNDSTRIPE PRODUCTION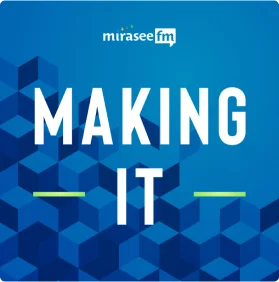 Making It
If you're an online entrepreneur, Making It was made for you. In each episode, real-world entrepreneurs tell their stories in their own words. They define what "making it" means in the busy space of online business. And they reveal what they've learned in their journey toward making it… lessons you can use in your own business.