Making It Every Day (Tom Schwab)
Growing up in a family ethos of stability, Tom Schwab felt there had to be more to the world. So he took a chance at starting his now-successful business, following the mantra that life is a journey, not a destination — and making it happens every day.
Welcome to Making It! This weekly show explores the lives and stories of entrepreneurs as they share their unique perspectives on their success and the path to making it.
Tom Schwab is the founder and CEO of Interview Valet, which helps entrepreneurs market their businesses through being a guest on podcasts.
"Every time I wake up in the morning, excited about what I get to do, I'm making it."Tom Schwab
Tom Schwab is the founder and CEO of Interview Valet, a military veteran, entrepreneur, and podcast interview marketing pioneer. He is also the author of Podcast Guest Profits: Grow Your Business with a Targeted Interview Strategy and One Conversation Away: A Manifesto for a Rich Life and a Profitable Business. Has successfully built several online businesses and now helps others find online success with podcast interview marketing.

Marketing at its heart is starting a conversation with someone who could be an ideal customer. Tom helps thought leaders (coaches, authors, speakers, consultants, emerging brands) get featured on leading podcasts their ideal prospects are already listening to. The Interview Valet system then helps them to turn listeners into customers. Hear Tom's interview HERE on the Eventual Millionaire podcast.
Resources or websites mentioned in this episode:
Mirasee
Tom's website: InterviewValet.com/MakingIt
Credits:
Co-producers: Geoff Govertsen and Cassandra Topperwien
Supervising Producer: Cynthia Lamb
Audio Editor: Marvin del Rosario
Executive Producer: Danny Iny
Music Soundscape: Chad Michael Snavely
Making our hosts sound great: Home Brew Audio
Music credits:
Track Title: The Sunniest Kids
Artist Name: Rhythm Scott
Writer Name: Scott Roush
Publisher Name: A SOUNDSTRIPE PRODUCTION
Track Title: Love and Circumstance
Artist Name: Shimmer
Writer Name: Matthew Wigton
Publisher Name: A SOUNDSTRIPE PRODUCTION
Track Title: Instant Calme
Artist Name: Moments
Writer Name: Adrian Dominic Walther
Publisher Name: A SOUNDSTRIPE PRODUCTION
Special effects credits:
24990513_birds-chirping_by_promission used with permission of the author and under license by AudioJungle/Envato Market.
To catch the great episodes coming up on Making It, please follow us on Mirasee FM's YouTube channelor your favorite podcast player. And if you enjoyed the show, please leave us a comment or a starred review. It's the best way to help us get these ideas to more people.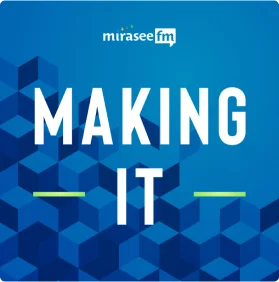 Making It
If you're an online entrepreneur, Making It was made for you. In each episode, real-world entrepreneurs tell their stories in their own words. They define what "making it" means in the busy space of online business. And they reveal what they've learned in their journey toward making it… lessons you can use in your own business.