LinkedIn Ads (AJ Wilcox)
LinkedIn ads pro AJ Wilcox discusses LinkedIn ad strategies that can put the right offers from your business in front of the right audience—at the right time—and what to do before you even spend a dime on LinkedIn ads.
AJ Wilcox is a LinkedIn ads pro and founder of the LinkedIn ad agency B2Linked. He's also managed 5 of the world's top 10 LinkedIn ads accounts.
Hosts Linda Claire Puig and Ari Iny explore with AJ the best time to start using Linked ads and how to put yourself in the best possible position for great results from them.
In this episode, we discuss:
One thing LinkedIn's ad platform has that Facebook's more sophisticated advertising algorithm can't compete with (especially if your offer has a premium price tag)
Why "cost per click" can be a misleading metric, and how LinkedIn advertising maximizes your "cost per closed deal" instead
The crucial strategies to employ before spending on LinkedIn ads.
And much more!
"How do I grow the fastest? That's going to be spending some time organically coming up with good content and lead magnets that people are going to want and then amplifying that message to exactly the right audiences, especially using LinkedIn ads."AJ Wilcox
AJ Wilcox is a LinkedIn Ads pro who founded B2Linked.com, THE LinkedIn Ads agency, in 2014. He's managed over $150M in spend on the platform, they're official LinkedIn partners, he's host of the LinkedIn Ads Show podcast, and has managed 5 of the world's top 10 LinkedIn Ads accounts. He's a ginger & triathlete. He lives in Utah with his beautiful wife and 5 adorable kids, and his company car is a wicked-fast gokart.
Resources or websites mentioned in this episode:
Mirasee
6-Figure Newsletters
AJ's website
AJ's free gift
Credits:
Hosts: Linda Claire Puig & Ari Iny
Producer: Linda Claire Puig
Managing Producer: Cynthia Lamb 
Executive producer: Danny Iny
Audio Post Supervisor: Evan Miles, Christopher Martin
Audio Post Production: Post Office Sound
Music soundscape: Chad Michael Snavely
Making our hosts sound great: Home Brew Audio
If you don't want to miss future episodes of Blowing Up, please subscribe to Apple podcasts or Spotify or wherever you're listening right now. And if you liked the show, please leave us a starred review. It's the best way to help us get these ideas to more people.
Music and SFX credits: 
Track Title: Sunny Side Up
Artist Name(s): Neon Beach
Writer Name: Aaron Sprinkle
Publisher Name: A SOUNDSTRIPE PRODUCTION
Track Title: Presence
Artist Name(s): Mikey Geiger
Writer Name: Michael Thomas Geiger
Publisher Name: BOSS SOUNDSTRIPE PRODUCTIONS
Track Title: Coo Coos
Artist Name(s): Dresden, The Flamingo
Writer Name: Matthew Wigton
Publisher Name: A SOUNDSTRIPE PRODUCTION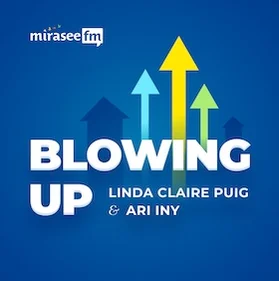 Blowing Up
"What's their secret?" If you've ever looked at a highly successful entrepreneur and asked that question, Blowing Up is your chance to get the answer! In each episode of the podcast, Linda Claire Puig and Ari Iny ask a top entrepreneur to share the details behind the one strategy that exploded their income and impact the most. You'll discover proven and tested ways to make more sales, grow your audience, connect with partners, expand into new areas, and more!