Learn to Teach (Jonathan Levi)
As a young adult, Jonathan Levi discovered he had a knack for learning and entrepreneurship. And in combining those, he found success as an online teacher. From Udemy to YouTube, Jonathan shares his experience engaging students in the learning journey.
Jonathan Levi is a serial entrepreneur, author, speaker, and founder of SuperHuman Enterprises. Jonathan's media products have been enjoyed by over 350,000 people in 205 countries and territories.
In this episode, Danny and Abe talk with Jonathan about his journey through many platforms of teaching, covering in particular:
The evolution of courses and online platforms over the past decade
Implementing interactive learning into an online course
Andragogy: the science of adult learning
The importance of "why" as the foundation of the learning process
YouTube as a way to demonstrate expertise and acquire students
"The adult brain learns differently than the child's brain. And one of the most important, if not the most important thing… is that adults need to know why [they're learning]."Jonathan Levi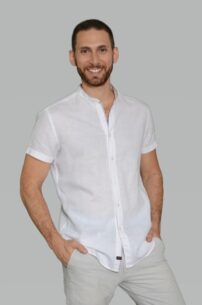 Jonathan Levi is a serial entrepreneur, bestselling author, and keynote speaker born and raised in Silicon Valley. At the age of 16, he started an e-commerce company that would go on to become one of Inc.'s 5,000 fastest growing companies in America before being sold in 2011.
Starting in 2014, Jonathan has been one of the top-performing instructors on online learning platform Udemy. He then snowballed this success into the launch of his rapidly growing information products company, SuperHuman Enterprises. The company produces such products as the award-winning SuperHuman Academy Podcast; the bestselling "Become a SuperLearner®" print, digital, and audio books; and numerous other online courses through its portals, SuperHuman Academy® and Branding You™ Academy. SuperHuman now counts more than 350,000 people as customers in nearly every country around the world.
In 2022, Jonathan sold his personal development brands and portfolio to online education company Mirasee, with the intent of focusing more on Bitcoin and 3D-printing-related content. Jonathan holds a B.A. in Sociology from UC Berkeley and a Master's in Business from INSEAD. He lives in Tel Aviv, Israel, with his wife, Limmor, and his son, Ari.
Resources or websites mentioned in this episode:
Mirasee
SuperHuman Academy
Credits:
Hosts: Danny Iny and Abe Crystal
Producer: Cynthia Lamb
Executive Producer: Danny Iny
Assembled by: Geoff Govertsen
Audio Post Supervisors: Evan Miles and Christopher Martin
Audio Post Production: Post Office Sound
Music Soundscape: Chad Michael Snavely
Making our hosts sound great: Home Brew Audio
If you don't want to miss future episodes of Course Lab, please subscribe to Apple podcasts or Spotify or wherever you're listening right now. And if you liked the show, please leave us a starred review. It's the best way to help us get these ideas to more people.
Music and SFX credits:
Track Title: Bossa BB
Artist Name: Marie
Writer Name: Chelsea McGough
Publisher Name: A SOUNDSTRIPE PRODUCTION
Track Title: Grace
Artist Name: Shimmer
Writer Name: Matthew Wigton
Publisher Name: BOSS SOUNDSTRIPE PRODUCTIONS
Track Title: Carousel Lights
Artist Name: Chelsea McGough
Writer Name: Chelsea McGough
Writer Name: Matthew Wigton
Publisher Name: A SOUNDSTRIPE PRODUCTION
Publisher Name: BOSS SOUNDSTRIPE PRODUCTIONS
Track Title: Coo Coos
Artist Name: Dresden, The Flamingo
Writer Name: Matthew Wigton
Publisher Name: A SOUNDSTRIPE PRODUCTION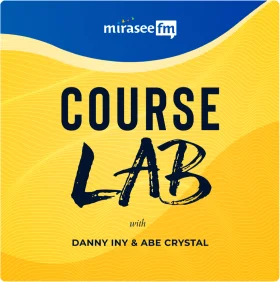 Course Lab
Ever wondered how online courses could be even better? What would that next level look like? Those are the questions driving online course experts Danny Iny (founder of Mirasee) and Abe Crystal (co-founder of Ruzuku) in Course Lab. In each episode, they bring on an innovative course creator and deconstruct what makes their course (and course business) work for them and their students.