Leading While Teaching (Miranda Lievers)
In co-founding and building one of the world's largest online course platforms, Miranda Lievers brought her strong doer energy to the mix. But she also brought a highly humanistic leadership perspective that has landed the company top workplace awards.
Welcome to To Lead Is Human. This show helps listeners envision how they can uplevel their leadership and shape cultures of accountability, respect, and candor.
Miranda Lievers is the Co-Founder and former COO of Thinkific. She was named one of the top 10 operations execs in the country in 2022.
"Businesses have never been mechanical machines. Businesses are human machines. And business school has only just recently acknowledged that these are human machines, and human machines are unpredictable and emotional."Miranda Lievers
Miranda Lievers, Co-Founder & former COO of Thinkific, has helped more than 50,000 entrepreneurs and small businesses grow while educating more than 100 million students around the globe.
In 2021, she and her team took Thinkific public with a market cap over $1 billion, at the same time earning multiple awards including Great Place to Work and Canada's Most Admired Corporate Cultures.
Miranda was named one of the top 10 operations execs in the country in 2022 (but hates the word "executive," so don't hold it against her).
She's an audacious goal-setter, serial small business owner, mentor for women in business, occasional indie film producer, and mom to two. Having recently stepped away from public company leadership for the second time in her life, she's deep in exploring what comes next.
Find her at MirandaLievers.com.
For more than 30 years, Sharon Richmond has partnered with C-level executives from mid-size and small, fast-growing companies who want to up-level their leadership and build companies they are proud of. Clients accelerate their leadership by embracing mindset and behavior changes, building self-awareness and self-management skills, and focusing on the three things all leaders must ensure: focus, energy, and delivery.
Sharon's purpose as an executive coach is to help leaders 10X their impact by leveraging the power afforded by their roles to build organizations that are forces for good, both economically and socially. She also advises CEOs on shaping organization culture and leading change.
Sharon has taught leadership at Stanford GSB, where she now helps leaders increase influence, manage conflict, and prepare to build high-performing teams.
To see a list of Sharon's clients, please visit https://LeadingLarge.com.
Credits:
Producer: Cynthia Lamb
Assembled by: Andrew Chapman
Executive Producer: Danny Iny
Audio Post Supervisors: Evan Miles and Christopher Martin
Audio Post Production: Post Office Sound
Music Soundscape: Chad Michael Snavely
Making our hosts sound great: Home Brew Audio
Music and SFX credits:
Track Title: Escaping Light
Artist: Aaron Sprinkle
Writer: Aaron Sprinkle
Publisher: A SOUNDSTRIPE PRODUCTION
Track Title: Bright Future
Artist: Be Still The Earth
Writer: Marshall Usinger
Publisher: A SOUNDSTRIPE PRODUCTION
Special effects credits:
24990513_birds-chirping_by_promission used with permission of the author and under license by AudioJungle/Envato Market.
To catch the great episodes coming up on To Lead Is Human, please follow us on Mirasee FM's YouTube channel or your favorite podcast player. And if you enjoyed the show, please leave us a comment or a starred review. It's the best way to help us get these ideas to more people.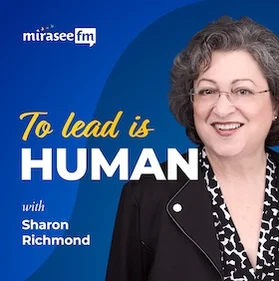 To Lead Is Human
Every business leader has a huge impact on their organization. In this podcast, Sharon Richmond interviews successful leaders who have turned personal growth into tangible business outcomes. They discuss overcoming challenges, lessons learned and what helps them make a positive impact in their organization. Sharon offers insight and advice to help listeners envision how they can supercharge their own leadership by blending the art and science of leading with intention.