Leading Large (Sharon Richmond)
Quietly drawing from her ancestry, religion, and spirituality, Sharon Richmond infuses her coaching business with a deep sense of purpose. She sees leadership as a privilege, and her role is to help leaders build cultures of accountability and respect.
Welcome to Soul Savvy Business. This podcast aims to help entrepreneurs find balance and harmony at the intersection of business and spirituality.
Host Katy Valentine is a soul-minded spiritual entrepreneur. She empowers other entrepreneurs to thrive, creating a global ripple effect. Grab your free meditation at soulsavvybusiness.com.
"There is a spark of the divine in every person. And if I can connect with that, I can come from a place of love, as opposed to what drives a lot of human behavior, which is a place of fear."Sharon Richmond
For more than 30 years, Sharon Richmond has partnered with C-level executives from mid-size and small, fast-growing companies who want to up-level their leadership and build companies they are proud of. Clients accelerate their leadership by embracing mindset and behavior changes, building self-awareness and self-management skills, and focusing on the three things all leaders must ensure: focus, energy, and delivery.
Sharon's purpose as an executive coach is to help leaders 10X their impact by leveraging the power afforded by their roles to build organizations that are forces for good, both economically and socially. She also advises CEOs on shaping organization culture and leading change.
Sharon has taught leadership at Stanford GSB, where she now helps leaders increase influence, manage conflict, and prepare to build high-performing teams.
To see a list of Sharon's clients, please visit https://LeadingLarge.com.
Resources or websites mentioned in this episode:
Mirasee
Katy's website
Sharon's website: LeadingLarge.com
Sharon's LinkedIn: LinkedIn.com/in/sharon-richmond
Credits:
Producer: Cynthia Lamb
Assembled by: Melissa Deal
Executive Producer: Danny Iny
Audio Post Supervisors: Evan Miles and Christopher Martin
Audio Post Production: Post Office Sound
Music Soundscape: Chad Michael Snavely
Making our hosts sound great: Home Brew Audio
Music credits:
Track Title: Shepherd
Artist Name: Two Dudes
Writer Name: Adrian Dominic Walther
Publisher Name: A SOUNDSTRIPE PRODUCTION
Track Title: Butterfly Effect
Artist Name: Cody Martin
Writer Name: Cody Kurtz Martin
Publisher Name: A SOUNDSTRIPE PRODUCTION
Special effects credits:
24990513_birds-chirping_by_promission used with permission of the author and under license by AudioJungle/Envato Market.
To catch more great episodes coming up on Soul Savvy Business, please follow us on Mirasee FM's YouTube channel or your favorite podcast player. And if you enjoyed the show, please leave us a comment or a starred review. It's the best way to help us get these ideas to more people.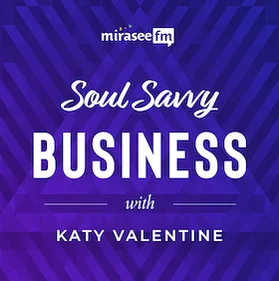 Soul Savvy Business
How can we pursue both entrepreneurial success and spiritual authenticity? Reverend Dr. Katy Valentine explores that question and more in this spiritually diverse podcast aimed at engaging mindful and curious entrepreneurs. Katy and her guests dive into the intersection of business and spirituality, exploring ways that entrepreneurs of all faiths (including none) can elevate their awareness and find abundance.